Venice's Moses flood barrier inundated by fraud claims
Investigators say they have traced some €20m in kickbacks from contractors for the project that is designed to prevent the sort of flooding that affected St Mark's Square in 2008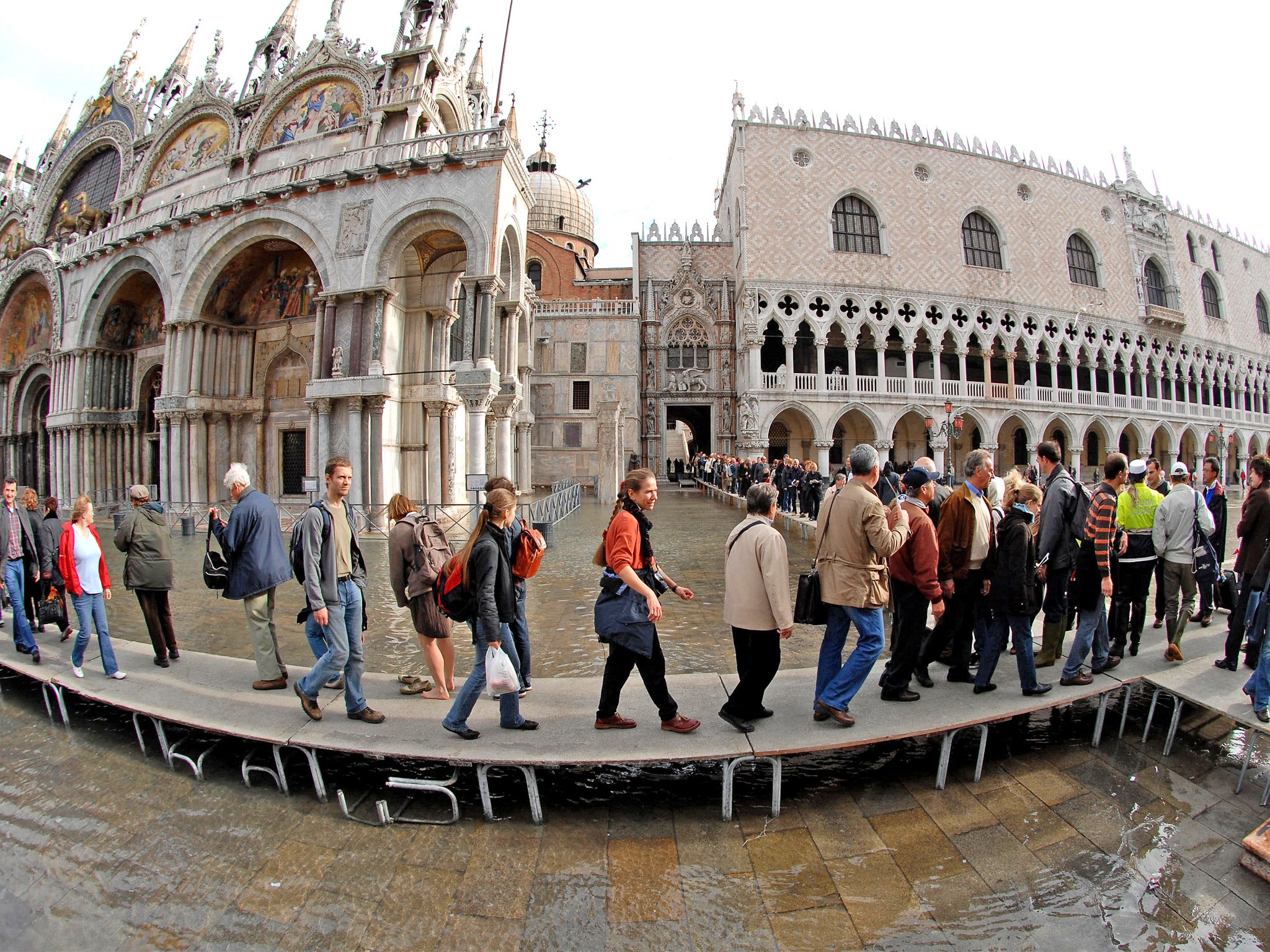 Italy's greatest post-war civil engineering feat, the Moses flood barrier in Venice, is the latest major public work to find itself mired in scandal, as anti-graft campaigners warn that corruption levels in Italy are as bad as they were 25 years ago – in the days of the Tangentopoli scandal.
Police have arrested Venice's mayor, Giorgio Orsoni, and 34 officials and contractors on the suspicion that tens of millions of euros have been skimmed off the €5bn project, which is designed to save the fragile lagoon city from rising waters.
Prosecutors said Mr Orsoni of the centre-left Democratic Party (PD), who is under house arrest, had benefited from illegal party financing linked to the embezzlement of public funds for the project. The project began in 2003 but, thanks to constant delays, it will not be fully operational before 2016.
Veneto region infrastructure councillor Renato Chisso was also arrested, and another 100 people are under investigation, according to judicial sources quoted by the Ansa news agency.
Magistrates also requested arrest warrants for the senator and former Italian culture minister Giancarlo Galan and European Parliament member Lia Sartori – both from ex-Prime Minister Silvio Berlusconi's Forza Italia party. The Italian Senate will have to vote on whether to allow magistrates to arrest Mr Galan, the ex-governor of the Veneto region, whom investigators suspect may have pocketed nearly €1m from kickbacks.
But given the current climate, in which a raft of high-profile corruption cases has dominated the front pages, the Italian parliament is likely to eschew its traditional reluctance to cooperate with prosecutors.
Seven men were arrested on 12 May on suspicion of bribery in relation to building contracts for Italy's Expo 2015 in Milan. This followed similar investigations into post-earthquake reconstruction in L'Aquila and preparations for the G8 summit in 2009.
"The way we handle public works in this country generates bribes. Everything is concentrated in the hands of very few entities and people to move fast," Massimo Cacciari, a former mayor of Venice, told news channel Sky TG24.
Ezio Mauro, the editor of La Repubblica, said: "Where there's a public construction project in Italy it seems that it's not possible to avoid the corruption that draws in politicians."
Investigators said they had traced some €20m in kickbacks from contractors for the Moses project that were transferred into foreign bank accounts allegedly used for political party financing.
"Most of these funds were used for financing political parties on a local, regional and national level," chief prosecutor Luigi Delpino told a press conference. Luigi Gallo, of the anti-establishment Five Star Movement, who sits on the parliamentary culture commission, said the scandal erupting around Moses was "just the tip of the iceberg".
The Tangentopoli (Bribescity) scandal and the monumental Clean Hands corruption investigation that it gave rise to, sprang from the arrest in February 1992 of a Socialist Party official who was caught pocketing a bribe, before it quickly spiralled out into the political and business worlds.
Investigators uncovered a huge web of corruption, and the Christian Democrat and Socialist political establishment was swept away by the mood of public disgust. Within two years, 321 MPs had been investigated, and eight ex-MPs and around 5,000 businessmen were charged with corruption following the suspension of general parliamentary immunity.
For years, anti-corruption campaigners and journalists have been warning that levels of bribery and corruption in Italy are as bad now as they were pre-1992.
Shortly after the kick-backs scandal surrounding construction of Milan's Expo 2015 last month, it emerged that one person under suspicion was the former Christian Democrat figure Gianstefano Frigerio, who was convicted in connection with Tangentopoli.
In response to the slew of kickback scandals, Prime Minister Matteo Renzi has appointed the Camorra-busting magistrate Raffaele Cantone as Italy's new anti-corruption tsar.
Join our commenting forum
Join thought-provoking conversations, follow other Independent readers and see their replies