Video shows baby bull gore 29-year-old man to death at Spanish summer festival, the fourth fatality in three days
Bulls have gored seven people to death since the start of July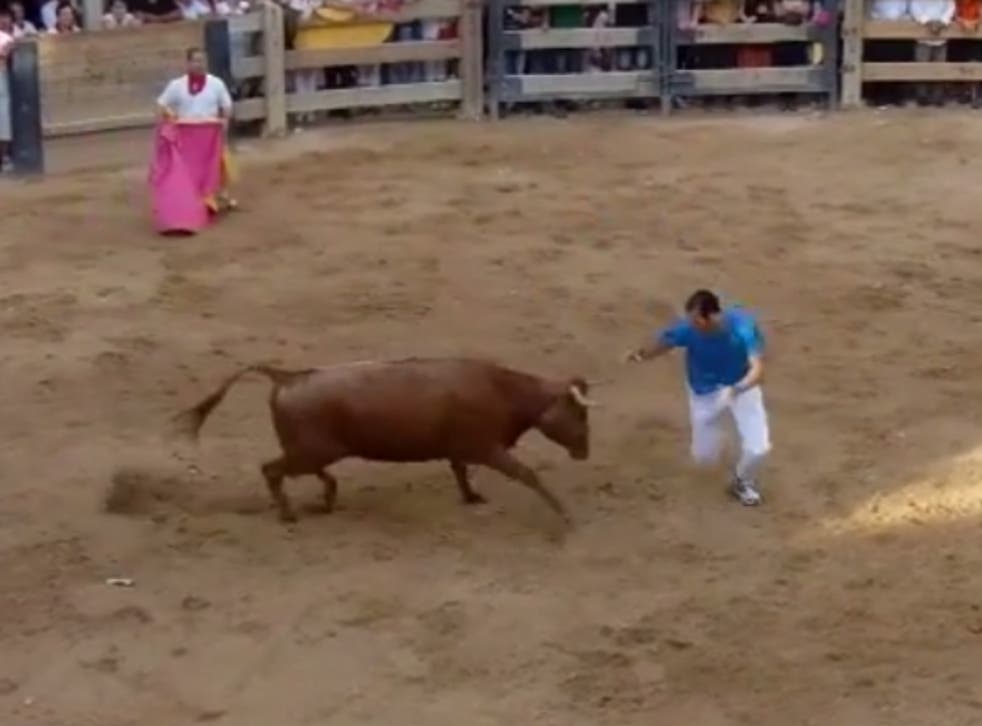 Video filmed by a spectator at a summer festival in Spain shows the moment a baby bull attacked and killed a 29-year-old, the fourth death at summer events in the country in just three days.
Miguel Ruiz Perez, a soldier, was taking part in an exhibition involving athletes called recortadores in Lerin, a town in northern region of Navarre.
Perez slipped whilst in the ring and was hit in the stomach as he tried to reach for safety at the side of the ring. He was trapped at side between the bull and the wooden fence for several seconds before he could be treated.
Video shows Mr Perez being carried out of the ring and placed on the ground by an ambulance as he is surrounded by medical staff. He was airlifted to a local hospital where he was pronounced dead.
The hospital he was taken to was in Pamplona, a city known for the running of the bulls that takes place during the San Fermin festival every July.
Local authorities are currently deciding whether to suspend the week-long town festival. The death of Mr Perez also took the number of bull-related deaths to four in just three days at summer festivals across the country.
In pictures: Bull running in Pamplona

Show all 20
Jose Alberto Penas bled to death after being gored during a bull run in Penafiel on Saturday morning, while an unnamed 32-year-old from Valencia died on Friday night in Museros on the eastern coast.
Shortly after midnight that same evening, Rafael Minano died in hospital in Murcia after a bull had severed his femoral artery during a bull run in Blanca.
So far, bulls have gored seven people to death in July and August at festivals across Spain. Most of the deaths have occurred at bull runs.
Join our new commenting forum
Join thought-provoking conversations, follow other Independent readers and see their replies