Violence against Cyprus's migrant workers trails in the wake of country's economic collapse
Immigrants are increasingly the target of attacks on the stricken holiday island, writes Charlotte McDonald-Gibson in Trachoni
Charlotte McDonald-Gibson
Sunday 31 March 2013 18:37 Comments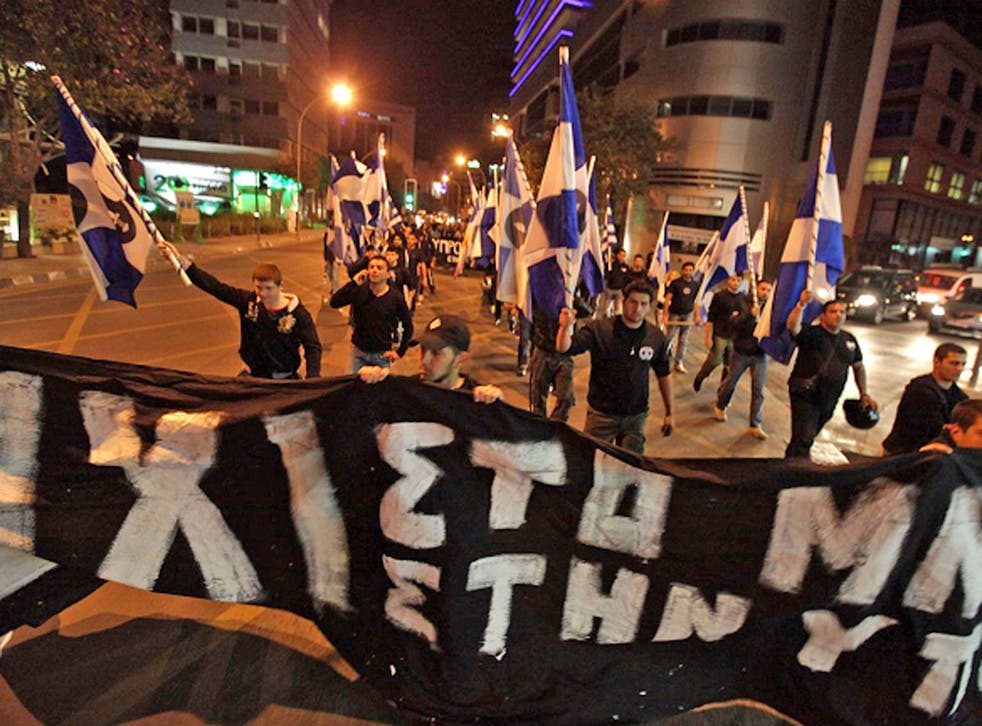 A short drive from the beach clubs of Limassol, through rows of picture-perfect orange groves, stands a rundown farm building where dirty clothes hang out to dry next to a broken tractor.
In the living room, a white toy rabbit clutching a bouquet of red roses sits on a table – an effort by the 15 Egyptian farmhands who live here to make their crowded quarters look homely.
But try as they might, there is little they can do to disguise the petrol stains streaking the walls in the bedroom.
One night in February, a group of Cypriot youths hurled a Molotov cocktail through the window. As the flames licked across the polyester blankets, the migrant workers leapt from their bunk beds and fled. Medhat Bekhet, a 22-year-old from upper Egypt, barely noticed that he was on fire. "All the petrol got on my leg but I kept on running because I was very afraid," he says.
The young Egyptians are here to pick fruit for €21 (£18) a day. They have work permits and are doing jobs the Cypriots do not want. But as the island faces soaring unemployment and a recession, there are fears that people are looking for someone to blame, and migrant workers prove an easy target.
"It's like what happened in Greece, there are some fanatic people that start to attack the foreigners," said Malak George, a youth worker with the local Coptic Christian church.
Cyprus does have a far-right party the National Popular Front, or Ethniko Laiko Metopo (Elam). It has links to the Greek neo-fascist Golden Dawn party, which saw support rocket after the economic crisis. In Cyprus's parliamentary elections in 2011, Elam barely polled 1 per cent of the vote, but already it is trying to exploit the anger Cypriots feel at the harsh bailout agreed with the European Union.
Fiona Mullen, an analyst with Sapienta Economics, saw Elam leaflets scattered on the ground outside two banks in Nicosia, indicating that party members had been canvassing support among depositors queuing to withdraw their money. A protest in the capital on the day the banks reopened attracted about 100 Elam supporters.
Ms Mullen thinks Elam will not find the kind of support Golden Dawn enjoys in Greece. "I'm not saying it cannot happen, but if it's going to happen, it is at a much earlier stage than it was there." But Doros Polykarpou, the director of a support network for migrants, the Movement for Equality, Support and Anti-Racism, is more pessimistic. He lists a string of recent attacks against migrants: a Molotov cocktail thrown at a family home near Limassol; a Bulgarian woman attacked in her house; another fire-bombing at an office of the Kurdish party. "The Cypriots are concerned now with the problems of the troika and the banks.
"If, in the next three or four months, they get disappointed by the government, part of the voters of this government, they are the ones who are likely to support neo-Nazi groups," he says.
Cyprus has one of the highest number of non-native residents in the EU, with 18 per cent of the population born outside the country. This is partly because of the number of expatriates, but also from the flood of cheap foreign labour during the boom years. Now, as the jobs run dry, many migrants are left not only without work and surviving on minuscule benefits, but dealing with growing accusations that they are to blame.
"It is very racist, I'm not afraid to say this. If I go to any office, 90 per cent of the people on the counter react very badly," says Malkanthi Papageorgiou, 50, who left Sri Lanka in 1997. "With this financial crisis, they think that we take their money and send it to Sri Lanka."
But the opposite is true: Ms Papageorgiou is relying on funds her brother sends her from Sri Lanka as she struggles to support herself, her unemployed son, and her Cypriot husband, who has Alzheimer's disease. "I am like a beggar here," she says, tears pooling in her eyes.
And a government that once welcomed foreign workers is now actively trying to pressure them to leave, says Mr Polykarpou.
Ali Jan Rahimi, 37, is a refugee from Afghanistan. He recently lost his job as an electrician, and has registered at the labour office. But one potential employer bluntly told him the opening was only for Cypriots. The labour office was unsympathetic. "The lady is very mean," he says. "She asks: 'Why did you come to Cyprus? When are you leaving? There are no jobs here.'"
Mr Bekhet also wants to get back to work. He spent 12 days in hospital being treated for severe burns, and a month later his leg is still swollen, the skin peeling around his foot. He does not appear angry at the Cypriots who attacked him. His mind is focused only on his parents and three sisters back home. "I am very upset about what happened – I've lost money for my family," he says.
Register for free to continue reading
Registration is a free and easy way to support our truly independent journalism
By registering, you will also enjoy limited access to Premium articles, exclusive newsletters, commenting, and virtual events with our leading journalists
Already have an account? sign in
Join our new commenting forum
Join thought-provoking conversations, follow other Independent readers and see their replies