Violence and protests erupt on the streets of Athens ahead of parliamentary vote on the tough bailout measures
The violence is a sharp contrast to the series of peaceful political rallies that have taken place throughout the crisis
Doug Bolton
Thursday 16 July 2015 12:12 Comments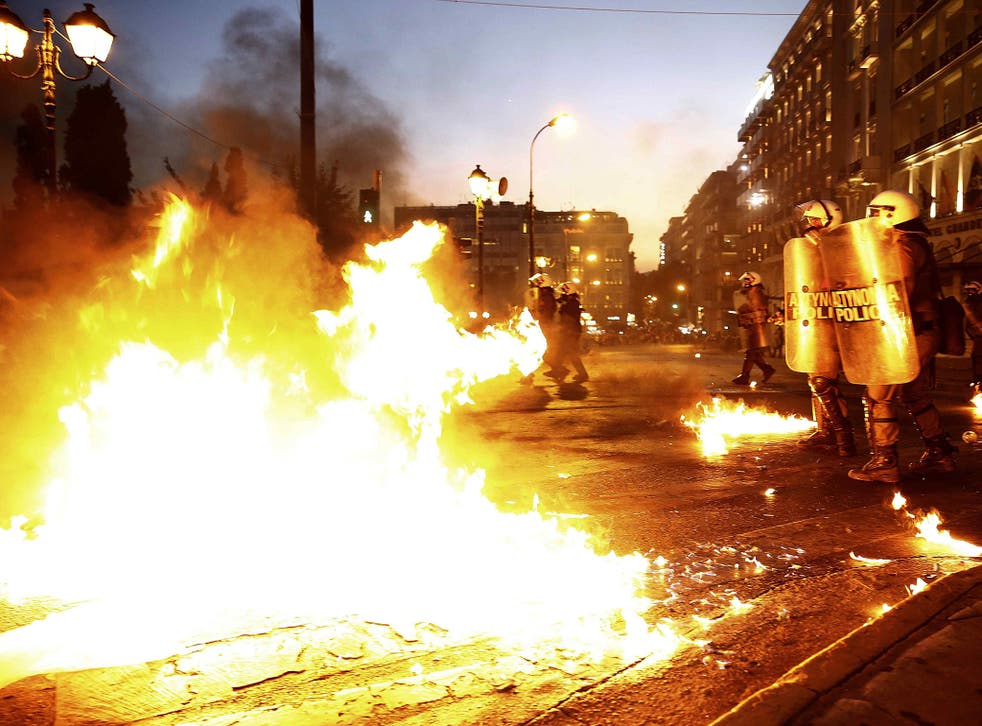 Violent protests sprung up in Athens ahead of the Greek parliament's vote on tough economic reforms that must be passed if Greece is to receive its bailout.
The debate began at 10pm Athens time (8pm GMT), and protesters took to the streets, with many gathering in Athens' Syntagma Square outside of parliament.
Videos from the scene show large numbers of protesters, with small groups throwing what appear to be molotov cocktails and rocks at massed police.
Police have responded by firing tear gas at the protesters, who are part of a larger anti-austerity gathering.
Despite the uncertainty and chaos Greece has been experiencing in the last few weeks, the vast majority of political protests and gatherings have been overwhelmingly peaceful.
25,000 people gathered in Syntagma Square on the day of the referendum, and while a small skirmish between anarchists and the police broke out earlier in the day, the rally went off without any major clashes.
The fighting between citizens and police tonight seems to be the first incident of large-scale violence on the streets of Athens since this crisis began.
Greek politicians are in parliament tonight, and will soon vote on whether to accept the terms of the bailout deal that was agreed upon by Greece and other Eurozone leaders on Sunday night.
In pictures: Riots on the streets of Athens as Greek parliament votes on a bailout deal

Show all 20
If Greece wants to get a bailout, allowing it to keep functioning economically, it must agree to a host of tough measures, including privatisation of the national electricity network, cuts to pensions, and more taxes.
Many of the terms are similar to the austerity measures that Greeks voted against in the referendum, meaning the deal has proved controversial.
Several high-ranking members of the ruling Syriza party have resigned in protest since the deal, including Deputy Finance Minister Nadia Valavani, who said it was "impossible" for her to remain a member of the government after she learned of the deal's terms.
Even Prime Minister Alexis Tsipras criticised the deal, saying it was a "bad" deal that he did not believe in - however, he added that it was the only way that Greece could stay in the EU.
His apology is unlikely to calm the tempers of the protesters on the streets of Athens, and other former supporters who have turned their back on their government.
Register for free to continue reading
Registration is a free and easy way to support our truly independent journalism
By registering, you will also enjoy limited access to Premium articles, exclusive newsletters, commenting, and virtual events with our leading journalists
Already have an account? sign in
Join our new commenting forum
Join thought-provoking conversations, follow other Independent readers and see their replies