Vladimir Putin: Don't blame me for Donald Trump's election win
'The leadership of the Democratic Party are trying to blame all their failures on external factors'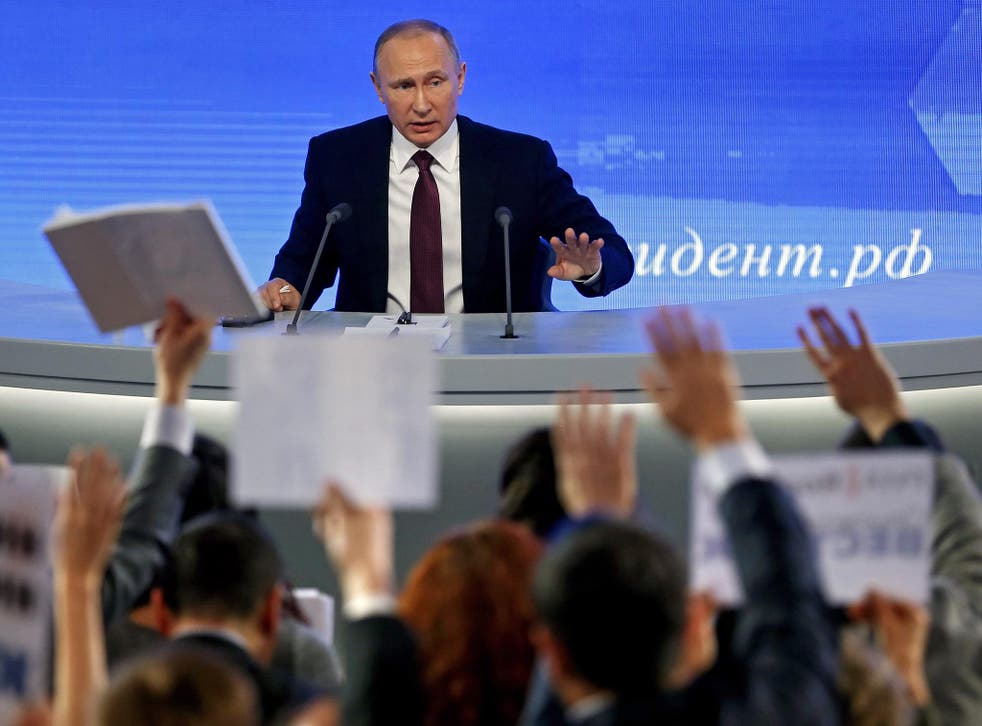 Vladimir Putin has criticised members of the US Democratic party for trying to "blame" Russia for Donald Trump's election victory.
Speaking during his annual news conference to local and international journalists, the Russian President denied accusations of state-sponsored hacking during the campaign.
In a nearly four-hour marathon question-and-answer session, Mr Putin instead turned his ire on the Obama administration itself, saying the US's ruling party was incapable of "losing with dignity".
Mr Trump, by contrast, had his finger on the pulse of American society, Mr Putin suggested. With a glint in his eye, he said no one had expected the Republican to win – "except for you and me".
After a year in which, by almost any measure, Mr Putin can be said to have raised his and Russia's stature on the international stage, the President appeared relaxed and confident speaking before a room full of journalists and a TV audience of millions.
He played down the perceived threat of a Trump presidency to the world, suggesting the President-elect's tweet about ramping up the American nuclear arsenal was perfectly normal.
And he feigned surprise that Mr Trump's tweet was being linked to his own comments the same day, about Russia's military being "stronger than any potential aggressor". With an air of magnanimity, he said he did not see the US as an aggressor and that "nobody is arguing" with the supremacy of the US military.
Hours after Mr Putin completed his news conference, Mr Trump released the contents of a letter which, he said, had been written to him by the Russian President.
Dated 15 December, the letter notes that serious global and regional challenges "show that the relations between Russia and the US remain an important factor in ensuring stability and security in the modern world".
Mr Trump desricbed it as a "very nice letter", and said in response that Mr Putin's "thoughts are so correct", adding he hopes "both sides are able to live up to these thoughts, and we do not have to travel an alternate path".
Earlier, Mr Putin said in response to a question from NBC News that he agreed with Mr Trump that relations between Washington and Moscow could not get any worse. He also welcomed the Republican's pledge to normalise such ties.
"Trump understood the mood of the people and kept going until the end, when nobody believed in him," Mr Putin said of the election result.
He dismissed suggestions Moscow had helped Mr Trump to victory in any way. "It's not like that," he said. "All of this (the accusations) speaks of the current administration's systemic problems."
And those "problems" with the Obama era were the subject of Mr Putin's most stinging attacks.
"The current administration and the leadership of the Democratic Party are trying to blame all their failures on external factors," Putin told reporters.
"(We are talking about) a party which has clearly forgotten the original meaning of its own name," Putin said, accusing the Democrats of "shamelessly" abusing their status as the ruling party to try to influence public opinion. "Outstanding figures in American history from the ranks of the Democratic Party would likely be turning in their graves. Roosevelt certainly would be.
"They (the Democrats) are losing on all fronts and looking elsewhere for things to blame. In my view this, how shall I say it, degrades their own dignity. You have to know how to lose with dignity."
It wasn't all about the US, of course. Asked about the situation in Syria, Mr Putin said that the evacuation of Aleppo would not have been possible without the help of Russia, Iran and Turkey or the good will of President Bashar al-Assad.
The next step for Syria would be a nationwide ceasefire, Mr Putin said.
A journalist from China's state CCTV asked whether, with Europe in a bad way and a new president in the White House, Moscow might be turning more to focus on relations to the east.
Mr Putin hailed Russia's economic and scientific ties to China, saying the pair also share a "common position" on many foreign policy issues. With so much change happening, he called it "a stabilising force in global affairs".
And as the conference drew to an end, Mr Putin was asked a question about where he sees his own future once his current term as President is up in 2018.
Mr Putin said he will assess the state of Russia and the world before coming to a decision. Based on how well 2016 has gone for him, it seems unlikely he wouldn't want to stand for a fourth term.
Join our new commenting forum
Join thought-provoking conversations, follow other Independent readers and see their replies