Lotteries, sausages and manipulation: Vladimir Putin and his team look to fight his only election rival – low turnout
With the Russian president expected to be re-elected handsomely, the Kremlin wants a final result that projects globally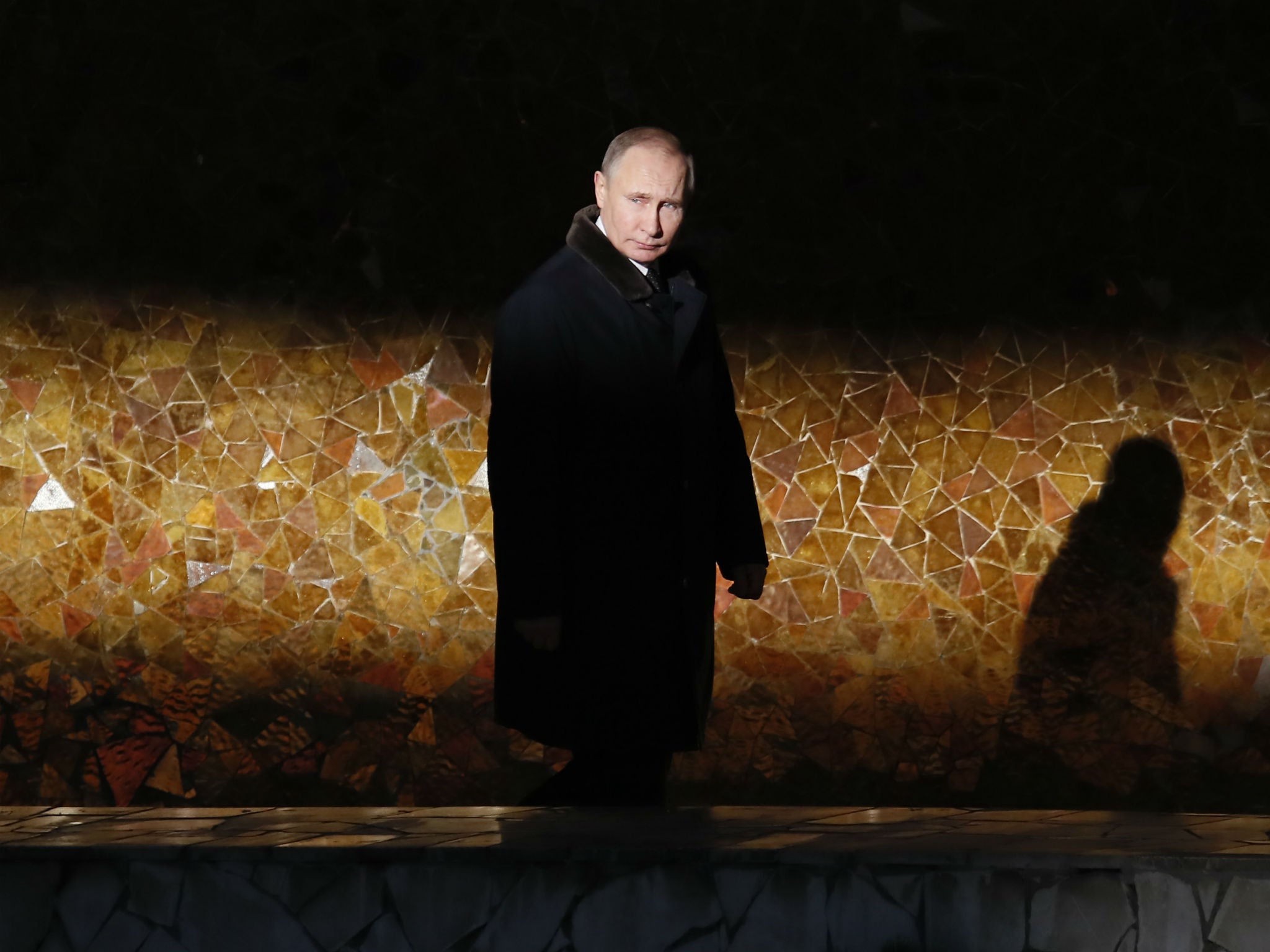 In less than two months time, Russia will vote and re-elect Vladimir Putin. As many as eight names may make the ballot papers, but Mr Putin's is the only box that counts.
In that sense, little will have changed in March from the last presidential election in 2012. That, too, was a referendum on President Putin. But the comparison stops there. Six years ago the challenge he faced was a protest movement that had swept through the country, which Mr Putin vanquished; this year he has another opponent: voter apathy.
The Kremlin, say multiple reports, wants these elections to leave no doubt of the president's legitimacy. After all, these are the first presidential elections after the annexation of Crimea – and they may very well be Mr Putin's last. So the projected overwhelming first-round win with between 65 per cent and 70 per cent will not be enough. It has to at least feel as if the whole country has joined in.
The Kremlin apparently wants a turnout of at least the 70 per cent that voted in Mr Putin's first election. A minimum would be to surpass the nearly 64 per cent support Mr Putin received in 2012 with a turnout of more than 65 per cent.
But it has a problem: How do you create interest in a contest without competition? And how do you selectively reverse a two-decade-old pact, made after Mr Putin's elevation to the presidency, where the strongman offered Russians "stability" in exchange for keeping out of politics?
The 70/70 target, referencing the turnout and Mr Putin's final vote percentage, was denied by the Kremlin, though all but confirmed by the governor of Altai district, Alexander Karlin, who was secretly recorded in a meeting. "The Chair of the Election Committee may say there is no 70/70 figure, but you can ignore that," Mr Karlin is reported as saying. "Nobody has cancelled those thresholds for us, that is a fact... There are no excuses: You have all the tools at your disposal."
World news in pictures
Show all 50
Most analysts surveyed by The Independent suggested that a 70 per cent turnout is unlikely. At last year's parliamentary elections, less than half the country voted. While participation in presidential elections is always higher, a jump of that order is unprecedented.
"It's possible to get near to the 70 per cent mark," says Valery Solovei, a professor of the Moscow State Institute for International Relations. "But for that you would need to create a certain amount of intrigue and allow open competition from the remaining candidates, and that is a dangerous game for the Kremlin."
Even a 60 per cent turnout would need a number of artificial interventions, says Grigory Melkonyants, co-chair of the elections monitor Golos.
Russia opposition leader Alexei Navalny detained by police at anti-Putin protest
To this end, the Kremlin has already begun tinkering with technical details. The day of voting was switched to 18 March to coincide with the anniversary of the annexation of Crimea. Advertising began right after the date was announced on 18 December, weeks earlier than usual. There will also likely be local referenda on the day of the elections, where voters will be asked to rank future infrastructure projects.
On the day of voting itself, voters will likely be offered all kinds of discounts, lotteries, funfairs and cut-price sausage promotions. Such shenanigans, traditional in Russian elections campaigns, might add 5 or 10 per cent to the turnout.
Larger boosts will need direct intervention, says Grigorii Golosov, Professor of Comparative Politics at the European University at St Petersburg. The first instrument authorities will use will be to compel those who are dependent on the government to vote. "Teachers, doctors, military, police, factory workers, long-term infirm, mentally ill – all these groups will be strongly persuaded to vote."
There may be attempts to stuff ballot boxes – a tactic seen in the 2011 parliamentary elections. But according to Mr Golosov, the bigger markups come after voting, when the votes are recorded on official election protocols. Here, the level of manipulation is not uniform. "The presidential administration might issue a directive to keep things clean," says Mr Golosov. "But local governors know that a poor result for Putin is not good news for them."
The republics of the northern Caucasus are particularly kind to the president, but here there is little room for improvement. In 2012, Chechnya returned a scarcely believable 99 per cent of votes for Putin from a turnout of 99 per cent. In October 2010, on the eve of parliamentary elections, the speaker of the Chechen parliament promised Russia's upper house that Chechnya could organise a result of "120 per cent" if needed.
The independent electoral researcher Sergey Shpilkin suggests that Russia has now split into two when it comes to elections, with first Russia significantly cleaner than the second. The two Russias are scattered geographically. Russia one, usually major towns and cities, has 80 per cent of the population. Russia two, usually in rural areas and away from observers, has 20 per cent of the population. At the last elections, both populations returned about the same amount of votes for the ruling party United Russia.
According to Mr Shpilkin's mathematical modelling, which identifies statistical outliers, the number of, for want of a better description, "unusual" votes in the system has grown from three million in 2000 to 10 to 15 million in recent elections.
"You can see from the maths almost immediately where the manipulations happen," said Grigory Melkonyants. "Ultimately the Kremlin has a choice – risk scandal or be happy with a low turnout."
Join our commenting forum
Join thought-provoking conversations, follow other Independent readers and see their replies