Vladimir Putin says he may seek re-election as President of Russia in 2018
Russian President says he might seek second term but will not amend constitution to allow him to serve indefinitely 
Benjamin Kentish
Saturday 22 July 2017 20:03 Comments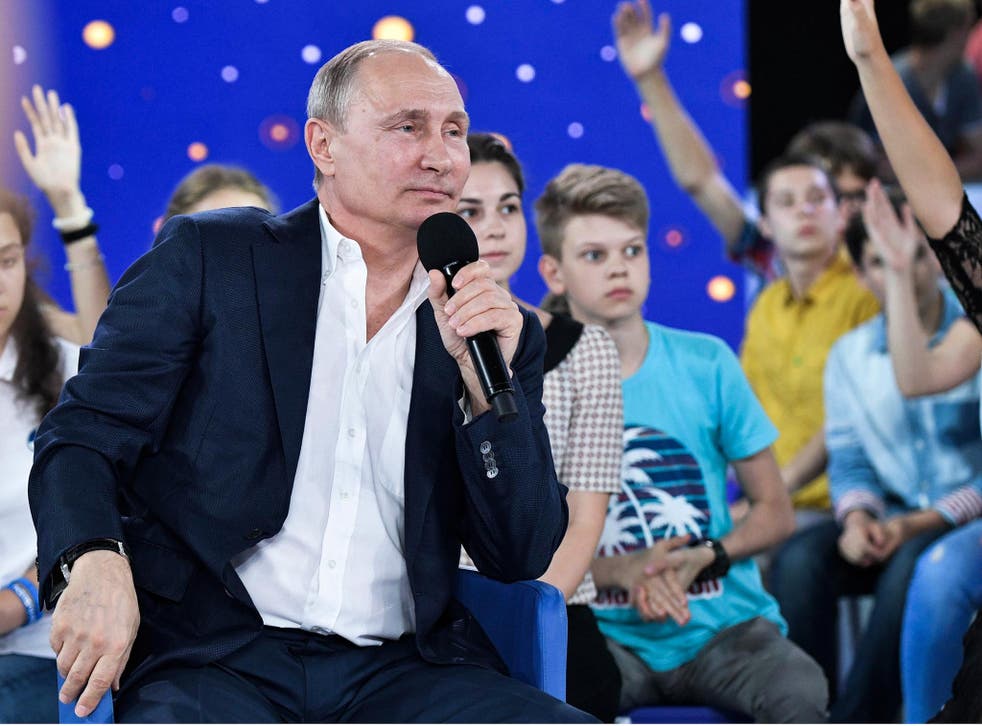 Vladimir Putin has said he could stay on as President of Russia for at least another six years.
His term in office ends with the presidential election in March 2018 but he is widely expected to seek re-election and win another six-year term.
Mr Putin has been President of Russia since 2000, apart from a stint as Prime Minister between 2008 and 2012.
He was speaking during a three-hour question and answer session with Russian children at a school in the Black Sea city of Sochi, in which he answered a series of light-hearted questions.
Responding to a question about his plans for when he leaves office, he smiled and said: "But I haven't decided yet if I will leave the presidency."
The comment was met with laughter and applause from the audience of young Russians.
However, he pledged not to change the Russian constitution to allow him to stay as President indefinitely.
Vladimir Putin and the people

Show all 11
"I had an opportunity, I was even asked to change the constitution at one time," he said. "I did not do it, and I don't intend to do it in the future."
The current rules allow a President to serve for no more than two terms in a row. Mr Putin's spell as Prime Minister means he is currently nearing the end of the first term of his second spell as President and is therefore entitled to stand for re-election for one more term.
During the question and answer session, he faced a series of wide-ranging but uncontroversial questions from the schoolchildren.
"I like chatting with my friends, reading historical books, listening to music and doing sport," he replied when asked what he enjoyed doing in his spare time.
He said he rarely uses the internet but drew a comparison between people who use fake identities online and the personas he adopted when he worked for the KGB intelligence agency.
Asked for his thoughts on feminism, Mr Putin said he saw nothing wrong with the feminist movement and recognised the existence of a gender pay gap in Russia. However, he said a similar problem exists in the West and that sexism is not as bad in Russia as in many Muslim countries.
Bizarre moments during the session included Mr Putin and a young boy comparing how many pull-ups they could do, a synchronised skating team asking if they could have their picture taken with him, and the Russian President admitting he had fallen asleep while watching director Oliver Stone's four-hour documentary about himself.
Asked what his three most important values are, the Russian President replied: "Love, freedom and life itself".
Register for free to continue reading
Registration is a free and easy way to support our truly independent journalism
By registering, you will also enjoy limited access to Premium articles, exclusive newsletters, commenting, and virtual events with our leading journalists
Already have an account? sign in
Join our new commenting forum
Join thought-provoking conversations, follow other Independent readers and see their replies