Vladimir Putin says he has never made a mistake because God wanted him to be perfect
The Russian president clearly takes his 'no regrets' approach to life seriously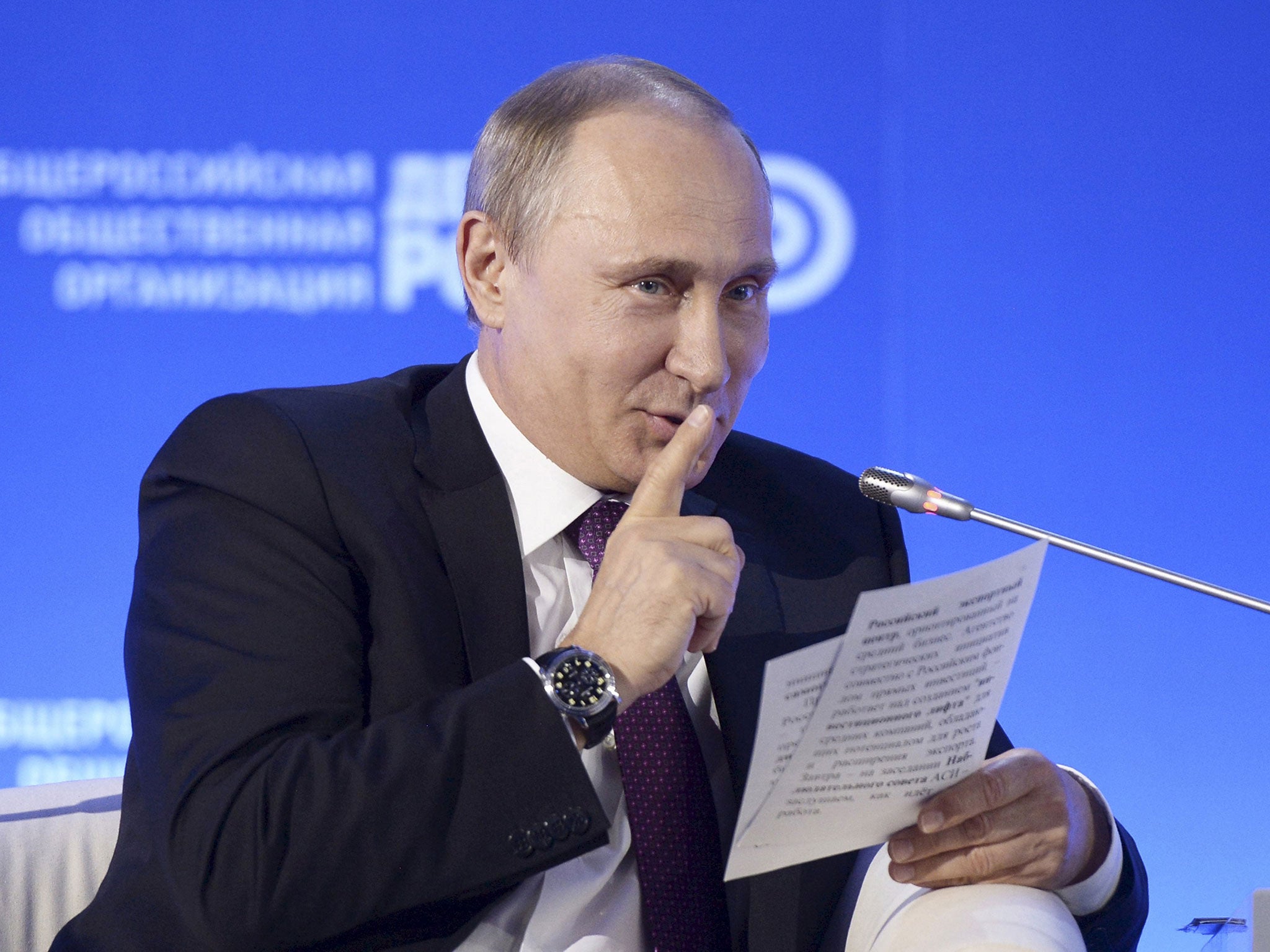 In a rare newspaper interview ahead of his state visit to Italy, Vladimir Putin has claimed he never makes mistakes because God "built his life so he'd have nothing to regret".
The Russian president was due to meet Italy's Matteo Renzi at the Expo 2015 world fair in Milan on Wednesday, where he is expected to discuss the prospect of easing economic sanctions imposed by the West over the Ukraine crisis.
Renzi was among the G7 leaders who pledged at the group's Bavaria summit to step up restrictions on Russian trade if violence in the contested Donbass region continues.
But Mr Putin is nothing if not confident. Speaking to the editor in chief of Italian daily Corriere della Sera, Luciano Fontana, he warned that it was "in the interests of the Italian people… to maintain friendly relations with Russia".
He rejected any criticism of Russia's conduct over the Ukraine crisis, and said the deterioration of relations with the West was "not our choice". "It was not we who introduced restrictions on trade and economic activities. Rather, we were the target and we had to respond with retaliatory, protective measures."
In pictures: Putin's macho adventures
Show all 20
In the wake of the murder of Boris Nemtsov, Mr Putin was asked about the challenges of being an opposition politician in Russia – specifically their lack of coverage on the main TV channels.
"I think if they have something interesting to say, they will be interviewed more often," he said.
And for the final question of the interview, Mr Putin was asked by Fontana: "Is there an action that you most regret in your life, something that you consider a mistake and wouldn't want to repeat ever again?"
According to the paper's report, Mr Putin pondered the question for a short while before his eyes lit up and he replied softly: "I'll be totally frank with you. I cannot recollect anything of the kind. It appears that the Lord built my life in a way that I have nothing to regret."
While it is becomingly increasingly rare for Mr Putin to make state visits to EU countries, the Milan trip will be his second to Italy in eight months following the Europe-Asia summit last October.
But in a separate interview with Corriere della Sera, Italy's foreign minister Paolo Gentiloni signalled there would be no chance to his country's stance on the Ukraine crisis. He said: "Italy has been combining loyalty to its allies with a special relationship with Russia."
Join our commenting forum
Join thought-provoking conversations, follow other Independent readers and see their replies