Swedish teenagers claim Russian TV crew offered to bribe them to cause trouble after Trump comments
One resident told Danish radio: 'They came up to us and said they wanted to see some action. They wanted to bribe us 400 krona (£36) each'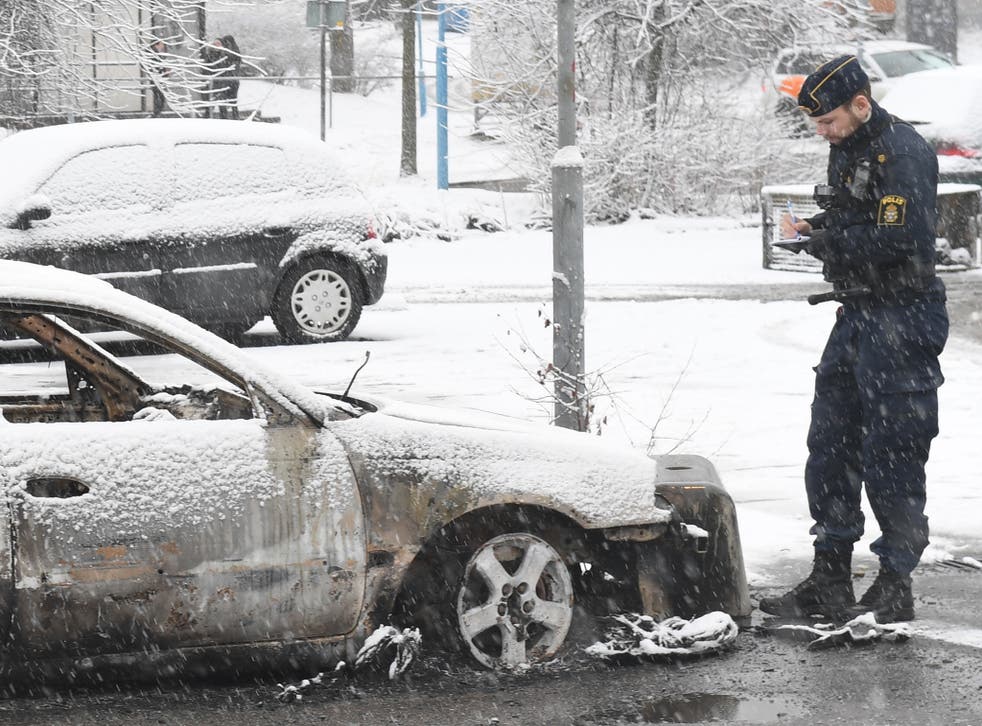 Teenagers in a Swedish suburb claim they were offered money by a Russian TV crew in exchange of "action" for the camera after Donald Trump said the country's "large-scale immigration was not working out".
The youngsters were from Rinkeby, a district in the northern outskirts of Stockholm, where riots broke out after the US President was ridiculed for suggesting there had been a terror attack in Sweden and referencing a Fox News report about alleged refugee violence which it said had gripped the country.
One resident of the area, which has a predominantly immigrant population, known only as Mohammed, told Danish radio station Radio24syv: "They came up to us and said they wanted to see some action. They wanted to bribe us 400 krona (£36) each."
The teenagers said they did not know which TV station had sent the crew, but that they recognised Russian being spoken between them, The Local Sweden reports.
The TV crew were part of a host of reporters from around the world who came to the area two days after the unrest to find out about immigrants' lives in Sweden.
"While we were talking to them, the police came over to us. We did not want to do any of that. But when the police came the Russian journalists said that we were the ones who had said that we would show them some action for 400 krona (£36) each," said one of the youngsters.
The journalist reporting the story for Radio24syv said she had spoken to two teenagers separately who told her the same story.
Commenting on her own impression of Rinkeby, reporter Tinne Hjersing Knudsen told The Local Sweden: "I found Rinkeby full of tension but relatively calm and quiet when I was there. I spoke to many of the locals that were tired of the city's bad reputation and wanted to show the good sides of Rinkeby, so they did. I met many lovely people living in a difficult situation in a bad area with a lot of criminal activity."
World news in pictures

Show all 50
Stockholm police confirmed they were aware of the reports but had no other information and that they would not comment on "rumours".
Last week, the police clashed with stone-throwing rioters in Rinkeby, where cars were torched and shops were looted.
No one was seriously injured during the incident and the local police said the events were uncommon but not unheard of.
Register for free to continue reading
Registration is a free and easy way to support our truly independent journalism
By registering, you will also enjoy limited access to Premium articles, exclusive newsletters, commenting, and virtual events with our leading journalists
Already have an account? sign in
Register for free to continue reading
Registration is a free and easy way to support our truly independent journalism
By registering, you will also enjoy limited access to Premium articles, exclusive newsletters, commenting, and virtual events with our leading journalists
Already have an account? sign in
Join our new commenting forum
Join thought-provoking conversations, follow other Independent readers and see their replies