Welcome to Liberland: Europe's tiny new country where taxes are optional and you're allowed to move in as long as you're not a Nazi
So far, Croatia and Serbia are yet to diplomatically respond the creation of the 'country', located in no man's land between the two
Jamie Campbell
Saturday 18 April 2015 09:25 Comments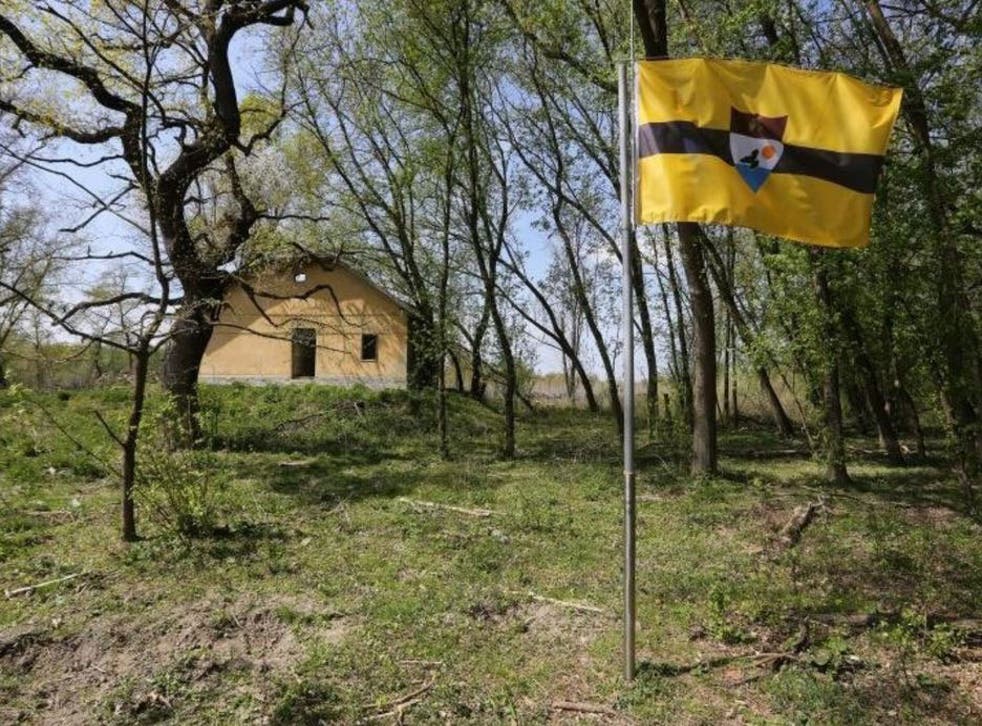 A politician from the Czech Republic is claiming to be the President of a brand new "independent sovereign state" in the Balkans.
Vit Jedlicka, a member of the Conservative Party of Free Citizens, is the self-appointed president of "Liberland," a 7sq km "country" (only the Vatican and Monaco are smaller) where taxes are optional and there is no military.
It is situated on the banks of the Danube between Serbia and Croatia in an unclaimed no-man's land, or terra nullius territory, meaning that neither country has ever held full sovereignty over the area.
Thus Jedlicka claims that his new country has been created entirely within the boundaries of international law.
Czech TN news website says: "It's not entirely clear to what extent the activists are being serious, but they have turned up at the location of their 'state,' where they have raised the flag."
Jedlicka, however, seems to be completely sincere about the establishment of the new country.
A statement announcing the creation of Liberland read: "The objective of the founders of the new state is to build a country where honest people can prosper without being oppressed by governments making their lives unpleasant through the burden of unnecessary restrictions and taxes."
Its motto reads: "To live and let live."
Jedlicka, 31, said that if Croatia or Serbia wanted to oppose the creation of the country then he would only put up a "passive defence."
Speaking to TIME Magazine, he said: "We will move, but we will keep out claim to the country," and added that he was still waiting for a diplomatic response from Liberland's neighbours.
He claimed that Liberland had been founded as a political stunt to attempt to garner media attention: "It started a little bit like a protest. But now it's really turning out to be a real project with real support."
The country has apparently already received around 20,000 applications for citizenshipa.
Jedlicka estimates that they will receive as many as 100,000 applications by the end of week. Some people, he says, have already made plans to relocate.
The country's website provides details of how to apply to be a citizen of Liberland, which include sending an email of introduction and an optional CV.
"We have the busiest immigration office in the world," says Jedlicka of his seven-person volunteer team that he expects will only grow.
Jedlicka will apparently only enable between 3,000 and 5,000 people to be granted citizenship over the coming weeks.
He hopes that in the future the country will be comparable to Liechtenstein, a 160sq km country bordering Switzerland and Austria with a population of around 37,000.
On the website it states:
"Liberland needs people who:
-Have respect for other people and respect the opinions of others, regardless of race, ethnicity, orientation or religion
-Have respect for private ownership which is untouchable
- Do not have communist, nazi or other extremist past
- Were not punished for criminal offences"
Jedilicka said that he was moved to found the new country after his efforts to oppose the government in the Czech Republic proved futile.
He said to TIME: "So we have decided to go the other way around."
"I'm still going to be active in Czech politics. I would probably resign and let someone else run Liberland for me if there was a chance to do political change in the Czech Republic."
Register for free to continue reading
Registration is a free and easy way to support our truly independent journalism
By registering, you will also enjoy limited access to Premium articles, exclusive newsletters, commenting, and virtual events with our leading journalists
Already have an account? sign in
Register for free to continue reading
Registration is a free and easy way to support our truly independent journalism
By registering, you will also enjoy limited access to Premium articles, exclusive newsletters, commenting, and virtual events with our leading journalists
Already have an account? sign in
Join our new commenting forum
Join thought-provoking conversations, follow other Independent readers and see their replies