'When you see this suffering, you can't just watch': The British family helping thousands of refugees on Lesbos
'We are losing people all the time and when the weather changes it's going to get worse,' Eric Kempson said in an exclusive interview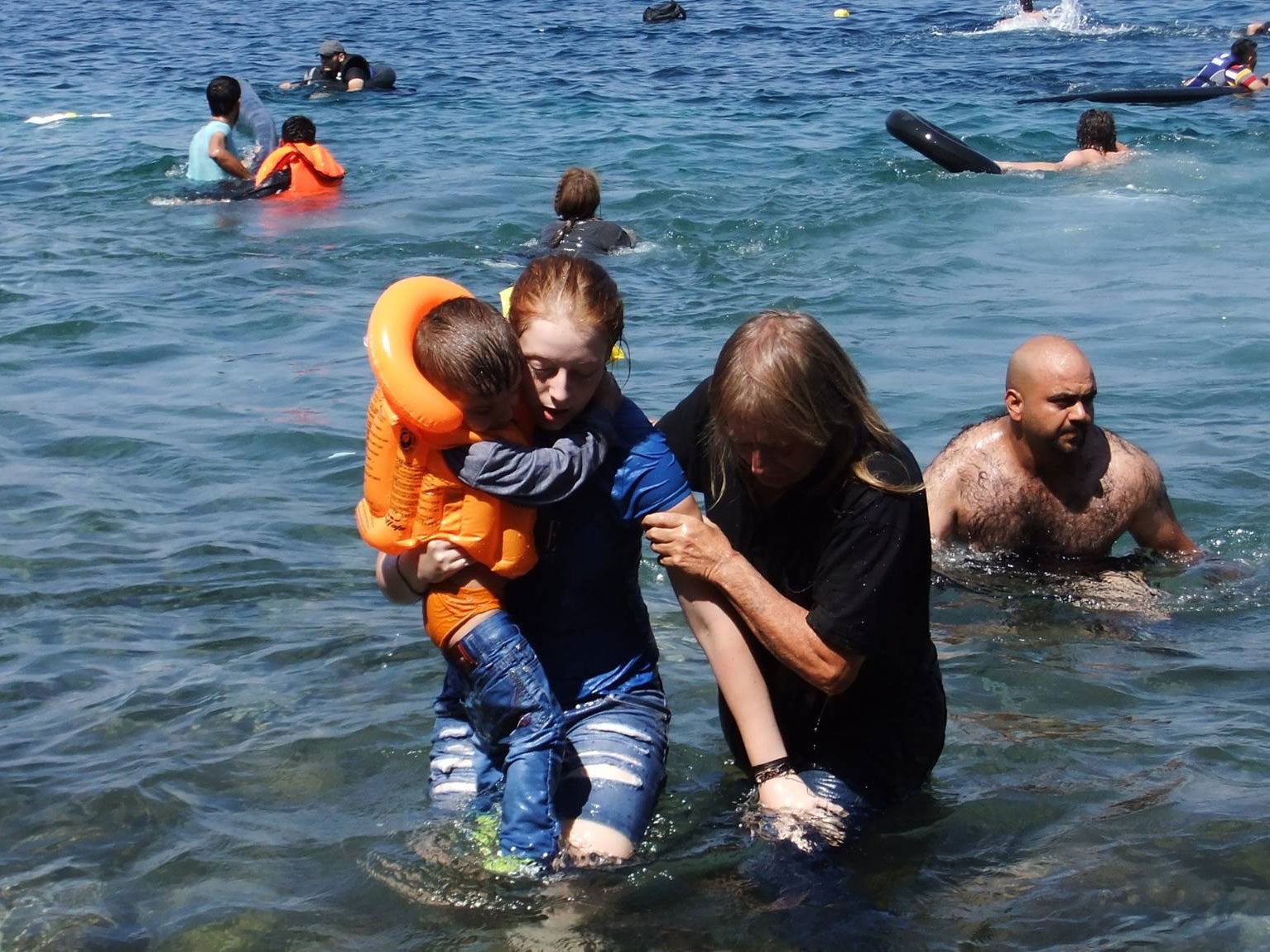 As thousands of refugees continue risking their lives every day crossing the Mediterranean to reach Europe, a British family on the Greek island of Lesbos is doing what it can to help the desperate arrivals.
Eric Kempson, 60, moved to the picturesque island with his wife and baby daughter 16 years ago after falling in love with it on holiday.
The couple left Hampshire with their baby daughter for a new life by the Aegean Sea, where Mr Kempson could sculpt olive wood from the local trees and paint the stunning landscape.
But for the last eight months there has been little time for his art, as he and his family work around the clock to help the hundreds of refugees arriving along the coast by their home every day.
The journey from Turkey across the Mytilini Strait is not a new one, but the number of desperate men, women and children arriving this year – 93,000 and rising- is unprecedented.
"We always get refugees here," Mr Kempson said. "Last year we had about 5,000, but this year there's well over 100,000.
"The numbers aren't going down, they're going the other way. They're still going up... every day we are saving people."
The artist had seen people arriving every summer from his family home by the sea in Molyvos, where he and his wife run their art and gift business, but in February he decided he could no longer just watch.
Mr Kempson had been walking along the beach when he saw a baby's life jacket lying next to a doll.
"I'm here and I'm a human being," he said. "When you see these babies suffering you can't just watch."
He and his wife, Philippa, and their 16-year-old daughter, Elleni, decided to start helping the people arriving on the beach outside their home and they have been gradually joined in their efforts by local people, tourists and volunteers from around the world.
Mr Kempson now works with a network of about 60 volunteers, who use his family home as an unofficial base of operations and distribution centre for food, water, clothes and emergency supplies.
Every day, they keep watch along 10 miles of coastline around Molyvos, also known as Mithymna, and do what they can for the waves of people arriving on flimsy rubber dinghys.
On the day The Independent spoke to Mr Kempson, he had seen 25 boats arrive before lunchtime and received word of "another influx" down at the beach during the interview.
Most of the landings are jubilant occasions, with families hugging and crying with relief, as others sing or kiss the ground while offering up a prayer.
"When a boat comes in, the emotions are tremendous in both ways. People are very happy and there's a lot of crying but if it has gone wrong, it can be terrible," Mr Kempson said.
He has seen people arriving with serious injuries, women suffering miscarriages and children passed out from dehydration – not to mention the hundreds of loved ones lost on the journey, their bodies washing up hours or sometimes days later.
Sunday almost saw another disaster, when a boat sank before it reached the shore, throwing everyone on board into the water, including many who could not swim.
Elleni, who is a touring musician, swam out into the sea to rescue a toddler, carrying him to safety with her father by her side.
The harrowing scenes are a regular sight for locals but have a powerful effect on locals and the many journalists who have travelled to Lesbos to document the crisis.
"I've seen film crews here getting in the water to help," Mr Kempson said. "I had a cameraman here from RTL who had been in warzones , in Syria and Iraq. He was on the beach crying his eyes out.
"I've seen crews having children in their cars to keep them warm."
But surviving the voyage is just the first part in what will be a much longer journey for the majority of refugees trying to reach northern Europe.
People arriving on boat are classed as "undocumented illegals" by local authorities, meaning they are given no food or shelter and cannot even lawfully get a local hotel room or food from a restaurant until they are registered.
To do that, they must journey to the capital of Mytilini on foot for 40 miles. At the Moria First Reception Camp, stained mattresses and sheets of cardboard serve as beds and the gutters run with raw sewage.
Before starting that journey, most of the refugees, who are mainly fleeing Syria and Afghanistan, spend at least one night in Molyvos, exhausted by their voyage.
"There's nowhere for these people to go," Mr Kempson said. "We help them sleep on the ground but it's all we can do."
His family and volunteers feed and clothe the refugees, help them find shelter and drive anyone needing urgent medical attention to hospital or pharmacies.
But their efforts often get little thanks from their neighbours, who have spat at and abused the Kempsons, and even slashed the tyres of their car.
"We get a lot of hostility with people from the town because they blame us for giving the refugees food and water and looking after them," Mr Kempson said, explaining that some locals believe the kindness encourages more people to come.
He acknowledged that the thousands of people landing in Lesbos have "affected" the island but knows that, like the 29,000 people taken to the Greek mainland in the past week, they will not stay for long.
"The refugees don't want to be here and they are just going through," he said.
According to the European border agency Frontex, the bulk of refugees and migrants arriving in Greece over the Aegean go on to take the long Western Balkans route to reach western Europe.
But with Hungary having closed its border with Serbia, and crackdowns by Croatia and Slovenia cutting off alternative routes, the onward journey is getting ever more difficult.
Mr Kempson, who has appeared in a documentary by Channel 4, said refugees he has talked to in recent days were aware of the developments but were not changing their plans.
"They definitely know," he said. "They have all got internet so they know what's going on."
He does not believe that increasing border controls across the EU and meeting asylum seekers with lines of riot police and tear gas will stop people seeking a better life in the continent.
"It doesn't work like that," Mr Kempson said. "They've got to think of a different way of solving the problem."
Several international humanitarian organisations and charities have a presence on Lesbos but Mr Kempson is sceptical of their efforts, having seen few aid workers in Molyvos.
"We are finally getting a presence now but it's very thin on the ground," he said.
"NGOs come here, they photograph the women and children, and then they go and the next thing we see is the photos all over the internet advertising for donations…it's wrong."
Mr Kempson believes that the tragic death of Aylan Kurdi prompted a shift in public opinion on Lesbos and around the world that has driven more help to the Greek islands.
The refugee crisis - in pictures
Show all 70
After months of having to rely on basic first aid to help refugees, the volunteers are now being helped by doctors, and a midwife is expected to arrive within days.
Meanwhile, donations continue to pour in from across Europe and more volunteers are offering their time to help.
"The people of Europe have been fantastic and the people of the world have been fantastic," Mr Kempson said. "We're getting there but it's hard work."
As summer fades in Lesbos and the weather becomes more unpredictable, he fears for the lives of people still attempting to across the sea.
"We are losing people all the time and when the weather changes it's going to get worse," he said.
How to help the Kempsons
Volunteers on Lesbos are in desperate need of blankets as the weather cools.
Send them to Elleni's Workshop, Eftalou, 81108, Molyvos, Lesbos, Greece.
Anyone wanting to volunteer or donate money is asked to contact the Boat Refugee Foundation of the Netherlands (Stichting Bootvluchteling), which works closely with the Kempsons.
The charity's contact details can be found on its website here.
Join our commenting forum
Join thought-provoking conversations, follow other Independent readers and see their replies