Number of girls in education around the world falls by hundreds of thousands
The number of girls who are not in education increased from 130.3 million to 130.9 million according to the latest available figures from 2015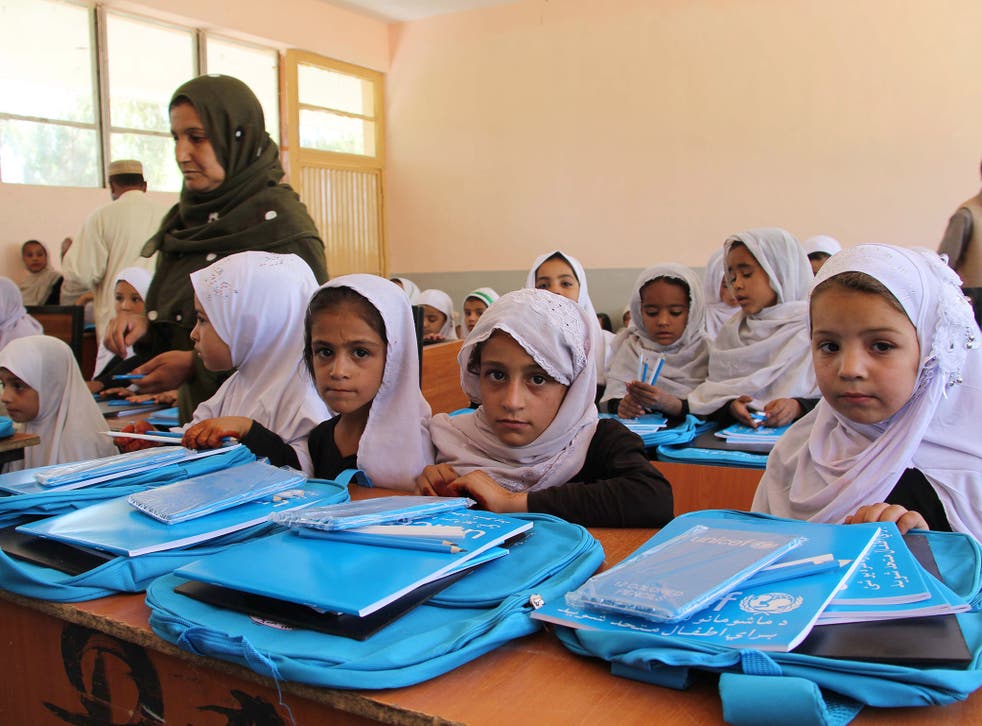 The total number of girls entering education worldwide has fallen for the first time in 10 years in what has been described as a "global crisis which perpetuates poverty".
The number of girls who are currently out of education has increased from 130.3 million to 130.9 million based on a report by The ONE Campaign citing Unesco data from 122 countries across the world.
The research reveals that the countries with the lowest proportion of girls in school are also some of the world's poorest with South Sudan, the Central African Republic and Niger topping the list.
In South Sudan alone, which has been beset by civil war since it declared independence from Sudan in 2011, 73 per cent of girls aged between six and 11 are not in school and in CAR there is just one teacher for every 80 pupils.
The report highlights some of the reasons why girls are struggling to get to school.
The ONE Campaign said that the majority of the countries were among the world's poorest and several of them were in places torn apart by war making it more difficult – and more dangerous – for any child to get an education.
Other factors include the fact that in some parts of the world it costs money to send a child to school rather than getting them to start work and parents will often favour boys over girls.
In addition, in some areas there are cultural barriers to women getting a good education such as in Niger which has the highest proportion of girls under 18 who are married – 76 per cent of all girls in the country in 2016, according to Unicef.
World news in pictures

Show all 50
In other places, such as Afghanistan which was fourth on the list, groups like the Taliban have taken violent action to stop women from attending school.
Malala Yousafzai was famously shot by the Islamist militants in the Swat Valley in neighbouring Pakistan in 2012 for campaigning for girls to have the right to go to school without fear.
She recovered and later became the youngest Nobel Laureate at 17 and today tweeted that she had just started lectures at Oxford University.
The report also pointed out the huge regional differences in different countries.
For instance in Nigeria, which did not make the list of the top 10 countries where the fewest girls were educated, the states in the far south of the country had just five per cent of girls not in school.
But in states in the North East corner which has been hit by the Boko Haram terror group – whose name literally means "Western education is forbidden" – the number of girls not in school rises to 52 per cent.
President and CEO of The ONE Campaign Gayle Smith said: "Over 130 million girls are still out of school -- that's over 130 million potential engineers, entrepreneurs, teachers and politicians whose leadership the world is missing out on. It's a global crisis that perpetuates poverty.
"Across countries in Africa today millions of girls didn't get to go to school, or walked long distances in dangerous conditions to get there, or sat in a classroom without a teacher or textbooks. This is not just about getting more girls into school, it's about the women they grow up to be: educated, empowered and employed."
The index was based on 11 factors which reflected girls' experiences of school which included completion rates, female literacy and the pupil-teacher ratio.
Other countries, such as Somalia and Syria, were not included in the study because there was insufficient data available.
Register for free to continue reading
Registration is a free and easy way to support our truly independent journalism
By registering, you will also enjoy limited access to Premium articles, exclusive newsletters, commenting, and virtual events with our leading journalists
Already have an account? sign in
Register for free to continue reading
Registration is a free and easy way to support our truly independent journalism
By registering, you will also enjoy limited access to Premium articles, exclusive newsletters, commenting, and virtual events with our leading journalists
Already have an account? sign in
Join our new commenting forum
Join thought-provoking conversations, follow other Independent readers and see their replies