Groups of ultra-Orthodox Jewish men keep delaying flights by refusing to sit next to women
Flight between New York and Tel Aviv suffer repeated delays due to ultra-Orthodox religious preferences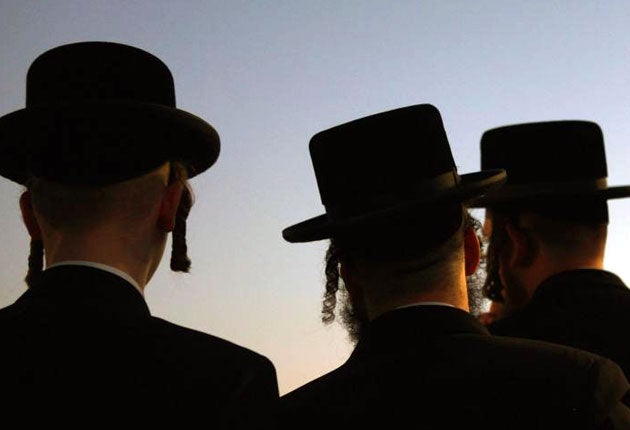 A flight from New York to Tel Aviv was delayed by half an hour last week after a group of male ultra-Orthodox Jewish passengers refused to sit next to women, the third such incident in recent months.
The cabin crew on the Delta flight out of John F. Kennedy Airport tried to find seats for the men, but were met with refusal by other passengers, some of whom who took a dim view of the reasoning behind the request.
The incident took place on Delta flight 468 on 20 December, the Israeli publication The Times of Israel reports. An American passenger ultimately switched seats with the men.
This is the third widely reported incident in the last few months in which ultra-Orthodox Jewish men have delayed a flight by asking to be segregated from women.
On the eve of the Jewish festival Rosh Hashana in October, a flight, also between New York and Tel Aviv, was delayed by an hour after a group of Haredim refused to sit next to women.
In this case, passengers ultimately left the plane before take-off.
A month earlier in September an El Al flight descended into an "11-hour long nightmare" after a group of Haredi Jewish passengers refused to sit next to women.
The ultra-Orthodox passengers, also travelling between New York and Tel Aviv, agreed to sit in their assigned seats for take-off but only after delaying the plane and offering money to switch seats with other passengers.
"People stood in the aisles and refused to go forward," a passenger on board the El Al flight, Amit Ben-Natan, told the Shalom Life publication.
"Although everyone had tickets with seat numbers that they purchased in advance, they asked us to trade seats with them, and even offered to pay money, since they cannot sit next to a woman. It was obvious that the plane won't take off as long as they're standing in the aisles."
The behaviour of ultra-Orthodox men on flights has become a minor political issue in Israel.
A petition on the website Change.org demanding Israel's national airline El Al stop "bullying, intimidation and discrimination against women" on their flights has received over 5,600 signatures since it was set up in September.
Many Haredi Jewish communities practice strict gender segregation and refrain from touching people of the opposite gender who are not close family members.
Haredi publications in Israel generally do not print pictures of women and girls. In 2009, the Israeli newspaper Yated Ne'eman famously doctored a photograph of the Israeli cabinet in order to replace two female ministers with images of men.
In the UK, the ultra-Orthadox Jewish community in Stamford Hill, north London, was recently criticised after signs requesting women to walk on a certain side of the street were erected, promoting segregation for a Torah parade.