Indonesia bans Valentine's Day celebrations as police detain couples and raid schools
'Valentine's Day reflects a culture which is not in line with Aceh's and Islamic law'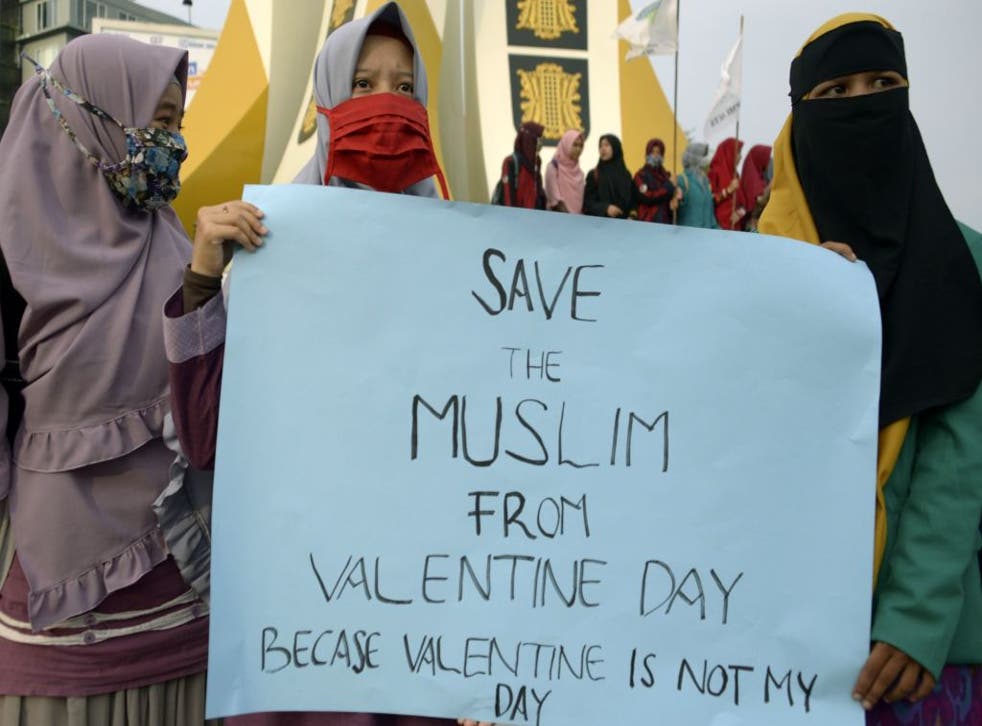 Authorities in Indonesia enforced strict bans on Valentine's Day festivities on Wednesday, with several couples detained by the police for taking part in the day of love.
Indonesia has the largest Muslim population in the world, with 225 million Muslims currently living there.
According to reports, authoritative figures from cities across the country have been issuing full and partial bans on Valentine's Day celebrations, bolstered by the support of some of its conservative Muslim inhabitants.
Irwandi Yusuf, governor of the Aceh province in north Sumatra, explained that celebrating Valentine's Day didn't align with his people's religious values.
Aceh is the only province in Indonesia that administers some areas of Islamic law.
"Valentine's Day reflects a culture which is not in line with Aceh's and Islamic law," he said in a statement, the Straits Times reported.
These bans come following the news that the Indonesian government was preparing to put forward proposals to outlaw extramarital and homosexual sex.
Two dozen couples were temporarily held by police on Valentine's Day in Surabaya, Indonesia's second-largest city, with couples in hotels and cafes being left alone.
Police in Mataram city on the tourist island of Lombok were also ordered to raid schools in search of students who may be partaking in illicit activities.
This isn't the first time cities in Indonesia have issued bans on Valentine's Day.
In 2017, condoms were removed from convenience stores by authorities in the city of Makassar in order to prevent teenagers from buying them for romantic Valentine's rendezvous.
"[Valentine's Day] has never been declared by the government to be a celebration in the country," stated Syamsu Rizal, deputy mayor of Makassar.
Around 10 cities in Indonesia imposed either full or partial bans during Valentine's Day.
Some Muslim students from Aceh campaigned against Valentine's Day with protests and signs.
One of the signs held up by three female students read: "Save the Muslim from Valentine Day because Valentine is not my day."
Join our new commenting forum
Join thought-provoking conversations, follow other Independent readers and see their replies