Vladimir Putin praises women for their 'beauty' and for 'always being on time' on International Women's Day
Russian President recently approved law to partially decriminalise domestic violence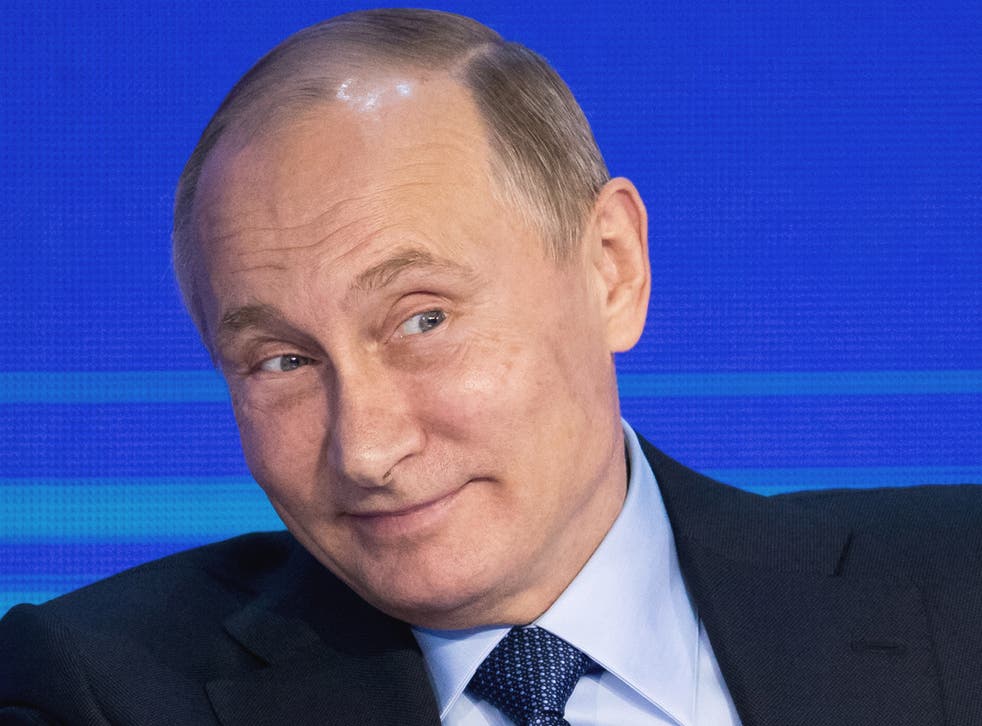 Vladimir Putin has marked International Women's Day by praising Russia's female population for their "beauty", "tenderness" and for "always being on time".
The Russian President is not known for his progressive attitude towards women, having approved a controversial law to decriminalise domestic violence and once causing a storm when he said he "envied" a politician who was accused of multiple counts of rape.
Following messages from other world leaders including US President Donald Trump, the Kremlin put out the message on behalf on Mr Putin, congratulating all Russian women.
It opens in the form of a letter: "Dear women, mothers, grandmothers, daughters, wives, friends, our nearest and dearest ones, please accept my heartfelt congratulations on International Women's Day!
"You fill this world with beauty and vitality, giving warmth and comfort, cordiality and harmony with your tenderness and generosity of spirit."
Mr Putin, who is divorced with two adult daughters aged in their thirties, continued: "You care day and night for your children, grandchildren and your family. Even today, on International Women's Day, you are still caught up in your routine, working tirelessly, always on time. We often ask ourselves, how do they manage it all?"
The former KGB agent, who is rumoured to have been in a relationship with former rhythmic gymnast Alina Kabaeva for many years, went on to remind Russian citizens how women have been celebrated in the arts for centuries.
"Most importantly, we love and treasure you. No wonder men have been celebrating women in music and poetry for centuries. Konstantin Balmont, a Russian Silver Age poet, described women in a vivid and precise manner: A woman – with us when we are born, a woman – with us in our last hour, a woman – our standard during battle, a woman – the joy of open eyes.
"We always turn to women for inspiration and consolation, and always find it. Women give us life and perpetuate it in our children."
International Women's Day was an important celebration of the contribution women made both as workers and homemakers in the former Soviet Union before the UN adopted and promoted it more widely in the 1970s.
Mr Putin's message received a mixed reception of Twitter. Although some women thanked him for the sentiment, other replies included: "But your country does not hold a man criminally responsible now when he beats his wife. How is that respect for women?"
Mr Putin once responded to reports of his long-rumoured affair with Ms Kabaeva, who is almost 30 years his junior, by saying: "In other publications of the same type, the names of other successful, beautiful young women from Russia are mentioned. I think it won't be unexpected if I say that I like them all — just as I like all Russian women."
And the President replied when asked what he made of a topless protest by the activist group Femen: "I liked it. I did not catch what they were shouting. I did not even see if they were blondes, brunettes or chestnut-haired."
In 2006, a journalist overheard Mr Putin telling Israeli Prime Minister Ehud Olmert, whose then president, Moshe Katsav was accused and later convicted of raping and sexually harassing female subordinates. "Greetings to your President … what a mighty man he turns out to be! He raped ten women — I would never have expected this from him. He surprised us all — we all envy him."
A Kremlin spokesman later admitted that those "words were pronounced" by Mr Putin, but suggested elements of the joke had been lost in translation.
Join our new commenting forum
Join thought-provoking conversations, follow other Independent readers and see their replies