Police officers who shot dead Berlin market terrorist made 'pro-fascist statements'
The pair were praised on Facebook after the incident - but their profiles reveal neo-Fascist leanings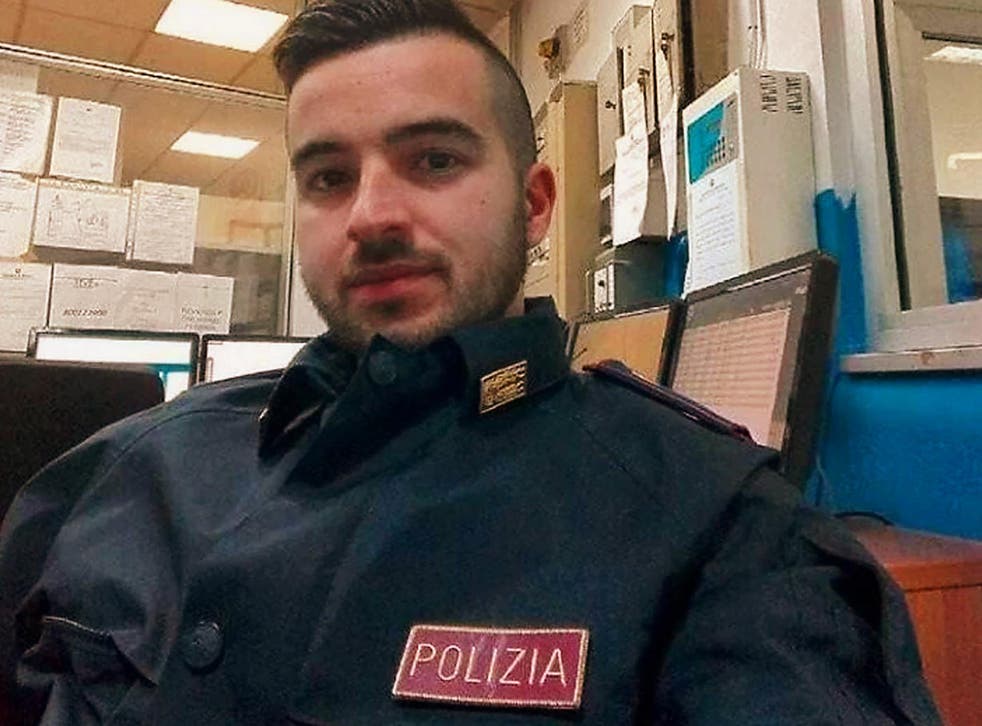 The Italian police officers hailed as "heroes" after they shot dead Berlin market attacker Anis Amri have been exposed as having fascist tendencies and will no longer be honoured for their actions.
Luca Scata shot and killed Isis-inspired Amri, then Europe's most wanted man, in December together with his colleague Christian Movio, leading to instant global acclaim for both.
Both men's Facebook profiles suggest far-right leanings, with Mr Scata posing in an apparent Nazi salute and Mr Movio posting a picture of Hitler with the words, "thanks Bro!" beneath it.
Der Bild carried the headline "Doubtful heroes" in its article about the posts, which have since been deleted from both men's profiles.
Tunisian-born bogus asylum-seeker Amri hijacked a lorry which he ploughed into a crowded Christmas market, killing 12 including the truck driver and injuring dozens more.
After German police initially arrested the wrong man, the killer is believed to have fled to Italy via the Netherlands, Belgium and France.
Amri opened fire when the two policemen apprehended him in Milan, wounding Mr Movio,29, before Mr Scata, 36, gunned him down.
Mr Scata had only just joined the police force as a trainee at the time, and his Facebook page was flooded with praise for his actions, while the Milanese force hailed them as "extraordinary young men".
According to the Bild both police officers were set to be honoured with the federal Cross of Merit – the highest civilian award for bravery – but plans have been shelved following the expose of their political views.
On April 25 last year, the anniversary of the liberation of Italy's liberation from fascist dictator and Hitler ally Mussolini, Mr Scata posted an obituary notice on his site which said: "Not all have committed treason. Many decided to stay true to the flag and to give their lives for it. I belong to this Italy, to those Italians who have not committed treason and who have not surrendered."
He made other posts praising Italian fascism as a movement while Mr Movio also reportedly posted racist comments, saying he was "delighted" to have received a Coke bottle with "Adolf" inscribed on it.
Stephan Mayer of the Christian Social Union party, which governs Germany in coalition with Angelka Merkel's CDU, told Der Bild: "The Federal Government's decision to give no medals these two police officers is absolutely right because of their apparent neo-fascist attitudes."
Register for free to continue reading
Registration is a free and easy way to support our truly independent journalism
By registering, you will also enjoy limited access to Premium articles, exclusive newsletters, commenting, and virtual events with our leading journalists
Already have an account? sign in
Register for free to continue reading
Registration is a free and easy way to support our truly independent journalism
By registering, you will also enjoy limited access to Premium articles, exclusive newsletters, commenting, and virtual events with our leading journalists
Already have an account? sign in
Join our new commenting forum
Join thought-provoking conversations, follow other Independent readers and see their replies