Italy wildfires: Hundreds evacuated as blazes rage across Sicily and Vesuvius
'There was a lot of tension, especially among the elderly and children, many of whom were crying'
Yarra Elmasry
Thursday 13 July 2017 17:28 Comments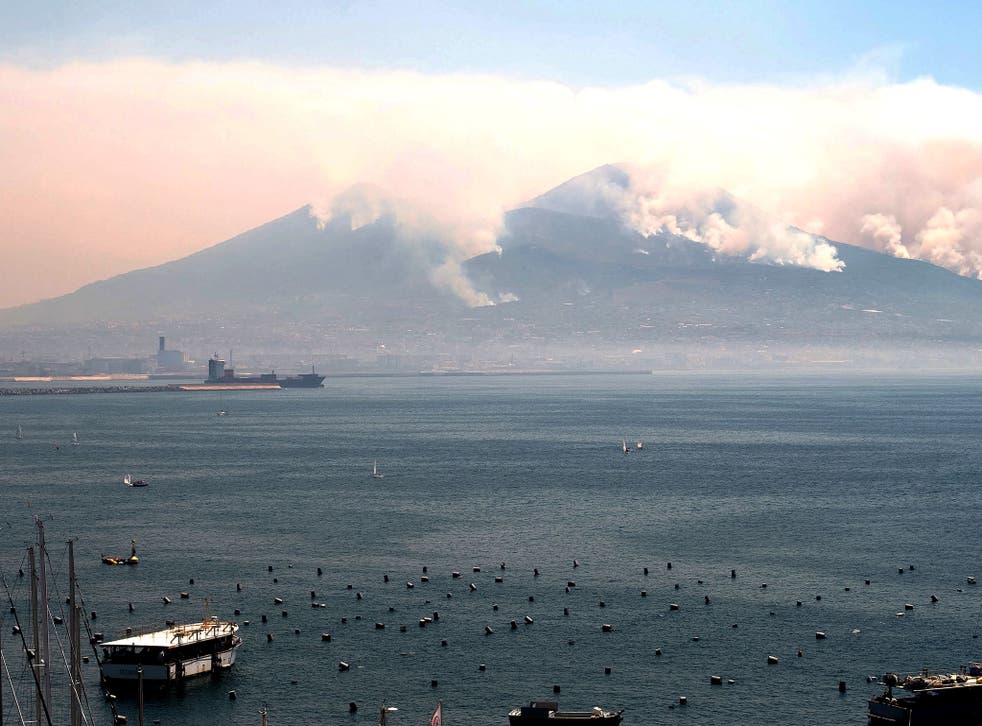 Holidaymakers, some wearing only their swimming costumes flip flops, have been evacuated from numerous locations in Sicily as hundreds of wind whipped wildfires continue to spread.
Around 800 tourists were removed from from Calampiso, a resort in Vito Lo Capo. Another 20 were also forced to evacuate from one of the Tremiti islands off of Puglia.
Stella Belliotti and her seven-year-old daughter were evacuated from a Sicilian beach, wearing only their swim costumes. They were forced to hold pieces of cloth to their mouths to protect themselves from the smoke.
"The situation was a little surreal," said Danilo Giannese who was evacuated alongside her. They were evacuated to nearby towns by fishing boats and dinghies.
"We went to swim like every other day," he told SKY TG24. "From the early morning, we saw flames and smoke but it didn't appear to be worrying and no one said to leave."
However, the winds shifted and guests were told to move their cars to safer locations.
Within hours they were told to gather on the beach so they could be evacuated because the road to the nearby town was no longer safe to use.
"There was a lot of tension, especially among the elderly and children, many of whom were crying," he said. "Thankfully the operation was conducted in an orderly fashion."
In a separate interview with the Corriere della Sera, he said: "To see the resort surrounded by flames from the boat was terrible," Belliotti said in an interview with Corriere. "Now we just want to forget it."
Italy's environment minister, Gian Luca Galletti said there were 125 active fires on Sicily alone.
Pompeii: Life and death in the shadow of Vesuvius

Show all 10
On the mainland near Naples, around 50 families have been forced to leave their homes as firefighters worked to prevent three blazes from merging into one on the slopes of Mount Vesuvius.
Refusing to rule out arson or Mafia involvement, Mr Galleti added that there were too many fires Mount Vesuvius for them to be spontaneous.
"I don't have proof, but it does not seem to be an isolated action or chance: three ignition points are too many to be the result of carelessness or combustion," he told the Corriere della Sera newspaper.
One of the suspected arsonists was being questioned by police after being caught on CCTV footage, according to La Repubblica di Napoli.
No injuries have been reported, but La Stampa Italia reported that damage to the first Sicilian natural reserve, Zingaro, is irreparable.
The mayor of San Vito posted on Twitter and Facebook urging anyone with safe and reliable boats to go to Calampiso and help evacuate the village.
Register for free to continue reading
Registration is a free and easy way to support our truly independent journalism
By registering, you will also enjoy limited access to Premium articles, exclusive newsletters, commenting, and virtual events with our leading journalists
Already have an account? sign in
Register for free to continue reading
Registration is a free and easy way to support our truly independent journalism
By registering, you will also enjoy limited access to Premium articles, exclusive newsletters, commenting, and virtual events with our leading journalists
Already have an account? sign in
Join our new commenting forum
Join thought-provoking conversations, follow other Independent readers and see their replies