In photos: a malnourished toddler's recovery in Central African Republic
'When I was walking, I was praying on the way, I didn't know if I was going to get to the hospital with Pierre alive'
Thursday 06 December 2018 16:04
comments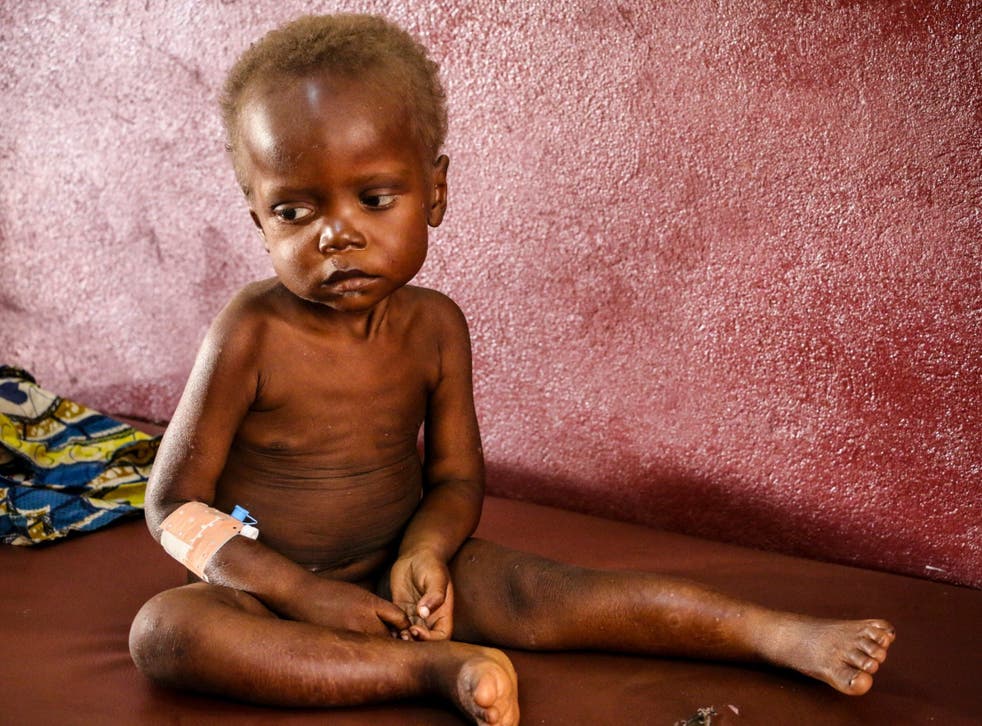 Pierre's mother died soon after he was born three years ago. He now lives with his father, Prosper, sister and grandmother in a little village outside Bangui, the capital of the Central African Republic.
Pierre's father doesn't have a job, their lives have been ripped apart by ongoing conflict in the country, and every day is a struggle to find enough food to eat.
Surviving mostly on dwindling supplies of corn that they could collect from a nearby farm, Pierre's weight began to drop. By July he had been falling sick repeatedly, refusing to eat and becoming frighteningly emaciated.
Worried that he couldn't pay to go to the hospital, his father had been trying treat him with traditional medicine, but he kept getting worse. Pierre, who is three and a half years old, weighed just 9kg and he had severe diarrhoea.
Fearing little Pierre was about to die Prosper walked the 12km to the nearest health facility, carrying his emaciated son in his arms. "When I was walking, I was praying on the way, I didn't know if I was going to get to the hospital with Pierre alive.
"Even if I made it I didn't know if he would make it. I wondered if God's plan was to send this child with only the plan to take him back. I was not crying because I am a man and I didn't want to shed tears, but I was worrying on the inside."
Once they entered the health centre, which receives support from Unicef, doctors rushed to stabilise Pierre. "I was surprised that there were so many people that were working to help my child," Prosper remembers. "When we got to the health centre everyone ran to him. I was not sure we were going to take him home alive."
The next day there was no sign that Pierre was getting better. He was almost unconscious because of severe dehydration caused by diarrhoea. Doctors at the health centre, fearing he might die, referred him to the only paediatric hospital in the whole of the Central African Republic for more intensive care.
Pierre's recovery from malnutrition in Central African Republic

Show all 18
On 20 July, Pierre was admitted to the Bangui Paediatric Hospital, a lifeline for children suffering from the most severe cases of malnutrition. The hospital's malnutrition stabilisation wards are overwhelmed, every bed is full, many with two children, all of them weak and fragile and in need of lifesaving care.
Pierre and his father spent an agonising week in the acute stabilisation ward. Pierre received two-hourly treatments of fortified milk, too weak to eat. After seven days, he was strong enough to move wards to the next phase of treatment.
Doctors said he was far from cured. Prosper and Pierre spent four more days in the hospital. Every day Pierre got a little stronger. He started to smile again and was eating up supplies of plumpy nut, the fortified peanut paste provided by Unicef, so vital for a child's recovery from malnutrition.
Finally, after 10 days of meticulous, round-the-clock care, it was time for Prosper to take little Pierre home to see his sister. Prosper received strict instructions to refer Pierre to an outpatient feeding programme at the health centre near his village. For the next few weeks Pierre was to receive regular follow-up health checks and a supply of plumpy nut to help him put on weight.
A few days later, Prosper woke at 5am to carry Pierre 12km to the health centre so he could receive his first checkup. "Since I left the hospital I have follow-up meetings with the doctor, we have a supply of plumpy nut for each week," his father says after his first meeting at the health centre. "I feel relieved and now that Pierre is doing much better I can go and work in the field or chop some wood to provide something for him."
After a month in the outpatient feeding programme Pierre has bounced back to life. He still clings to his father but he smiles again and laughs when he is placed in the bucket that weighs him at the health centre. The worry that has gripped Prosper for the last month has begun to fade. He can begin to hope for a future for his son. "I want to send Pierre to school, I want to find work so I can send him to school. That would give me pleasure. I am very happy to see him like other children."
"The situation for children living in the Central African Republic is getting worse every day," says Theophile Basimba, Unicef Nutrition Specialist in Bangui. "Many children are cut off from services because of fighting and insecurity, their families cannot farm, there is no food for them to eat. There is one paediatric hospital in the entire country and it is overwhelmed. Children like Pierre, who are severely malnourished but able to access health services, are the lucky ones."
Unicef UK film shows exploitation and abuse children suffer in wars and crises
"Pierre only just made it to the health centre in time. We could stabilise him with simple, cost-effective and proven lifesaving interventions like miracle milk (F75 and F100) and plumpy nut. He is making a strong recovery and we are supporting his father to provide the ongoing care that Pierre will need.
"It is bittersweet to see Pierre smiling again because too many kids across this country are unable to get the kind of care they so desperately need. Insecurity means we cannot get to them with services and our nutrition programmes are critically underfunded. It is heartbreaking to see the continual stream of children coming in to the paediatric hospital and gut wrenching to think about those who can't reach with care. We so desperately need help to scale up our response."
Join our new commenting forum
Join thought-provoking conversations, follow other Independent readers and see their replies