15 Sudanese migrants killed by Egyptian security forces in crossfire near Israel-Egypt border
15 were killed and 15 more were injured after being caught in crossfire between Egyptian security forces and Bedouin smugglers
Doug Bolton
Sunday 15 November 2015 18:33 Comments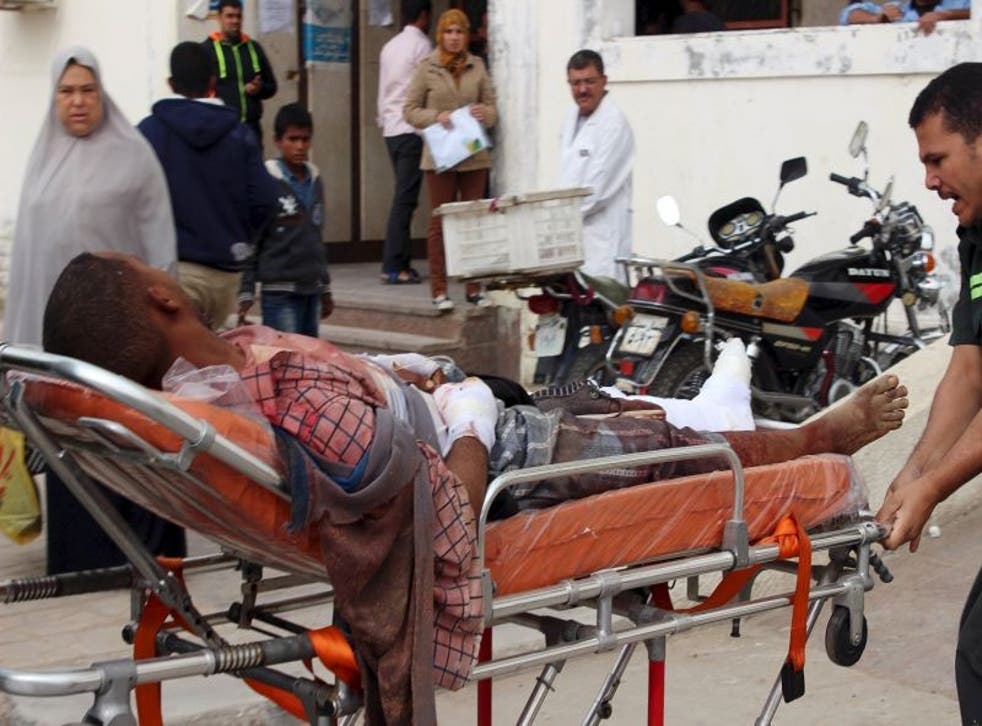 15 Sudanese migrants have been killed near the Israeli border in Egypt, after reportedly getting caught in crossfire between Egyptian security forces and Bedouin smugglers.
They were killed on Sunday around 12 miles south of the town of Rafah in the northern Sinai region, a troubled area, close to the border with both Israel and Gaza.
Ambulances rushed from Rafah to the site of the attack, in which eight other migrants were injured, security and hospital officials said.
Another eight were arrested unhurt and are being interrogated, the officials said.
As reported by the Associated Press, the Sudanese migrants were preparing to illegally enter Israel when they were killed.
Migrants' desperate boat journeys to Europe

Show all 33
Officials had previously said that they were killed as they approached the wire fence that separates Sinai from Israel, but the details of their deaths were only clarified later in the day.
Most of the wounded are in a serious condition, suffering from wounds to the chest and stomach.
The Interior Ministry, which is in charge of the police and security services, did not respond to a request for comment.
The deaths of the 15 people marked the end of a lull in attempted border crossings, which was mostly due to an increase in military operations as Egyptian forces battle a local Isis-affiliated group.
The death toll is the highest in a single incident involving Sudanese migrants in Egypt since 2005, when riot police used truncheons and water cannons to violently clear an encampment in an upscale Cairo neighbourhood created by Sudanese refugees, who were attempting to draw attention to their demands for resettlement.
Israel says that more than 45,000 African migrants and refugees live in the country. Many are fleeing war and persecution, but Israel classifies many as economic migrants.
Register for free to continue reading
Registration is a free and easy way to support our truly independent journalism
By registering, you will also enjoy limited access to Premium articles, exclusive newsletters, commenting, and virtual events with our leading journalists
Already have an account? sign in
Join our new commenting forum
Join thought-provoking conversations, follow other Independent readers and see their replies