Egyptian military floods vital Gaza supply tunnels on Palestinian border
Egyptian forces are cracking down on the tunnels which they believe help terrorist groups operating on the border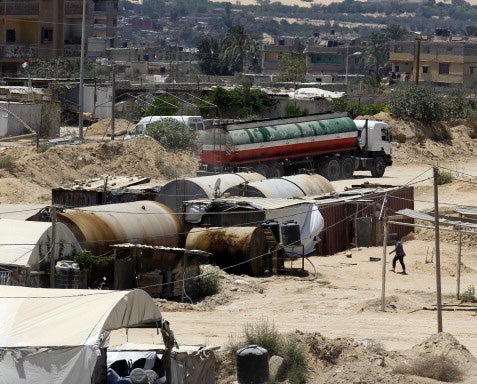 The Egyptian military has reportedly begun to flood the tunnels under the border with Gaza to flush out Palestinian militants and smugglers.
Officials in Cairo say the move is the latest in a series to combat insurgency on their borders.
According to the BBC, Egypt is creating a buffer zone along the border and has destroyed thousands of homes and evicted thousands of families.
Egyptian authorities say they are building fish farms in the area and have used seawater to flood the tunnels, Al Jazeera reports.
The tunnels have played a vital role in getting food and supplies in Gaza after the Israeli government began blockading it after the election of Hamas in 2007.
But residents of Rafah on the Egyptian-Palestine border say they rely on the tunnels and that the flooding could affect their water supplies.
Subhi Radwan, the mayor of Rafah, told Al Jazeera: "This will damage the aquifer, Rafah's underground water. Which means no drinkable water. It will also deprive the farmers from using the water for irrigation and growing their plants.
"It will cause landslides, and could lead to the collapse of houses along the borders. Foundations here are already weak from all the shelling…"
Hamas in pictures
Show all 10
The Egyptian blockade of Gaza is in part an attempt to cut off supplies to an Isis affiliated terrorist group, Sinai Province.
Egypt has accused Hamas of partnering with the group in the region and of using the tunnels to smuggle weapons across the border.
Hamas has denied any allegations and Isis released a video in July saying they planned to overthrow the group because it was not hardline enough.
Join our commenting forum
Join thought-provoking conversations, follow other Independent readers and see their replies