New Isis video threatens to overthrow Hamas in Gaza because group is not extreme enough
Message criticised Palestinian militants for dealing with 'secularist' factions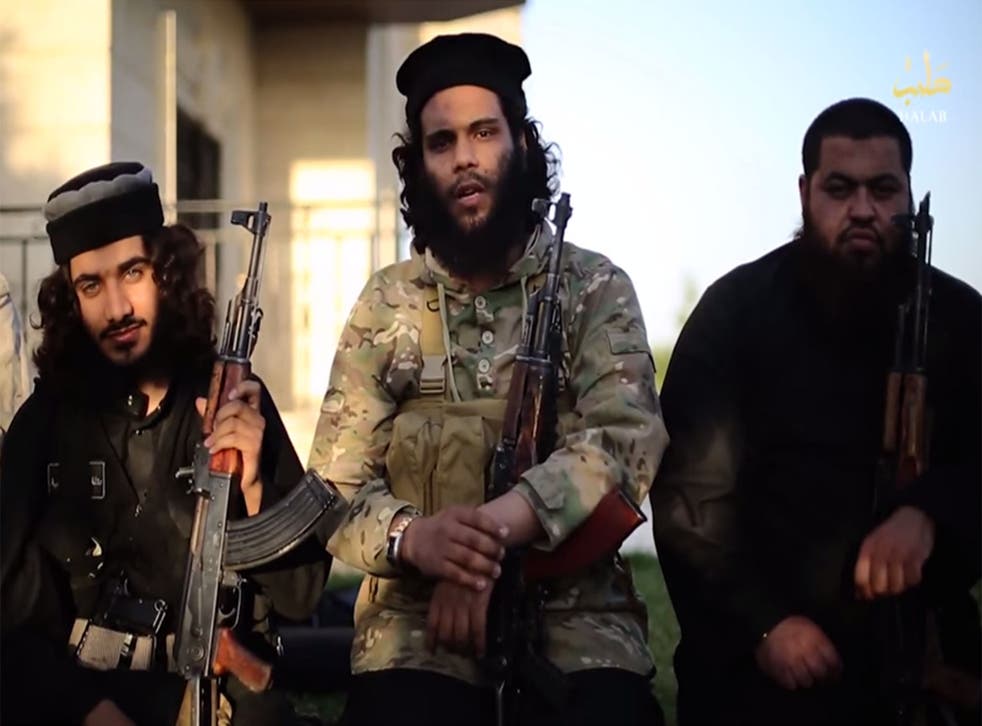 A new video released by Isis militants entitled "A Message to our People in Jerusalem" has directly threatened to overthrow Hamas in Gaza because the group is not extreme enough.
Issued by Isis's media wing from an Aleppo stronghold for the so-called Islamic State in Syria, it criticised Hamas for dealing with "nationalist" and "secularist" entities like Iran and the Shia Lebanese movement Hezbollah.
Posing with AK47 assault rifles, three different fighters were shown speaking in the 16-minute long video statement, addressed to the "tyrants of Hamas".
"The point of jihad is not to liberate land… but to fight for and implement the law of God," one fighter can be seen saying.
The Isis members were critical of Hamas's previous references to its supporters as "khawarij", according to an al-Jazeera translation, translating roughly as "those who have transgressed".
They also accused Hamas of "raising their children to respect this [Palestinian] flag".
"We will uproot the state of the Jews (Israel) and you and Fatah (leading Palestinian political party), and all of the secularists are nothing and you will be over-run by our creeping multitudes," one fighter said.
Hamas in pictures

Show all 10
"The rule of sharia (Islamic law) will be implemented in Gaza, in spite of you. We swear that what is happening in the Levant today, and in particular the Yarmouk camp (near Damascus in Syria), will happen in Gaza."
Isis remains at the heart of the terror debate within Israel itself, and on Tuesday the country's intelligence minister, Israel Katz, accused Hamas of partnering with affiliates of the militant group in the Egyptian Sinai.
Repeating the sort of charge which Hamas has consistently denied in the past, he told a press conference in Tel Aviv: "There is cooperation between them in the realm of weapons smuggling and terrorist attacks. The Egyptians know this, and the Saudis.
"At the same time, within Gaza, Isis has been flouting Hamas. But they have common cause against the Jews, in Israel or abroad."
Also on Tuesday, the official Twitter account for Israel's Prime Minister Benjamin Netanyahu was accused of making "childish" accusations for posting a cartoon describing Iran as "The Islamic State of Iran – just like Isis, but much bigger".
Register for free to continue reading
Registration is a free and easy way to support our truly independent journalism
By registering, you will also enjoy limited access to Premium articles, exclusive newsletters, commenting, and virtual events with our leading journalists
Already have an account? sign in
Register for free to continue reading
Registration is a free and easy way to support our truly independent journalism
By registering, you will also enjoy limited access to Premium articles, exclusive newsletters, commenting, and virtual events with our leading journalists
Already have an account? sign in
Join our new commenting forum
Join thought-provoking conversations, follow other Independent readers and see their replies