Abu Qatada condemns Islamic State beheadings as 'against religious teachings'
The radical Muslim cleric, who was deported to Jordan in 2013 to face terror charges, said journalists are 'messengers of the truth'
Natasha Culzac
Sunday 07 September 2014 16:44 Comments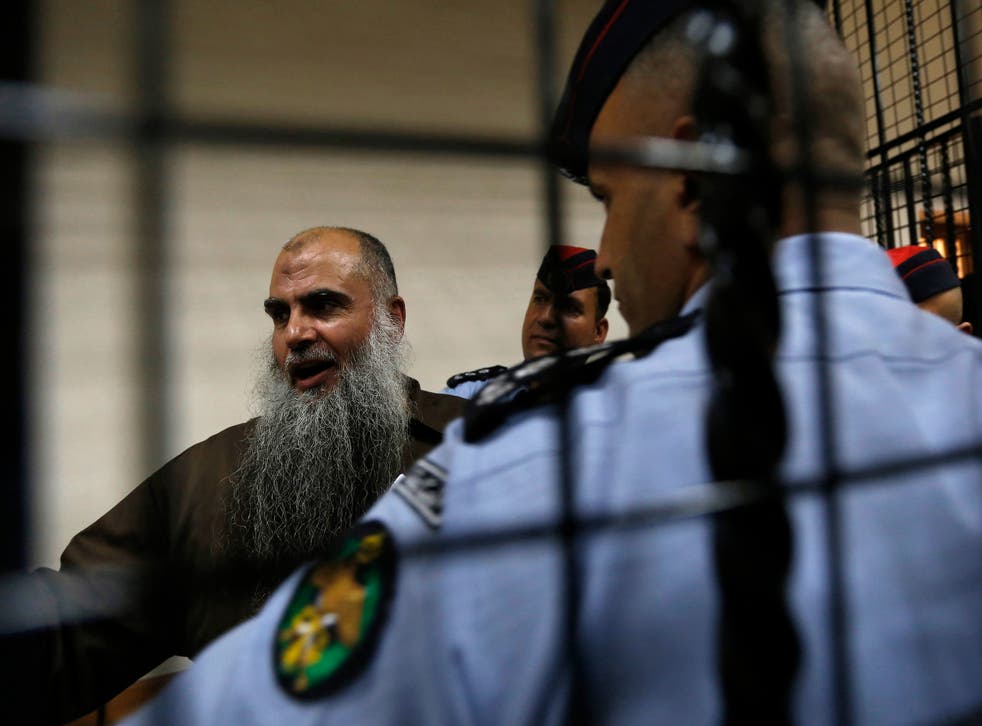 Muslim cleric Abu Qatada has reportedly criticised Islamic State jihadists for their beheading of two American journalists saying that the killings contradict Islamic teaching.
Jordanian Qatada is in an Amman court awaiting the verdict in his trial for an alleged foiled terrorist plan to blow up American, Israeli and other Western tourists during the 2000 millennium celebrations.
According to the BBC, Qatada told waiting reporters at the State Security Court that journalists are "messengers of the truth" and killing them was against religious teachings.
He said: "Journalists shouldn't be killed - it's not permitted because they are messengers of the truth, unless they are working for foreign intelligence.
"The Prophet Mohamed said that the messengers should not be killed."
He also censured Islamic State (Isis) as "a killing and demolition machine", according to Arab News, and said its fighters are like "dogs of hellfire".
He didn't, however, go as far as backing President Barack Obama's 'game plan' to overcome the militant group advising: "I am against any coalition opposed to any Muslim."
In pictures: The rise of Isis

Show all 74
Qatada, whose real name is Omar Mahmoud Mohammed Othman, will hear the verdict of his terrorism trial on 24 September. The judge said he needed to spend more time examining the details before coming to a result.
Earlier this year, Qatada was found not guilty of a separate 1998 terrorism plot charge, though he had previously been tried and found guilty in absentia for both charges.
Qatada was engaged in a decade-long wrangle with the British authorities to prevent his deportation to face the charges, claiming that he would not receive a fair trial in his home country.
Last year, Britain and Jordan signed a treaty to guarantee that Qatada would not be tortured upon his return to the country.
However, Adam Coogle, Middle East Researcher at Human Rights Watch, wrote in July that despite being cleared, the Jordanian court still should not have accepted a confession from an alleged accomplice which it is thought could have been submitted under duress.
Upon his 'not guilty' verdict, Britain confirmed that Qatada would not be allowed back in the UK as his passport - whose asylum was granted in 1994 - had been revoked.
Register for free to continue reading
Registration is a free and easy way to support our truly independent journalism
By registering, you will also enjoy limited access to Premium articles, exclusive newsletters, commenting, and virtual events with our leading journalists
Already have an account? sign in
Join our new commenting forum
Join thought-provoking conversations, follow other Independent readers and see their replies