Afghanistan war end for Nato and US marked with switch to new American-majority mission
Resolute Support claims it will assist Afghan army in non-combat matters
Lamiat Sabin
Sunday 28 December 2014 17:48 Comments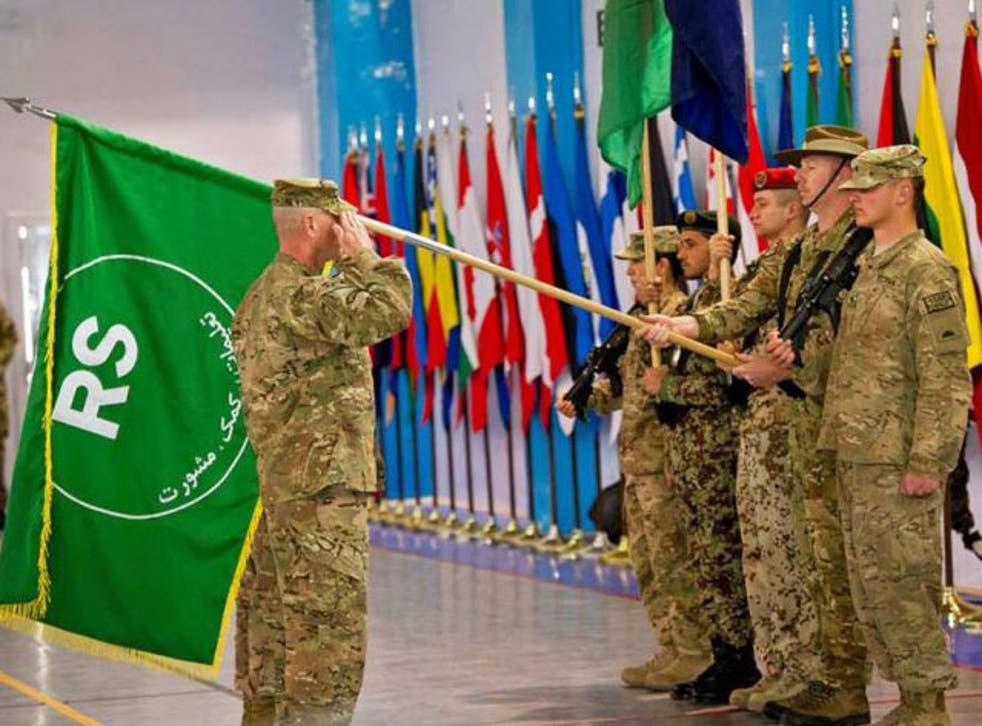 The end of the war fought in Afghanistan by the United States and Nato forces for 13 years has been formally marked with a ceremony today at their military headquarters in Kabul.
The green-and-white flag for the US-led International Security Assistance Force was rolled up and put away in a symbolic handover to a new group named Resolute Support, which has 11,000 American soldiers out of a total of 13,500 that will start on 1 January in missions not involving combat, Nato claims.
US Army general and Isaf commander John Campbell said while paying tribute to troops who died fighting insurgents: "Today marks an end of an era and the beginning of a new one. Resolute Support will serve as the bedrock of our enduring partnership with Afghanistan".
Wounded: The Legacy of War

Show all 15
He added: "Together, we have lifted the Afghan people out of the darkness of despair and given them hope for the future. We're very proud of our relationship - a relationship built on trust, friendship, and shared interests.
"That trust and a common vision for a stable, secure, and unified Afghanistan fills me with confidence that we'll continue to be successful. The road before us remains challenging, but we will triumph."
His sentiments echo that of US President Barack Obama who thanked troops in a Marine Corps base in Hawaii and claimed that the multi-trillion-dollar war has made the world "safer". The speech by the president was made a day before three Afghan villagers, who were armed but not part of the Taliban, were killed by US-led air strikes in the remote Ab Josh area.
This year has been declared the most dangerous for Afghan civilians since 2009 as the death toll for 2014 alone is expected to exceed 10,000 by the end of the month, according to United Nations as reported by Al-Jazeera.
President Ashraf Ghani, who took office in September, signed bilateral security agreements with Washington and Nato that stated he allowed the long-term military presence to continue to provide training and support to Afghanistan's military and the 350,000-strong security force established by Isaf.
"Now is the time to write the next chapter in our story," said General Hans-Lothar Domrose, Joint Force Command Brunssum Commander, referring to the launch of the new mission.
Mohammad Hanif Atmar, the Interior Minister of Afghanistan in charge of law enforcement, expressed gratitude on behalf of President Ghani and Afghan officials for the military action that claimed the lives of 2,201 US and 453 British soldiers since planes were flown into the Twin Towers in 2001.
He said: "We will never forget your sons and daughters who have died on our soil. They are now our sons and daughters.
"Afghan and Coalition personnel have spilled their blood to ensure a brighter future for our country and to bring peace to the world."
Register for free to continue reading
Registration is a free and easy way to support our truly independent journalism
By registering, you will also enjoy limited access to Premium articles, exclusive newsletters, commenting, and virtual events with our leading journalists
Already have an account? sign in
Join our new commenting forum
Join thought-provoking conversations, follow other Independent readers and see their replies