Brother of Omran Daqneesh 'dies of injuries in hospital' three days after Aleppo air strike
The 10-year-old boy had been playing outside his family home when it was struck on Wednesday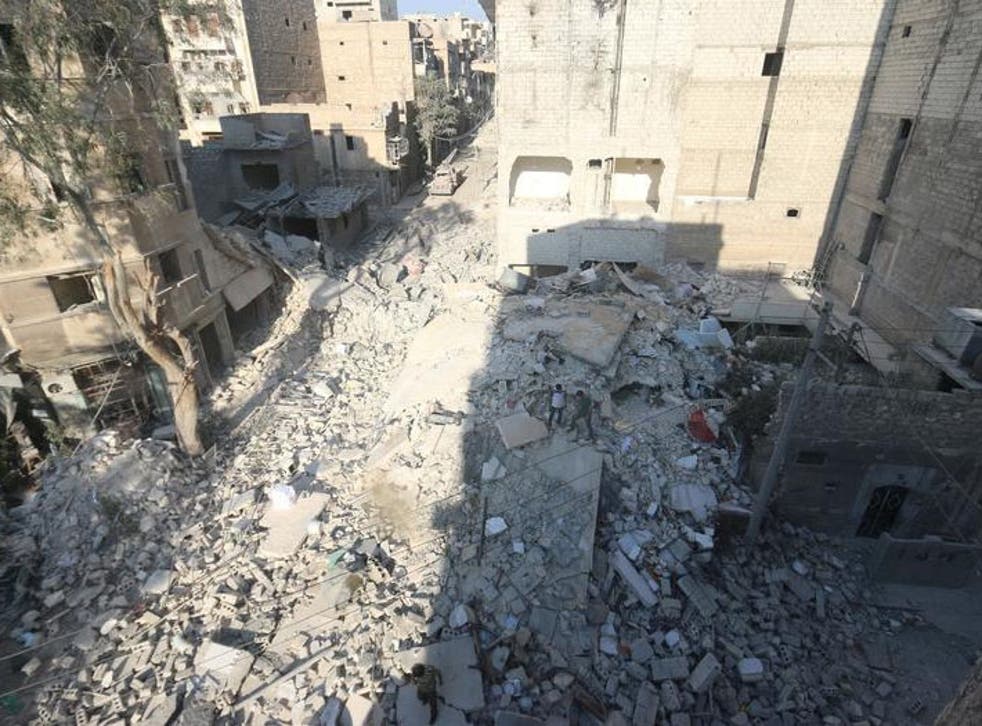 The brother of a Syrian boy whose photograph has come to symbolise the suffering of civilians in war-torn Aleppo has reportedly died of his injuries.
Ali Daqneesh, 10, was injured alongside his little brother Omran and the rest of their family when an air strike reduced their apartment building to rubble on Wednesday night.
He was taken to hospital with his parents and siblings but died of his injuries on Saturday, activists in Aleppo said, adding that mourners were gathering at the family's temporary home.
The UK-based Syria Solidarity Campaign also reported the death, calling the strike a "war crime".
The video which shows the suffering of the children of Aleppo
A local opposition group posted a photo of Ali online, appearing to show him in a hospital bed with facial injuries, unconscious and breathing through a tube.
He and the rest of the Daqneesh family initially survived the bombing after being pulled out of the rubble by volunteer rescue workers and transported to hospital.
Abu Ali, the children's father, said Ali – his oldest son – was outside in the street playing with friends when the blast struck.
He described how he was sitting on the sofa next to Omran at the time, with his wife, another son and two daughters elsewhere in the first-floor flat.
"It is very painful to watch your children falling in front of your eyes," the father said in an interview with The Telegraph.
Images of Omran sitting dazed and silent in an ambulance, covered in dust and blood, spread around the world and has intensified calls for an immediate ceasefire.
His parents and siblings were also transferred to hospital for treatment and their condition could not immediately be confirmed.
Russia has denied responsibility for Wednesday's air strikes in the Qaterji district, which killed at least eight people, including five children.
Aleppo, which is split between regime and rebel control, has been at the epicentre of continued battles and bombing despite successive attempts at ceasefires.
More air strikes were reported on Saturday, with pro-rebel activists saying one bombing killed seven members of the same family – including six children – early in the morning.
The Syrian Observatory for Human Rights, a monitoring group based in the UK, said more than 300 civilians have been killed in three weeks of bombing and fighting in Aleppo.
Around half were reportedly killed by Syrian and Russian air strikes and shelling on opposition-controlled districts, while rebel attacks killed more than 160 civilians on the regime side of the city.
Syrian children hold Pokemon Go pictures in the hope people will find them and save them

Show all 13
Approximately 250,000 people live in the city's eastern districts, while another 1.2 million live in its western neighbourhoods.
Aid convoys have not been able to access the city for months, with fighting continuing as a coalition of Islamist militants including the former al-Qaeda affiliate Jabhat al-Nusra fight to open up a corridor out of besieged areas.
Russia, which has been conducting air strikes in support of the Syrian regime since September, said it was willing to support weekly 48-hour ceasefires to allow aid to reach besieged areas.
But battles continued on Saturday as forces loyal to Bashar al-Assad attempted to reinforce their positions.
Elsewhere in Syria, fighting between the regime army and Kurdish forces intensified around the north-eastern city of Hasakah.
The situation risks bringing the US and Syrian government into direct conflict for the first time after American jets were scrambled to prevent the bombing of special forces and allies on the ground.
Kurdish groups, who took control of the area after the army withdrew in 2012, have not been a focus of Assad's forces so far in the conflict, with them focusing mainly on Sunni Arab rebels in the West.
The Kurdish People's Protection Units (YPG) have now become a key ally for the US-led coalition in the battle against Isis, and were reportedly involved in preliminary peace talks with the Syrian regime on Saturday.
Join our new commenting forum
Join thought-provoking conversations, follow other Independent readers and see their replies