Aleppo: 'children at risk' as illegal cluster bombings on city increase by 800%, report finds
Study from the Violations Documentation Centre says that children are at particular risk from cluster munitions because they mistake unexploded ordinance for toys
Friday 21 October 2016 18:28 BST
Comments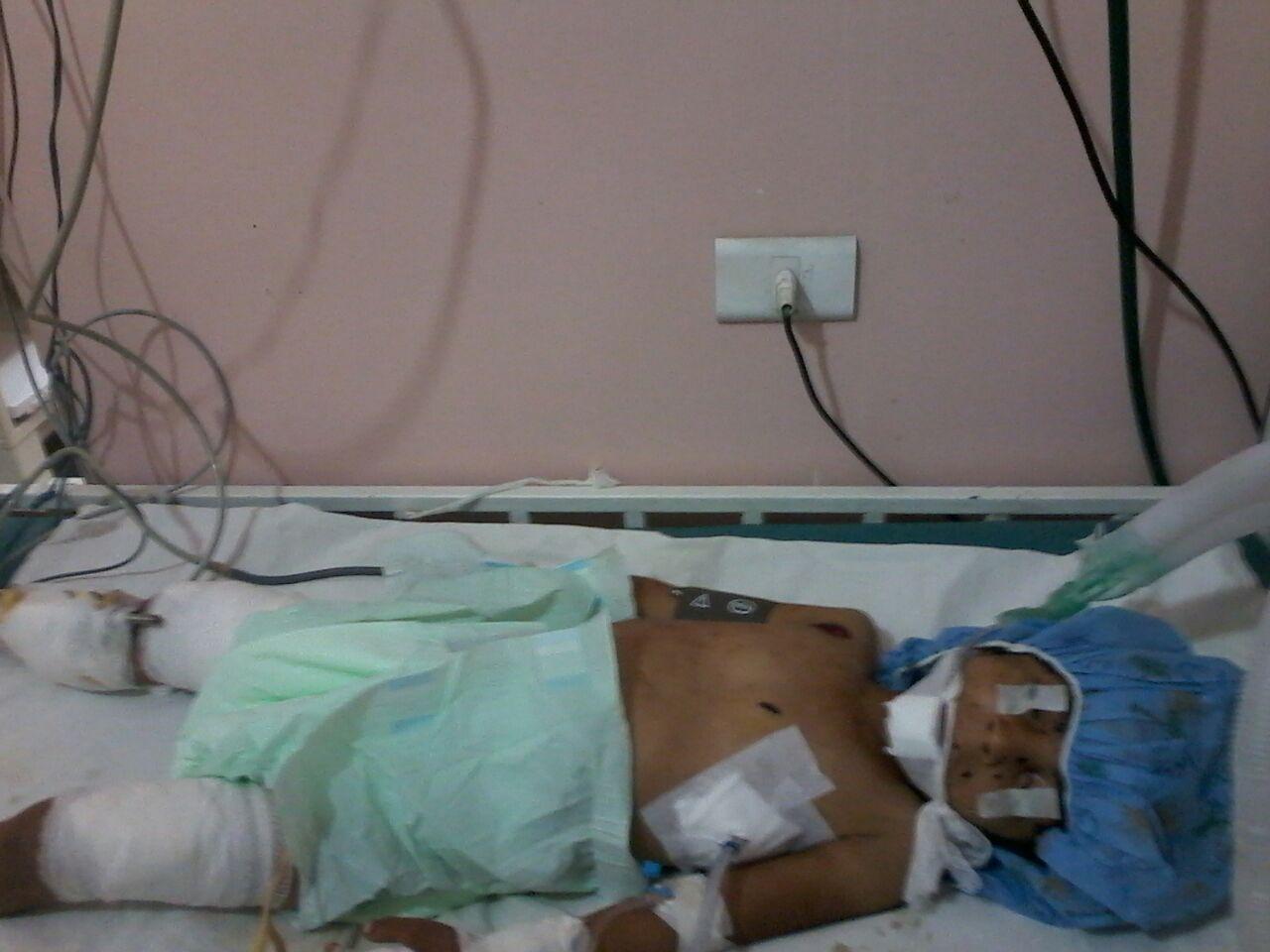 The current Russian-backed bombing campaign on besieged east Aleppo has bought a new and deadly threat to the area's children in the form of cluster bombs, a new report has said.
The Violations Documentation Centre, which reports on human rights violations in the almost six-year-long Syrian conflict, says that figures compiled by doctors and the Aleppo Health Directorate show there were at least 137 cluster bomb attacks in east Aleppo since the renewed regime assault on the city began last month.
While data is hard to accurately assess due to the challenging conditions on the ground, that would make a a 791 per cent increase on the average of the previous eight months of the year.
Cluster munitions are particularly deadly because they release sub-munitions or bomblets on impact which can land over areas as large as a football pitch. They are banned under international law because of the indiscriminate damage they cause.
Save the Children believes it is primarily cluster munitions and other explosive weaponry that has killed at least 136 children and wounded 397 since the new attempt to retake the city began last month. Around 100,000 of east Aleppo's 250,000 strong population is under 18.
"We don't believe cluster munitions have a use anywhere," spokesperson for Save the Children Caroline Anning said.
"Doctors in east Aleppo say a huge number of kids in particular are coming in with injuries thanks to cluster bomblets. They're so overwhelmed they can't treat everyone."
Drone footage shows Aleppo brought to the ground
Unexploded ordinance from cluster bombs is often shiny and attractive to curious children. Earlier this month, The Independent reported that a little girl in east Aleppo had died after picking up an unexploded bomblet she thought was a toy.
Emam Muhammad's family said the four-year-old died after being admitted to hospital with multiple shrapnel wounds to her abdomen and two broken legs.
An activist with the Aleppo Media Centre confirmed that the use of cluster bombs was a new development in the battle for the divided city, and those he'd seen dropped on rebel neighbourhoods were usually a little smaller than footballs. Human Rights Watch says they have been widely used across Syria since Russia began giving air support to President Bashar al-Assad's forces in September 2015.
Some bombs are packed with ball bearings, which when they explode shoot out hot metal bullets into the surrounding area. UK-based Dr David Nott, a trauma surgeon who advises the only 30-odd doctors left in east Aleppo, said that around 20-30 ball bearings were enough to tear off children's limbs, fracture their softer bones, blind them, or end up embedded in muscle tissue.
Doctors say they have had to carry out amputations rather than save limbs to save time and resources for the most critical patients. Fragments left cause other problems if left untreated, Dr Nott added.
"There's no time to take them out right now in east Aleppo, the doctors have to make rational decisions. But leaving them in can result in massive infection and sepsis," he said.
Russia has announced the current three-day pause in hostilities in the city, intended for medical evacuations and an amnesty for anyone wishing to leave the siege barricades, but at the end of the second day of the truce the UN had not carried out any of its planned operations, saying both the regime and rebels had not given adequate security guarantees for evacuations or aid deliveries to go ahead.
Save the Children said in a statement it is concerned for the number of children already injured by explosive munitions, who could be "too unwell to leave or too severely injured to be treated in [east Aleppo's] damaged and badly under-staffed hospitals."
Syria Director Sonia Khush called for both sides to allow humanitarian access to the besieged area and "urgent investigations" into alleged Syrian and Russian targeting of civilan infrastructure such as hospitals, schools, and bakeries.
Despite being illegal under international law, cluster munitions are still widely used in conflicts across the globe: The independent Landmines and Cluster Munitions Monitor estimates that 40 per cent of victims of cluster bombs worldwide are children.
Join our commenting forum
Join thought-provoking conversations, follow other Independent readers and see their replies