Aleppo: Evacuations from rebel areas underway
One White Helmets worker reportedly killed by militia snipers while preparing to get the injured out of the city, but buses have left for neighbouring rebel-held province, witnesses say 
Thursday 15 December 2016 08:22 Comments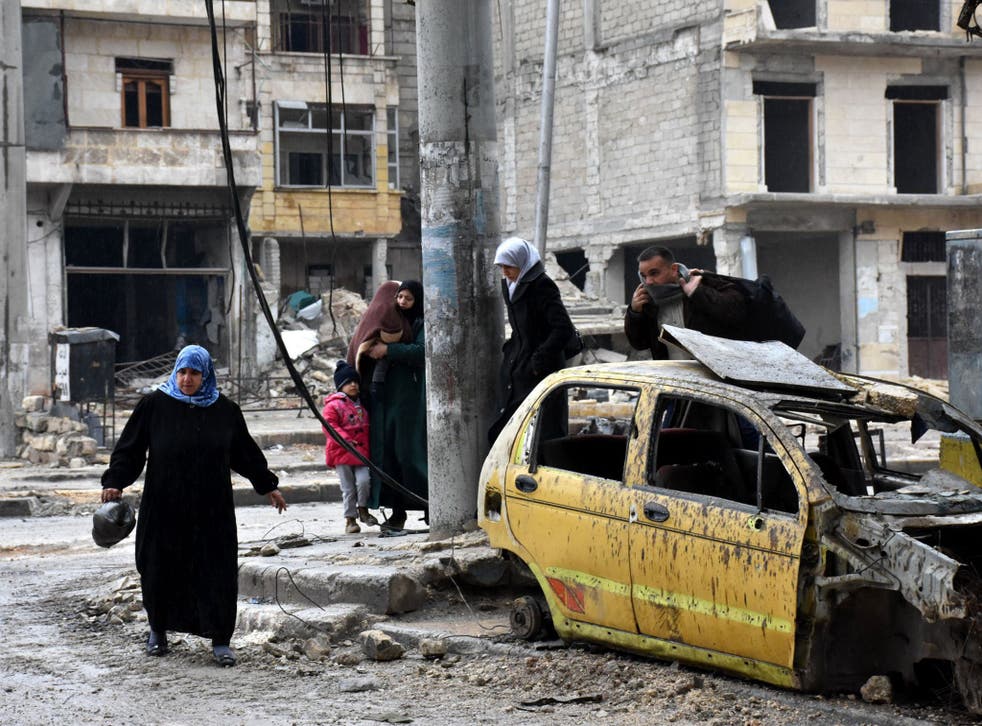 The operation to evacuate people from the last rebel areas of Aleppo has started, eye witnesses have said, with long snakes of vehicles leaving the city for the neighbouring rebel-held province.
Despite reports that at least one White Helmets volunteer had been killed and three others injured by snipers while clearing rubble from the road, at least 10 ambulances and 17 buses began their journey to Idlib by lunchtime on Thursday.
Around 5,000 people, both fighters and civilians, are due to reach Idlib by nightfall in repeat trips made by the government buses.
"Thousands of people are in need of evacuation, but the first and most urgent thing is wounded, sick and children, including orphans," Jan Egeland, the UN's humanitarian adviser for Syria, told reporters in Geneva.
A new deal was struck late on Wednesday to evacuate people from the remaining slivers of rebel territory in the embattled city. It is unclear how many remain in the last rebel enclaves: the UN puts the figure anywhere between 50,000 - 100,000, but critics say the estimate is too high.
A previous ceasefire mediated by Turkey and Russia broke down after about 12 hours on Wednesday, and heavy fighting and air strikes resumed.
Aleppo before the Syrian Civil War

Show all 12
The UK-based Syrian Observatory for Human Rights said that fighting stopped in the city at around 4 am local time (2 am GMT).
The Russian military's Centre for Reconcilation in Syria said it was preparing for a full rebel withdrawal from Aleppo and that their safety would be guaranteed.
The new deal will also see the rebel siege on the loyalist villages of Fouaa and Kfarya in Idlib eased, and aid and evacuations for the starving rebel towns of Madaya and Zabadani, under regime siege.
Regime-organised evacuations from besieged towns has proved an effective strategy for Syrian President Bashar al-Assad in the past. Recapturing Aleppo will be his biggest victory yet in the almost six-year-long civil war.
The International Rescue Committee has urged the Syrian and Russian governments to extend the ceasefire to apply to the whole country. Idlib, where the Aleppo buses are headed, has also been subject to intense air strikes over the past few months.
Register for free to continue reading
Registration is a free and easy way to support our truly independent journalism
By registering, you will also enjoy limited access to Premium articles, exclusive newsletters, commenting, and virtual events with our leading journalists
Already have an account? sign in
Join our new commenting forum
Join thought-provoking conversations, follow other Independent readers and see their replies