Heavy clashes resume as ceasefire ends and Russia steps up battle for Aleppo
Three-day Russian announced cessation in hostilities expires without any medical evacuations or aid deliveries as food, fuel and medical supplies drop to critical levels 
Sunday 23 October 2016 12:07 BST
Comments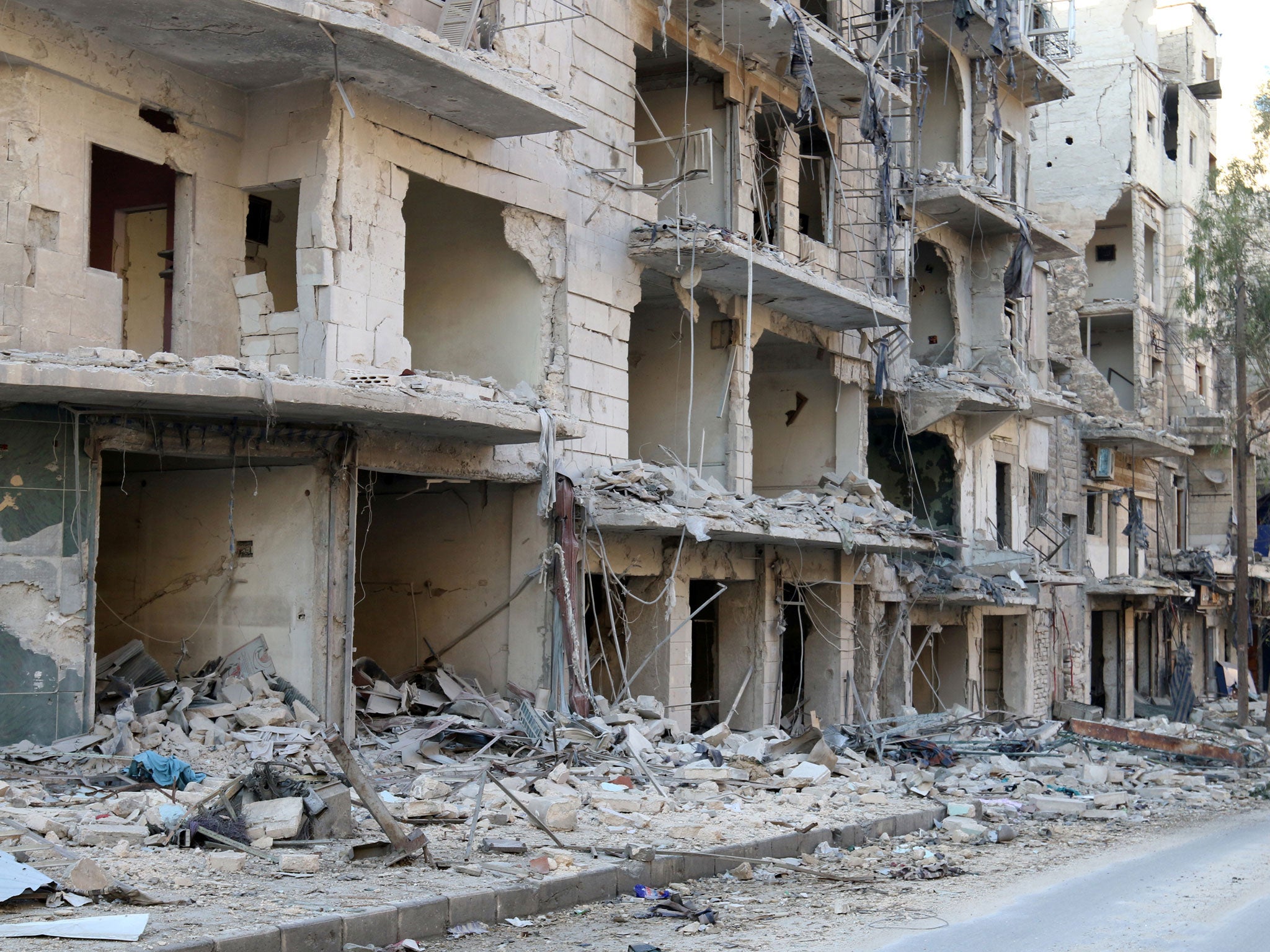 The battle for control of the divided Syrian city of Aleppo has intensified as fierce fighting broke out following the end of a Russian-proposed ceasefire.
Moscow-backed Syrian regime air strikes, ground offensives and shelling resumed on the front line between east and west Aleppo on Sunday morning after the three-day truce expired, the UK-based Syrian Observatory for Human Rights (SOHR) and activists in the opposition-held part of the city reported.
Fighting between the Syrian army and rebels occurred in east Aleppo's Hamdaniya and Sheik Sayeed districts, and at least three people were injured by shelling, SOHR said.
The "humanitarian pause" during daylight hours announced by the Russian military on Tuesday was designed to allow medical evacuations as well as an opportunity for civilians and rebels who wished to leave the besieged area for neighbouring opposition-held Idlib province.
However, by the end of the 72 hours, the UN had not managed to evacuate any wounded civilians, citing a lack of security guarantees from both sides.
Very few civilians crossed over into west Aleppo, either through fear of what awaited them on the other side, or because of opposition attempts to stop any of the 250,000 strong population from leaving. News cameras at one of the eight corridors through the siege barricades showed rebel mortar fire hitting the checkpoint.
East Aleppo's supply lines were cut when government forces managed to encircle the area in July, minus a brief breakthrough by rebels in August. Food, fuel and medical supplies are now running dangerously low.
Medical and other civilian infrastructure has been severely affected by the last month of bombing, some of the most intense of the six-year-old conflict, which began after Syrian President Bashar al-Assad announced a campaign to retake neighbourhoods which have been in rebel hands since 2012.
Video shows amazing rescue of child as shelling resumes in Aleppo
At least 500 people have died and 2,000 wounded in the offensive, which several governments and international bodies have labelled a war crime. Moscow and Damascus maintain that strikes do not target civilian buildings, and say rebels manipulate the besieged population as human shields.
Russia will be amplifying its air attacks on east Aleppo in the next two weeks, Nato intelligence believes: eight Russian warships and the country's only aircraft carrier left Murmansk en route to Syria's Mediterranean coastline on Wednesday.
Victory in Aleppo would be a significant boost for the Syrian regime, removing the last rebels from Syria's urban centres.
Russia began lending its Damascus ally military support in September 2015. Retaking Aleppo would bolster Mr Assad enough to allow Moscow to start withdrawing its forces from the country, analysts believe.
Join our commenting forum
Join thought-provoking conversations, follow other Independent readers and see their replies