Aleppo air strikes resume as Russia and Assad prepare to launch massive offensive
Russia announces 'major' campaign on neighbouring rebel provinces the day after a phone call between Russian President Vladimir Putin and US President-elect Donald Trump in which the two agreed on their shared goal of combating terrorism and extremism 
Tuesday 15 November 2016 13:02 Comments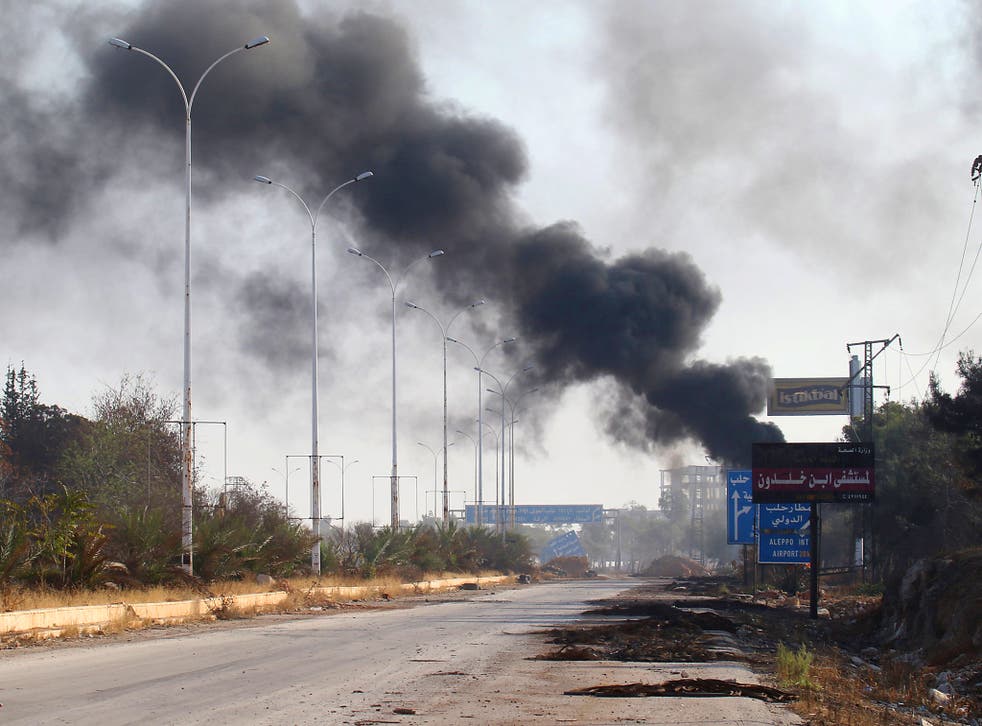 Activists in besieged rebel-held east Aleppo say Russian-backed air strikes on the neighbourhood have resumed after a three-week moratorium.
Between four - 10 people had been reported killedon Tuesday, the Aleppo Media Centre said, in 79 "barrel bomb" strikes which hit eight different neighbourhoods inside the regime siege barricades.
Rebel activists sent audio and video recordings in which the sound of warplanes thundering overhead can clearly be heard. Their reports were confirmed by the UK-based Syrian Observatory for Human Rights.
Syrian President Bashar al-Assad has been expected to resume what is seen as a "final push" to quash rebel resistance in east Aleppo since government forces managed to cut rebel supply lines in July.
Also on Tuesday, the Russian Defence Ministry announced the launch of a major campaign in Homs and Idlib provinces, after a huge deployment of cruise missile-carrying ships and submarines docked at a naval base on the Syrian coast.
The blitz comes the day after a phone call between Russian President Vladimir Putin and US President-elect Donald Trump in which the Kremlin said the two agreed on their "number one enemy" of international "extremism and terrorism."
Ferocious Russian and Syrian strikes targeting east Aleppo's estimated 8,000 rebels - among them al-Qaeda backed factions - bombarded the area for five weeks in attacks which sparked international condemnation, stopping on 18 October when Russia declared a moratorium to allow the 250,000 trapped civilians to leave under the terms of an amnesty.
Dahiyet al-Assad - Aleppo

Show all 16
Both sides accused the other of targeting checkpoints with sniper and mortar fire, meaning very few people managed to cross into government-held West Aleppo.
The fragile peace has now ended. Activists said they were sent text messages from the government in the early hours of Sunday to evacuate before a "strategically planned assault using high precision weapons occurs within 24 hours," and artillery shelling on Sunday night reportedly targeted Fardous and Salheen neighbourhoods, killing at least six people, including a five-year-old girl.
A renewed ground offensive is also expected, seemingly confirmed by reporters citing defence ministry officials on Syrian state TV late on Tuesday.
Rebel-held Idlib, which neighbours Aleppo, was not part of the moratorium, and has seen relentless bombing in the past few weeks including a strike on a school which killed 22 children.
Syria: Government advance in Aleppo continues as tanks cross front line
At least 100 civilians in west Aleppo have also been killed by rebel rockets launched at the government-controlled territory in a recently failed counterattack designed to break the siege.
The divided city has been the scene of intense fighting since 2012.
Last week the UN warned that residents in opposition neighbourhoods will starve this winter unless urgently needed aid is allowed in, and the organisation's special envoy to Syria, Staffan di Mistura, has previously warned that the entire area could be "destroyed by Christmas" if the intensity of previous bombing continues.
Register for free to continue reading
Registration is a free and easy way to support our truly independent journalism
By registering, you will also enjoy limited access to Premium articles, exclusive newsletters, commenting, and virtual events with our leading journalists
Already have an account? sign in
Join our new commenting forum
Join thought-provoking conversations, follow other Independent readers and see their replies