Aleppo on last food packages, says UN as harsh winter approaches
UN warns that a quarter of a million people in rebel-held east Aleppo will starve unless aid is allowed into besieged areas
Thursday 10 November 2016 18:35
comments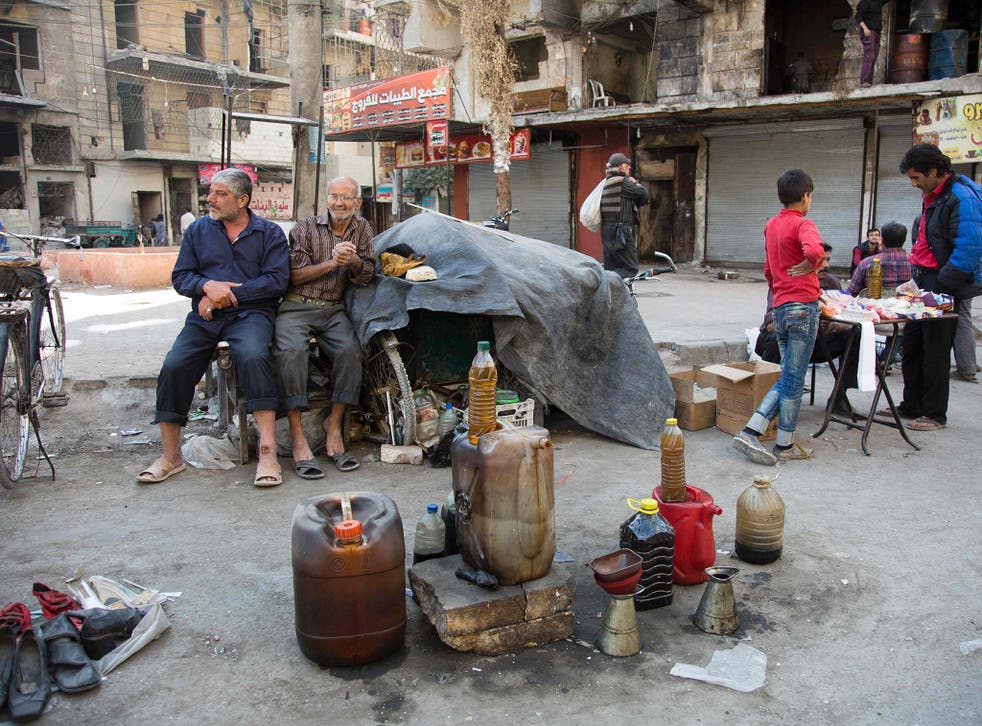 Rebels and civilians in war-torn east Aleppo are facing the prospect of starvation as winter sets in unless aid is allowed to reach people inside regime siege barricades, the UN has warned.
The area's approximately 250,000 residents have been trapped under siege conditions since July, when President Bashar al-Assad's forces managed to cut off rebel supply lines.
Residents have already reported particularly acute shortages in fuel, medicines and foodstuffs for young children, but the last remaining UN food packages were handed out on Thursday, meaning that next week there will be nothing left to distribute unless aid is allowed in.
"The reports we have now from within east Aleppo are that the last food rations are being distributed as we speak," the head of the UN's humanitarian efforts in Syria, Jan Egeland, told reporters.
"I don't think anybody wants a quarter of a million people to be starving," he said, adding that the cold weather of the approaching winter will be "a real killer."
Children's milk ran out about a month ago in pharmacies and markets, said local resident Ahmad Aziz, who works for a charity called Big Heart, and cows' milk is also incredibly rare. Even if it can be found, one litre now costs $1 (80p), compared to 25c (20p) before the siege began.
Pictures from a market sent by activists in east Aleppo showed that while most of the shops were empty, resilient locals have adopted as best they can to cope with the situation.
Dahiyet al-Assad - Aleppo

Show all 16
Since baklava and other traditional sweets are in scarce supply, dates and semolina rolled into balls and covered with coconut shavings dyed bright colours with food dye have appeared for sale instead.
City farms on roofs and in courtyards have sprung up offering vegetables such as spinach, parsley and radishes for tabbouleh - although their price is steep. Fruit and vegetables are at least five times as costly as they used to be before the siege and sugar is now nearly ten times as expensive at $7 (£5.60) per kilo.
Cheap plastic objects such as watering cans and boxes are available to buy and burn to produce a crude - and toxic - oil for heating and lighting homes, and one man pictured had broken up his furniture to sell as firewood since fuel is in such short supply.
Black market bread which supplements the city council's meagre rations has risen to more than $1.60 (£1.29). While $1.60 might not sound like much, the average monthly income for most Aleppans in March 2015 was just $80 (£64), the Syrian Economic Forum estimated, and has plummeted since in non government-held areas of the city, although reliable figures are not available. Cigarettes are now so coveted they are often used as currency.
"A pack of cigarettes is worth more than gold these days, and the price goes up every day," resident Ahmad Oweija said.
Family buries children killed in Aleppo airstrike
Also on Thursday, the Russian Defence Ministry announced that it will extend the current moratorium on air strikes which has been in place since October 18 after a month of ferocious bombing at ally President Assad's request designed to push rebels into surrendering the parts of the city they have controlled since 2012.
The unprecedented campaign sparked international condemnation for bombings which allegedly targeted civilian infrastructure, killing more than 500 people and pushing the area's fatigued medical facilities to the brink.
Mr Egeland's appeals to Russia to extend the series of 'humanitarian pauses' and pressure the Syrian government into allowing UN aid into rebel neighbourhoods were dismissed by a defence ministry spokesperson.
It is "counterproductive and against common sense" to extend the ceasefires "just for the sake of it, not to bring real help to peaceful civilians, but so that terrorists can better restore their battleworthiness," Igor Konashenkov said in a statement, adding that Russia had provided more than 100,000 tonnes of aid to Aleppo in recent months.
The UN has insisted that its emergency plan to deliver food and medical supplies and evacuate the seriously ill and injured must be actioned to avoid further suffering.
Despite the four months of deadlock Mr Egeland said he was confident access would be granted soon. "The consequences of no help and no supplies will be so catastrophic I cannot even see that scenario," he said.
Both regime forces and rebels have been accused of targeting humanitarian corridors during previous pauses in fighting. The UN has said that so far neither side has met the security guarantees needed to allow their staff to enter the city.
Join our new commenting forum
Join thought-provoking conversations, follow other Independent readers and see their replies