Aleppo evacuation was a war crime, says UN panel
Report investigated indiscriminate bombing of civilian areas and the use of chemical weapons and cluster munitions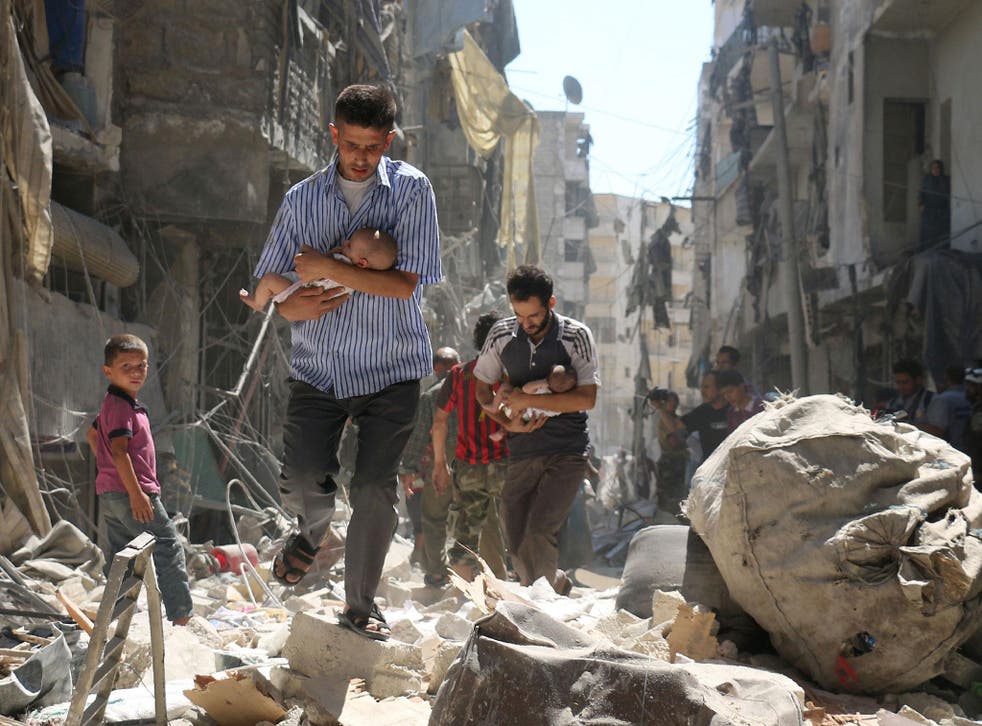 The evacuation of eastern Aleppo after months of siege and aerial bombardment by Russian and Syrian forces is the latest in a series of war crimes committed during the six-year-old civil war, a UN panel has said.
Both sides in the battle for Aleppo committed war crimes, UN investigators said, including Syrian regime aircraft which "deliberately" bombed and strafed a humanitarian aid convoy, killing 14 aid workers.
"By using air-delivered munitions with the knowledge that humanitarian workers were operating in the location, Syrian forces committed the war crimes of deliberately attacking humanitarian relief personnel, denial of humanitarian aid, and attacking civilians," the report said.
Survivors "consistently described" three stages of attack, corroborated by photographs of remnants and satellite analysis.
"First helicopters dropped barrel bombs, which struck the warehouse and a family home nearby... Subsequently, planes, described by several witnesses as Sukhoi jets, carried out attacks, killing several aid workers. Lastly the aircraft fired machine guns at survivors."
Shocking images show Aleppo before and after the conflict
Syrian and Russian forces conducted daily air strikes on rebel-held eastern Aleppo between July and its fall on 22 December, killing hundreds and destroying hospitals, the report said.
Orphanages, schools and homes were "all but obliterated", panel chairman Paulo Pinheiro told reporters.
The UN Commission of Inquiry's report covers the July-December period and is based on 291 interviews with victims and witnesses, as well as analysis of forensic evidence and satellite imagery.
Syrian helicopters unleashed toxic chlorine bombs "throughout 2016" on Aleppo, a banned weapon that caused hundreds of civilian casualties there, it said.
At least 5,000 pro-government forces had encircled eastern Aleppo in a "surrender or starve" tactic.
Aleppo before the Syrian Civil War

Show all 12
The agreement to evacuate rebel-held eastern Aleppo gave civilians no option to remain at the end of the protracted campaign, in which daily bombings left all the hospitals in the area out of service.
The commission said such agreements "amount to the war crime of forced displacement of the civilian population".
"For months, the Syrian and Russian air forces relentlessly bombarded eastern Aleppo city as part of a strategy to force surrender," Mr Pinheiro said.
"The deliberate targeting of civilians has resulted in the immense loss of human life, including hundreds of children."
Both sides carried out indiscriminate attacks in densely populated civilian areas, the report said, adding that rebels had launched imprecise mortar attacks on government-held neighbourhoods, killing and injuring dozens.
As defeat neared, some armed opposition groups shot civilians to prevent them from leaving, effectively using them as human shields – a war crime – while government forces forcibly conscripted 200 men.
"The scale of what happened in Aleppo is unprecedented in the Syrian conflict," Mr Pinheiro said. "Much of Aleppo, once Syria's biggest city and its commercial and culture centre and a UNESCO World Heritage site, has been reduced to rubble."
He called for the global community to ensure that "those responsible for this ruinous situation one day are brought to justice."
He said his team was ready to share its confidential list of suspected war criminals on all sides, with a new UN body on Syria being set up in Geneva to prepare criminal prosecutions.
"It cannot pass without having this step toward justice, because of the great numbers of victims," panel member Carla del Ponte said. "We are still far off."
The report said cluster munitions were "pervasively used" and air-dropped into densely populated areas, amounting to the war crime of indiscriminate attacks.
But investigators could not say whether both Syrian and Russian forces used them in Aleppo or if only one had because of similarities in the weapons and aircraft used.
They also did not attribute any specific war crime investigated to Russian forces, but Mr Pinheiro said they would to assign responsibility "if and when we can prove it".
Additional reporting by agencies
Join our new commenting forum
Join thought-provoking conversations, follow other Independent readers and see their replies