Russia claims the UK is on 'wrong side of history' over Aleppo and Syrian civil war
Attack comes after UN says bombing of civilian areas could amount to war crimes
Lizzie Dearden
Thursday 15 December 2016 16:47 Comments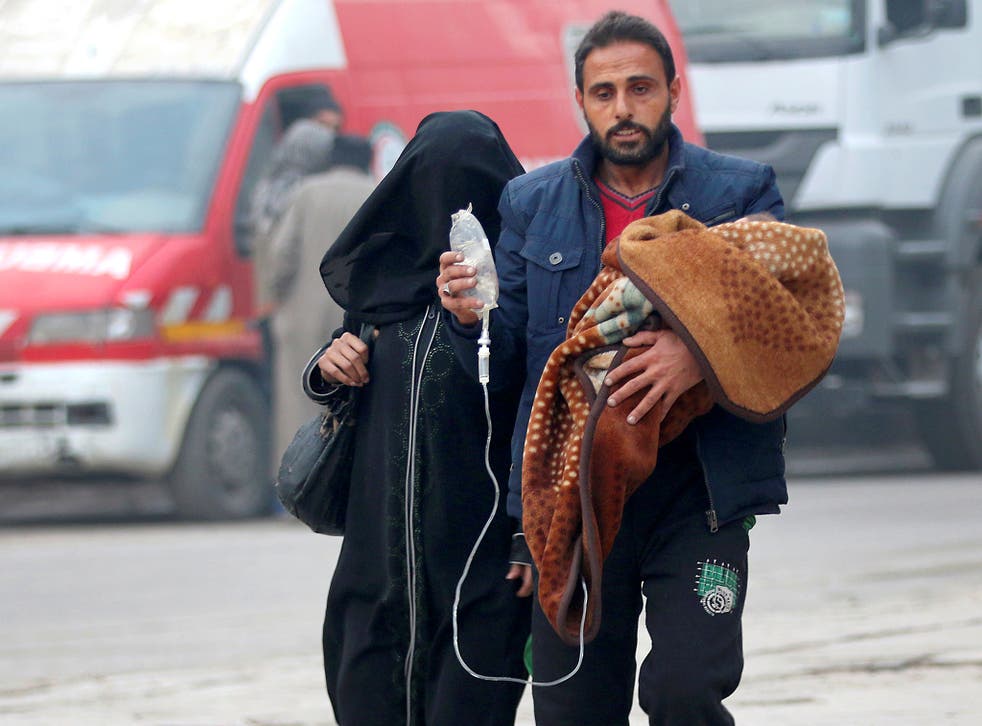 The Russian Ambassador to the UK has suggested Britain putting itself on "the wrong side of history" with warnings over atrocities in the Syrian city of Aleppo.
Alexander Yakovenko, whose government is supporting President Bashar al-Assad, claimed British officials were using information "fabricated by terrorists".
"Murders and atrocities committed by terrorists are presented as those by the Syrian army, which fights for the liberation of its people from terror," he said, according to the state-owned Sputnik news website.
Syria conflict: Aleppo civilians post 'goodbye' videos
"We are surprised that the liberation of Aleppo by the Syrian army, the liberation of hundreds of thousands of Syrians, women and children from terrorists, the delivery of humanitarian aid to them by Russia is presented by British authorities as a tragedy of Syrian people.
"We cannot agree with this approach and would like to see the UK on the right side of history."
Syrian and Russian officials describe all anti-government groups as "terrorists", despite appeals to operate under an international definition.
The UN has recorded atrocities by rebel groups, reporting some were preventing civilians fleeing their territories in Aleppo. Opposition fighters have also killed civilians living in regime-controlled districts with rocket attacks.
Mr Yakovenko claimed Russia and Syria were being subjected to "indiscriminate criticism" over their assault on rebel-held areas of Aleppo because of Britain's calls for political transition.
His comments came amid widespread condemnation of the bombardment of civilian areas and reported massacres by Syrian government troops and their allies during the offensive on Aleppo.
Aleppo before the Syrian Civil War

Show all 12
Thousands of civilians and rebel fighters were being evacuated from the last remaining opposition districts as part of a ceasefire deal that offers a symbolic victory for Assad.
The area has been besieged and bombarded for months by Syrian and Russian forces, with the United Nations saying attacks on densely populated civilian areas "most likely constitute war crimes".
Zeid Raad al-Hussein, the UN High Commissioner for Human Rights, said: "The Government of Syria is also obliged under international law to provide medical assistance to all sick and wounded people – civilians and fighters alike."
Rescue service volunteers said ambulances attempting to evacuate wounded people from rebel districts were shot at on Thursday morning, while the convoy of 1,000 people was repeatedly delayed.
Speaking at an emergency meeting of the UN Security Council, Britain's permanent representative said Assad's forces were "redefining horror" with the support of Russia and Iran.
"Even wars have rules," Matthew Rycroft said. "We urge the Assad regime and Russia and Iran to respect these rules and indeed to respect the will of the vast majority of Security Council members and the vast majority of members of the General Assembly.
To those who backed Assad and blocked action in this Council, we ask how can you side with such cruelty? How can you abide such an abuse of the UN Charter; words that we all claim to uphold?
Russia has repeatedly used its power of veto to stop UN Security Council resolutions against the bombing of Aleppo and prevent the Assad government's referral to the International Criminal Court.
Fighters and their families are to be taken towards Idlib, a city in north-western Syria which is under rebel control, the Russian defence ministry said.
While Aleppo contained a plethora of rebel groups from moderate opposition fighters to Islamists and jihadis, Idlib province is largely controlled by Jabhat Fateh al-Sham, the former al-Qaeda affiliate previously known as Jabhat al-Nusra.
The stronghold is expected to be Assad's next target and the respite for evacuated Aleppo residents may be short-lived.
The Syrian regime and its allies have focused the bulk of their firepower on fighting rebels in western Syria rather than Isis, which took back back the ancient city of Palmyra after troops were withdrawn for the assault on Aleppo.
Register for free to continue reading
Registration is a free and easy way to support our truly independent journalism
By registering, you will also enjoy limited access to Premium articles, exclusive newsletters, commenting, and virtual events with our leading journalists
Already have an account? sign in
Register for free to continue reading
Registration is a free and easy way to support our truly independent journalism
By registering, you will also enjoy limited access to Premium articles, exclusive newsletters, commenting, and virtual events with our leading journalists
Already have an account? sign in
Join our new commenting forum
Join thought-provoking conversations, follow other Independent readers and see their replies