Aleppo: Syrian army resumes bombardment of city as fragile ceasefire crumbles
Air strikes resume in embattled Syrian city and promised evacuations put on hold as hopes of trapped civilians dashed 
Wednesday 14 December 2016 09:57
comments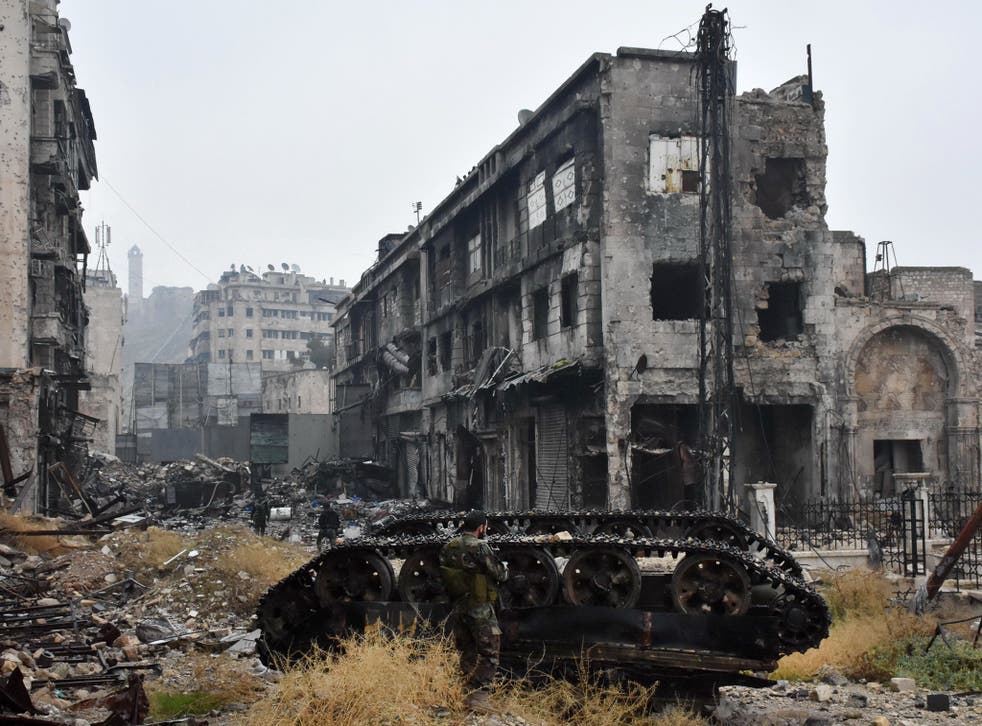 Air strikes have resumed in the Syrian city of Aleppo after what the Russian Defence Ministry said was a dawn rebel infringement of the fragile ceasefire.
Rebel officials and a source close to the regime told AFP on Wednesday that the deal was on hold after government shelling hit a rebel neighbourhood, dashing the hopes of trapped civilians for a truce.
A rebel official later said the truce deal was to be re-implemented, saying it would begin "within hours"
Syrian state TV reported six deaths in the recently recaptured area of Bustan al-Quassr after rebel shelling, and more than 40 had been injured in opposition neighbourhoods in heavy clashes, a White Helmets defence service representative said.
A Turkey and Russia-brokered ceasefire deal to bring peace to what a UN representative described as a "meltdown of humanity" had gone into effect on Tuesday evening. It was supposed to include the evacuation of up to 5,000 people to the neighbouring, rebel-held Idlib province.
However, Hizbollah's al-Manar TV broadcast footage showing the Syrian government's green buses leaving the agreed checkpoint without any passengers, indicating the evacuations will be futher delayed and the short-lived promise of a ceasefire is over.
Many in east Aleppo didn't sleep last night as they awaited the start of the arranged passage out of the city to Idlib. Monitors reported that rebel fighters had prevented civilians who wanted to leave from doing so.
Activists sent audio recordings of planes overhead and explosions as the news broke on Wednesday that the ceasefire had completely failed. "We want to leave... we don't want more massacres, let us leave, what is happening," one said in a Whatsapp message.
Russia's Interfax news agency said that pro-government forces would continue the operation to quash resistance in the last opposition neighbourhoods. Russia also said that 366 fighters and 6,000 civlians had fled overnight from fighting in what appeared to be a separate development to the planned evacuations.
While Turkish President Recep Tayyip Erdogan said he was working with Russian leader Vladimir Putin to resurrect the deal, any ceasefire deal would only save "terrorists", Syrian President Bashar al-Assad said.
Syria conflict: Aleppo civilians post 'goodbye' videos
Between 50,000 and 100,000 people are thought to still be trapped in the last slivers of rebel territory in east Aleppo after the Syrian army and Iran-backed militas captured all but a few remaining neighbourhoods in the divided city on Monday.
Reports of the executions of 82 civilians, including women and children, by pro-government militias, have alarmed rights groups and the international community,as has the destruction and death caused by incessant bombing and a collapse of medical aid.
The ceasefire agreement - which did not include the Syrian government or UN in consultations - reportedly ran into trouble after Shia militias added fresh demands to the deal, such as the evacuation of injured pro-government forces from the north of the country.
Rebels in Idlib retaliated for the collapse of the deal by targeting two government-controlled villages in the area with rockets.
Fighting in Aleppo may not continue for much longer, however. President Assad's forces have all but retaken the city, which after four years of fierce fighting has become the epicentre of Syria's bloody civil war.
Rebel supply lines were cut off in July, and an intense Russian-backed bombing campaign since September has killed hundreds, decimated medical infrastructure, and brought the last urban rebel stronghold in Syria to its knees.
In Pictures: The crisis unfolding in Syria

Show all 30
Russian Foreign Minister Sergei Lavrov said that he expected all rebel resistance to crumble within the next two to three days.
Residents and activists – including humanitarian workers, doctors and teachers – in the rebel-controlled parts of the city have expressed fears that they will be detained, tortured and killed for resistance to the regime.
"Anyone who knows anything about the Assad regime should know what to expect. Death will be a wish for those captured and deemed [to be] opposition, weather [sic] military or civil," one wrote in a Whatsapp message to journalists.
Recapturing Aleppo will be Mr Assad's biggest victory yet in the six-year-old war – but with two-thirds of Syria still controlled by the US-backed Free Syrian Army umbrella of rebel factions, extremist groups and the Kurds in the north, the complex conflict is far from over.
To date more than 400,000 people have lost their lives and half of Syria's population displaced from their homes by fighting, the UN says.
Join our new commenting forum
Join thought-provoking conversations, follow other Independent readers and see their replies