Al-Qaeda leader Ayman al-Zawahri urges young Muslim men to launch lone-wolf attacks on American homes
Once acting as the Iraqi sub section of al-Qaeda, Isis now threatens to eclipse them completely
Alice Harrold
,
Agency
Sunday 13 September 2015 12:59 Comments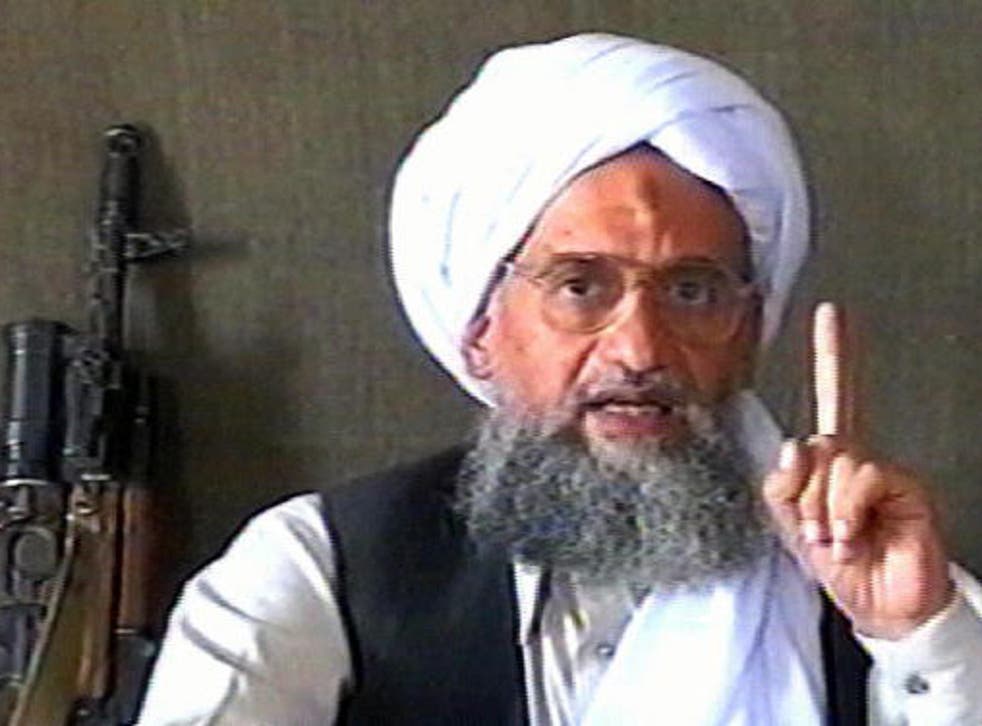 The Al Qaeda leader Ayman al-Zawahri has called on young Muslim men in Western countries to carry out lone-wolf attacks – and urged greater unity between militants.
"I call on all Muslims who can harm the countries of the crusader coalition not to hesitate. We must now focus on moving the war to the heart of the homes and cities of the crusader West and specifically America," he said in an audio recording posted online on Sunday, referring to nations making up the Western-led coalition in Iraq and Syria.
He suggested Muslim youth in the West take the Tsarnaev and Kouachi brothers, who carried out the Boston marathon bombings and Charlie Hebdo shootings in Paris respectively, and others as examples to follow.
In a recording released on Wednesday, Zawahiri denounced Isis as "illegitimate", indicating the extent of the schism between the twogroups.
In the audio message, which surfaced on the internet on Wednesday, Zawahiri said that his organisation does not recognise Isis as the caliphate they claim to be.
From his references to events, it appears that the message was recorded roughly eight months ago.
Zawahari said: "We have endured a lot of harm from Abu Bakr al-Baghdadi (leader of Isis) and his brothers, and we preferred to respond with as little as possible, out of our concern to extinguish the fire of sedition," Reuters reported.
"But Abu Bakr al-Baghdadi and his brothers did not leave us a choice, for they have demanded that all the mujahideen (jihadists) reject their confirmed pledges of allegiance, and to pledge allegiance to them for what they claim of a caliphate," he said.
Isis declared a caliphate in large parts of Iraq and Syria under its control and announced it will become a greater power than all other jihadi groups, including al-Qaeda.
In a rare public speech in Mosul, Iraq last year, Baghdadi declared himself caliph and ordered all Muslims to "obey" him.
He said: "I am the wali (leader) who presides over you, though I am not the best of you, so if you see that I am right, assist me."
"If you see that I am wrong, advise me and put me on the right track, and obey me as long as I obey God in you."
Although he does not recognise Isis as a caliphate, Zawahri said that it is an emirate and that: "Despite the big mistakes, if I were in Iraq or Syria I would cooperate with them in killing the crusaders and secularists and Shi'ites even though I don't recognise the legitimacy of their state, because the matter is bigger than that".
The strategic differences between the two organisations indicate a generational split, terror experts say. While al-Qaeda prefers to conduct long-planned schemes, Isis is more popular with young extremists for its fast and devastating results.
Former National Counterterrorism Centre director Matthew Olsen told ABC News that al-Zawahri speaking out against Baghdadi "suggests that the differences are irreconcilable" between the two groups.
It is hoped that the divide between Isis and al-Qaeda can be used by the Western allies to fight against them.
If Isis and al-Qaeda were able to re-join forces the consequences "would be terrible," he said.
It was not clear when the recording was made but references to former Taliban leader Mullah Mohamed Omar as being alive suggest it is at least two months old. Omar's death was announced by Afghanistan's government in late July.
Register for free to continue reading
Registration is a free and easy way to support our truly independent journalism
By registering, you will also enjoy limited access to Premium articles, exclusive newsletters, commenting, and virtual events with our leading journalists
Already have an account? sign in
Join our new commenting forum
Join thought-provoking conversations, follow other Independent readers and see their replies