Russia 'directly targets civilians' in Syria, killing at least 200 in possible war crimes, Amnesty report reveals
Campaigners say Moscow's actions in Syria have gone 'from callous to catastrophic', as its air strikes kill 16 civilians for every one fighter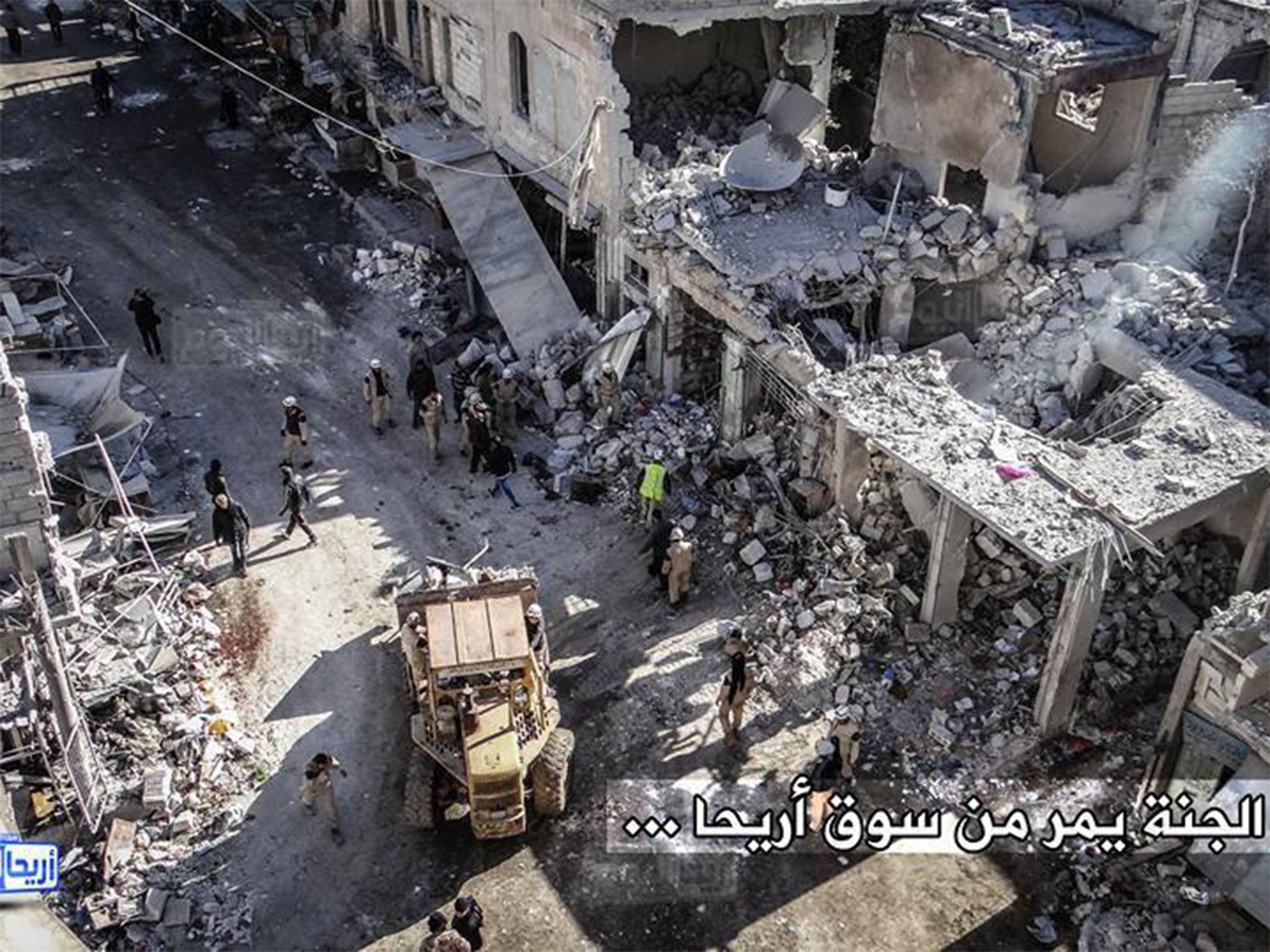 Russian bombers have "directly attacked" and killed at least 200 civilians in Syria and its campaign of air strikes could amount to war crimes, campaigners say.
In a major new report on Russia's intervention in Syria, Amnesty International accused Vladimir Putin's government of knowingly targeting residential areas in "indiscriminate attacks", before covering up the evidence and effectively lying to the international community.
The campaign group's researchers analysed 25 suspected Russian air raids since the start of Moscow's campaign in Syria, with targets including homes, medical facilities and a mosque.
The 28-page report highlighted the fact that Russia has flatly denied any civilian casualties or even damage to civilian property during its hundreds of air strikes on Syrian "terrorists".
Amnesty said on the contrary that across the suspected Russian bombings it had analysed, 16 civilians had been killed for every rebel fighter successfully targeted.
"In some attacks, the Russian armed forces appear to have directly attacked civilians or civilian objects by striking residential areas with no evident military objective and even medical facilities, resulting in deaths and injuries to civilians," the report said.
"In others, they seem to have attacked military objectives and civilian objects without distinction, or caused disproportionate harm to civilians when striking military targets. Such attacks may constitute war crimes."
'Terrible waves of indiscriminate attacks'
Speaking to the Independent upon the release of its report, Amnesty said its research suggested Russia's role in Syria had gone from "callous to catastrophic".
Kristyan Benedict, Amnesty International UK's Syria campaign manager, said: "For years Moscow has shielded the Assad government and blocked efforts to try to reduce the suffering of the Syrian people, now Russia's air forces are themselves killing Syrian civilians by the hundred.
Syria: Drone captures devastated Damascus suburb
"We've seen with earlier conflicts in Chechnya and Afghanistan, that Russian forces have a track record of unleashing terrible waves of indiscriminate attacks in residential areas. This is what's happening in Syria right now."
Among the worst attacks detailed in the report was a bombing raid on a busy market in Ariha, Idlib province, which killed 49 people. Eye witness accounts and the Russian military's own briefings provide strong evidence to suggest Russia was responsible.
In pictures: Russian air strikes in Syria
Show all 19
Local activist Mohammed Qurabi al-Ghazal told Amnesty he was nearby when the market was hit, and that while armed group Jaysh al-Fateh controls areas around Ariha it has no presence inside the town.
"I have seen horrific sights since the beginning of the war, but this was unlike anything before," he said. "There were bodies everywhere, decapitated and mutilated. Forty were lined up, and next to the bodies was a woman sitting and crying.
"I asked her 'What is wrong?', and she said: 'My husband and three children were killed. I am alone at home now. I have no one.' Her children were literally in bags. To this day, I cannot get over it."
Amnesty called on Russia to "end indiscriminate and proportionate attacks" and comply with international law. It said it had put its findings to the Russian authorities, but received no "substantive response".
And while it only analysed incidents up until the end of November, reports of Russian bombing raids targeting residential areas continue to emerge.
Yesterday, the Turkish Prime Minister condemned a suspected Russian attack that killed scores of people in the city of Idlib on Sunday.
"Syrian lands are not, and will not be, a part of Russia's imperialist goals," Ahmet Davutoglu told members of his ruling AK Party in parliament.
Join our commenting forum
Join thought-provoking conversations, follow other Independent readers and see their replies