Tiger among animals to be rescued from 'world's worst zoo' in Gaza
Dozens of the creatures reportedly left to starve in cramped cages over several years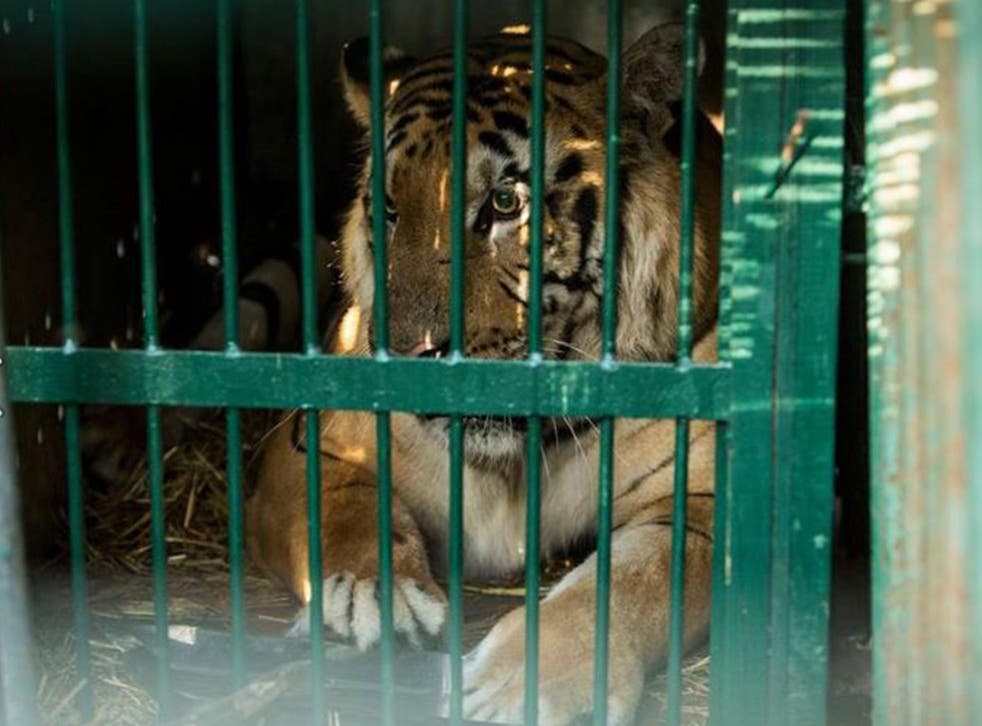 A zoo in the Gaza Strip named "the world's worst" has finally been emptied of its animals, with the last surviving creatures freed from appalling living conditions.
A Bengal tiger named Laziz, five monkeys, two emus, two deer, two eagles, two turtles, a pelican and a porcupine were rescued from their cages at the Khan Yunis Zoo by animal rights campaigners.
Dozens of the creatures were reportedly left to starve in filthy cages over several years, and zoo keepers were known to display stuffed animals alongside them in a desperate effort to boost visitor numbers.
Vets from the charity Four Paws led the transfer of the animals in trailer cages to a safe location, and helped treat the animals for ailments they were suffering from.
The zoo opened in 2007 and closed to the public in 2014 due to the danger of bombing, but the animals have remained in the war-torn area since then with nowhere to go.
"Khan Yunis Zoo has been known as the 'worst zoo in the world' since it became public last year that the zoo was crudely mummifying the animals that died in their care and displaying them," said a spokesperson from Four Paws.
"Four Paws has been active in providing emergency food and supplies to the animals, but now we have the chance to rescue them all for good.
"[Laziz the tiger]] went into his transport crate without hesitation. He even seems to behave more calmly in the crate now more than he has in his desolate cage.
World news in pictures

Show all 50
"And he just did it as if he has never done anything else in his life. He walked in the crate and immediately settled down – without showing any signs of stress. We were relieved."
The zoo's owners complained they were unable to afford adequate food for the animals, as the zoo struggled for consistent business throughout the year.
"The harsh conditions of life, the weak economy and the severe blockade were to blame," owner Ziad Aweda told AFP. "I brought these animals from Libya, Sudan, Egypt and even South Africa. I am very sad."
Zaid's brother Mohammad added the remaining animals were being "donated" because the zoo no longer had "the ability to give them anything".
Join our new commenting forum
Join thought-provoking conversations, follow other Independent readers and see their replies