Ankara bombing: Anger mounts as President Erdogan stays silent in wake of Turkey's worst terror attack
The bombings have highlighted the widening and bitter divide in Turkish politics and public opinion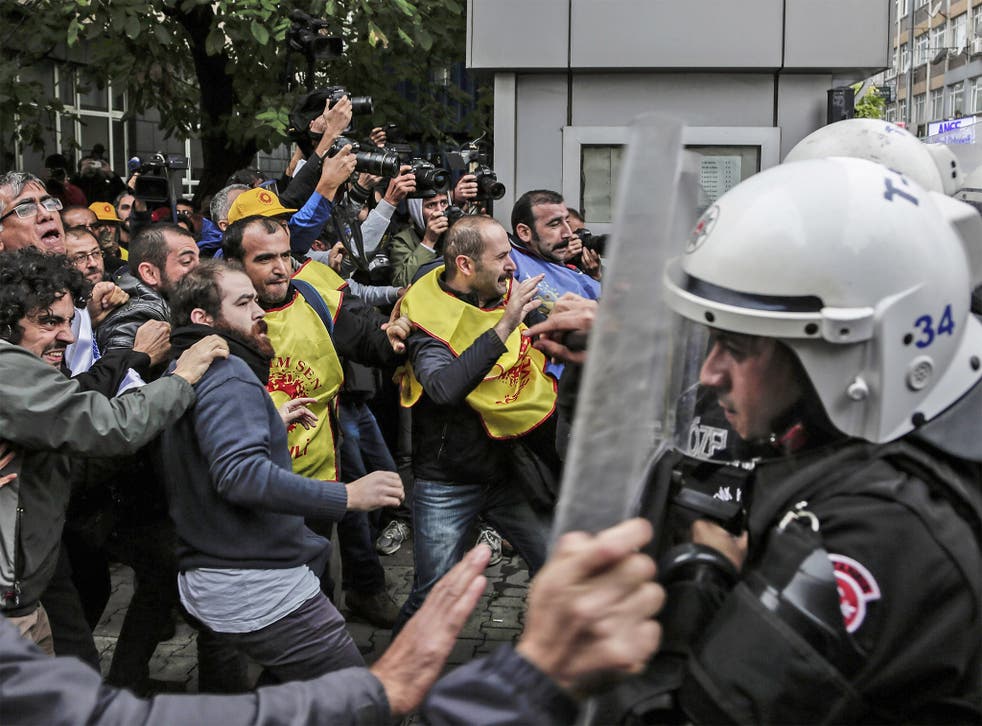 Three days after the worst ever terror attack on Turkish soil killed 97 people, the country's leader has remained unusually silent.
President Recep Tayyip Erdogan is famously vocal on matters of national importance. Yet while mourners march at funerals calling him a "murderer", he has declined to discuss the attack in public, releasing only a brief written statement since Saturday's bombing of a peace rally in the capital, Ankara.
Bulent Kusoglu, an Ankara MP for the opposition CHP party, tweeted: "A president steps up, at times when the nation and society go through difficulties, to be a uniting and reassuring force. Where is the president these days?"
Authorities said that they were close to identifying the suicide bombers and the country's Prime Minister, Ahmet Davutoglu, has named Isis as the prime suspect in the investigation.
When the scene of the bombings was reopened to the public, Ankara's residents left red carnations at the site. "I came here to pray," said a Turkish central bank employee on her lunch break. She asked for her name to be withheld, fearing that, as a state employee, she would lose her job even for just expressing sadness over the attack.
The bombings have highlighted the widening and bitter divide in Turkish politics and public opinion. Mourners took to the streets to protest against the government, blaming the state for failing to protect the peace rally – but in Istanbul, trade unions and activists were refused permissions for a planned commemoration rally, leading to skirmishes with police.
Ankara explosions - in pictures

Show all 15
Mr Davutoglu further enraged mourners by claiming Turkey had a list of potential suicide bombers but could not act against them before they had carried out an attack. "Legal action cannot be taken until the realisation of the criminal act," he told a Turkish television channel.
Turkey's deputy prime minister, Nurman Kurtulmus, said that the bombers had most likely infiltrated Turkey from a neighbouring country, adding that several suspects had been arrested in connection with the attacks.
Join our new commenting forum
Join thought-provoking conversations, follow other Independent readers and see their replies