Ankara explosion: At least 28 killed and 61 injured after 'car bomb' hits centre of Turkish capital
Video on social media seemingly showed large flames straight after the explosion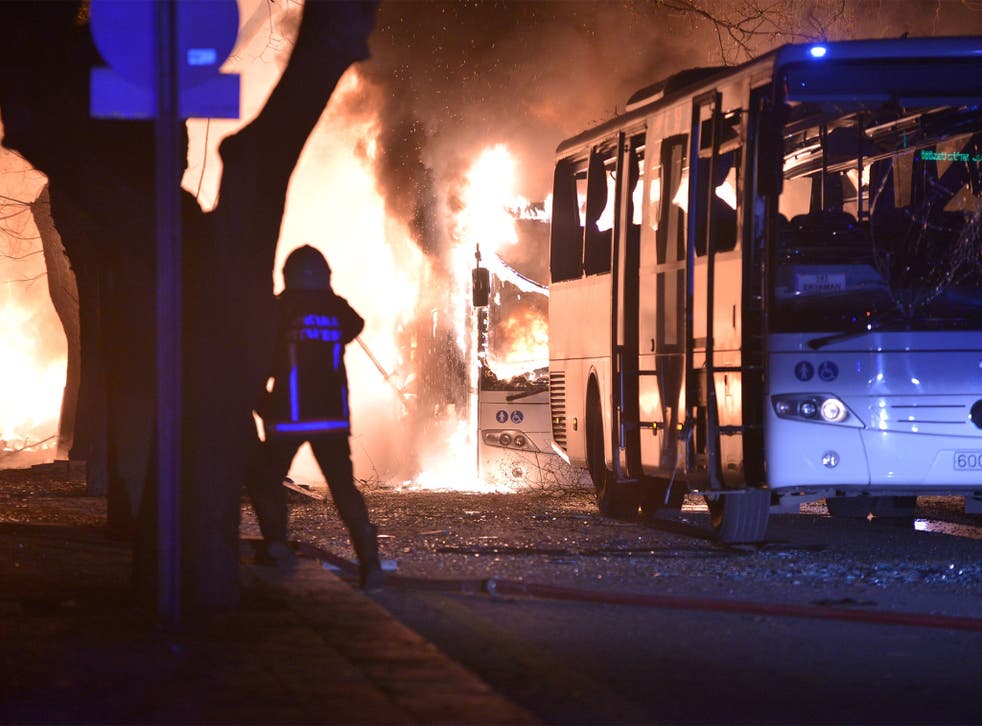 Around 28 people have been killed after an apparent car bomb rocked the Turkish capital of Ankara.
Health Minister Mehmet Muezzinoglu said a further 61 were wounded.
A statement from the armed forces said a bus carrying military personnel was targeted when it stopped at a set of traffic lights outside army barracks.
It is thought the blast occurred just a few hundred metres away from the parliament and the military headquarters in the centre of the city.
Videos and images posted on social media showed large flames straight after the explosion and plumes of smokes rising into the sky, said to be over downtown Eskisehir Avenue.
Deputy prime minister Numan Kurtulmus confirmed the explosion had been caused by a car bomb and said seven prosecutors had been assigned to investigate the "well-planned" attack.
Ankara explosion: 'car bomb' hits Turkish capital

Show all 8
President Recep Tayyip Erdogan said his country was determined to fight those who carried out the attack as well as the "forces" supporting them.
Following the attack, AKP, Turkey's ruling party, spokesman Ömer Çelik posted on Twitter: "Terror has attacked treacherously in Ankara. We curse this attack."
A Turkish official told Reuters that early signs indicated it the attack was carried out by the Kurdish Worker's Party (PKK) - which has carried out attacks on Turkey in recent months - but no other source has confirmed this.
Mr Erdogan's government has been accused of ramping up the rhetoric against the PKK following a breakdown in peace negotiations between the government and the separatist group last June.
Security forces have carried out large-scale operations against Kurdish militants in the south-east since December last year, imposing controversial curfews in flashpoint areas and displacing tens of thousands of civilians in combat zones.
So far, no group has claimed responsibility for the blast but Isis has been known to carry out attacks on Turkey - with a suicide attack on the border town of Suruc killing 32 people and wounding 100 others last August.
The terror group object to Turkey's intervention in Syria - which was stepped up following the Suruc attack.
Join our new commenting forum
Join thought-provoking conversations, follow other Independent readers and see their replies