Ankara explosions: Turkish police fire tear gas at mourners laying flowers
People chanted anti-government slogans on Sunday as they mourned for the victims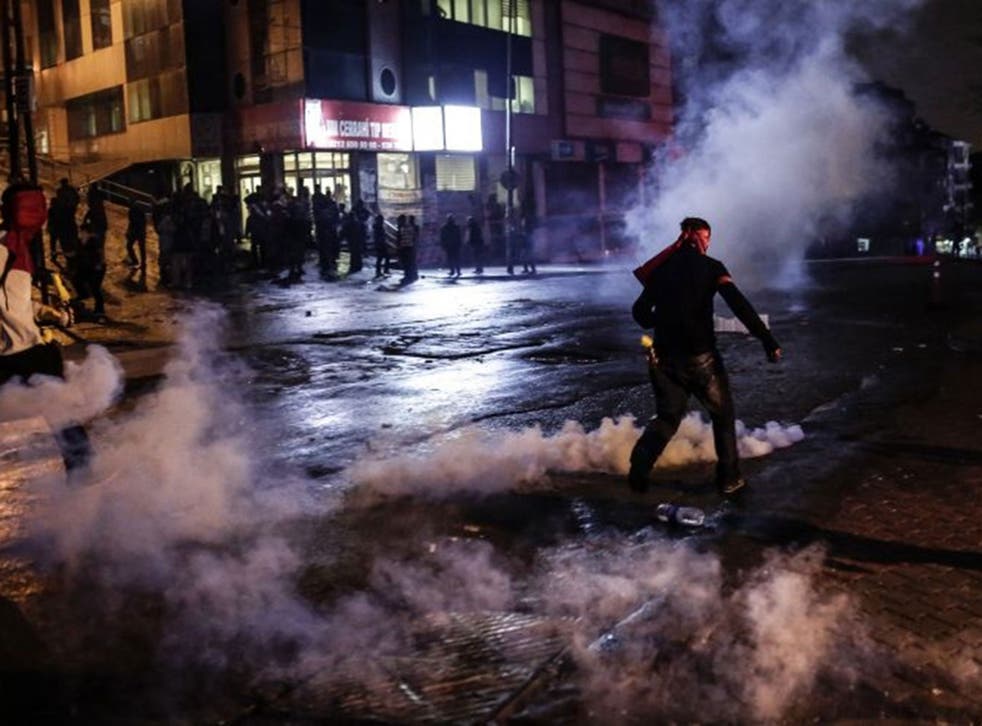 Turkish riot police have used tear gas to prevent pro-Kurdish politicians and other mourners from laying carnations at the site of the deadliest terror attack in Turkey's history.
Police clashed with demonstrators and pro-Kurdish officials at the site of the bombings, which have killed at least 128 and left hundreds wounded.
The pro-Kurdish People's Democratic party (HDP) said some members of its delegation sustained injuries.
Thousands gathered on Sunday to mourn for the victims, with many chanting anti-government slogans.
Fights broke out as police reportedly used tear gas to prevent pro-Kurdish politicians and other mourners from laying carnations at the scene of the bombings.
Police held back the mourners, including the pro-Kurdish party's leaders Selahattin Demirtas and Figen Yuksekdag, insisting that investigators were still working at the site.
A group of 70 mourners were eventually allowed to enter the area.
The group of mourners then marched towards the central square in Ankara, chanting "murderer Erdogan" and "murderer police".
Many hold Prime Minister Recep Tayyip Erdogan and his Justice and Development (AK) party responsible for security failures at Saturday's peace march.
The HDP has raised the death toll to 128, while the prime minister's office said 246 people were still being treated.
The two suspected suicide bombings, which came seconds apart, happened as crowds gathered for a march protesting against escalating violence between Turkish forces and Kurdish militia.
Prime Minister Ahmet Davutoglu said Isis, Kurdish or far-left groups are all suspects in the attack.
However, experts have said it is unlikely that left-wing groups are behind the bombings.
No group has claimed responsibility for the attack.
Ankara explosions - in pictures

Show all 15
President Recep Tayyip Erdogan strongly condemned the "heinous attack" and said Turkey would not give in to efforts to cause division in society.
"No matter what its origin, aim or name, we are against any form of terrorist act or terrorist organisation.
"Like other acts of terror, the attack at Ankara Central Station is taking aim at our unity, brotherhood and future."
Additional reporting from agencies.
Join our new commenting forum
Join thought-provoking conversations, follow other Independent readers and see their replies