Ashkelon, the new target for Hamas missiles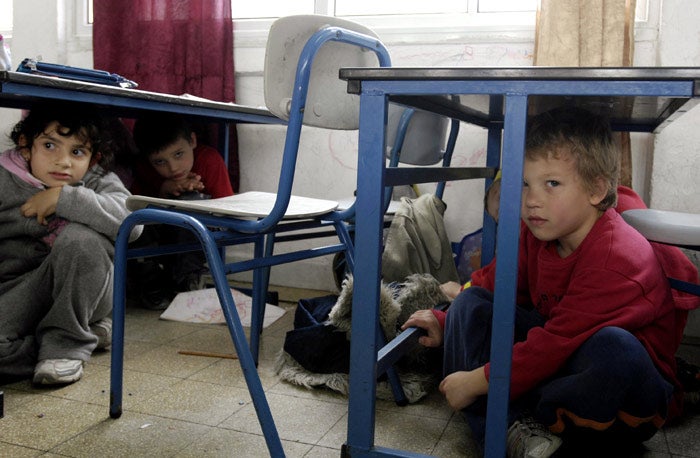 Israeli surfing shop owner Elan Biton was standing in the car park chatting to friends as he waited for his wife and three children after an afternoon at Ashkelon's marina when he heard two distant but unmistakeable booms.
A few seconds later, he heard a whoosh followed by a very much louder explosion a mere 10 metres away. It was only as he started to head down to the water's edge, dazed, to look for his family that he noticed the small hole in his lower stomach. It dawned on Mr Biton that he had been hit by shrapnel from another of the Grad rockets which had helped to trigger last weekend's bloody incursion into Gaza.
Lying in his bed in a private room in Ashkelon's modern 500-bed Barzilai hospital yesterday, and attached to an antibiotic drip, Mr Biton, 36, did not mince his words about what needed to be done to stop the rockets. "I don't think there is a political solution. I can't know that I will leave this hospital and not be hit by another rocket," he said. Was he talking about a full-scale invasion of Gaza? "Yes. You cannot talk to Hamas and then think everything is going to be OK. It needs massive power to deal with it."
Ashkelon, a growing city of 120,000 people with its 12km of sandy Mediterranean beaches, gardens and tree-lined boulevards, seems a far cry from the low-income Israeli development town of Sderot, which has borne the brunt of repeated Qassam rocket attacks which have claimed 13 lives in Israel since 2004. Let alone from the Gaza town of Jabalya, about 13km south, where the day's death toll of Palestinians was already in the 40s by the time Mr Biton – one of five people to suffer light to moderate physical injuries from the Grads – was hit on Saturday.
But the city has suddenly become of major strategic concern to Israeli politicians since it moved into the front line as a result of the 15 Grads – the smallest form of Soviet-designed Katyusha rocket but notably more accurate and powerful than the Qassam – launched from Gaza since Israel killed five Hamas militants last Wednesday. Like the Ashkelon municipality – which in the 1990s ran a joint computer project with Gaza City – Barzilai once had close links with Gaza's Shifa hospital, including on medical training.
That all ended when the second intifada began in 2000. But Shimon Sharf, the medical director of the hospital, whose grounds were hit by a Grad last Wednesday, said that it still treated between 15 and 20 Palestinian patients from Gaza alongside Israeli ones. "To my mind, to shoot a rocket at a hospital that treats your own people is foolish," he says.
Last night, as the US Secretary of State Condoleezza Rice sought to renew the ruptured negotiations between the Palestinian President, Mahmoud Abbas, and Israel, a Palestinian baby was reportedly killed in crossfire during a brief Israeli incursion in southern Gaza.
Meanwhile, in Ashkelon's quiet Johannesburg Street, iron piping was propping up the ceiling of the wrecked ground floor of the Gilin family home when a rocket sliced through a supporting concrete pillar and slightly injured one of the children.
Visiting the house yesterday, the Israeli Welfare minister Isaac Herzog, a member of the security cabinet which will meet today, insisted: "We don't have the intention to stay in Gaza. We don't want to go in. But if we have to do it to give the kind of protection for the citizens of Ashkelon that every citizen of Blackpool or Liverpool would expect, then we will."
Join our commenting forum
Join thought-provoking conversations, follow other Independent readers and see their replies