Baghdad bombing: Iraqis remind world that most of Isis' victims are Muslims after more than 160 killed
Predominantly Muslim Iraq is the worst-affected country in the world for terror attacks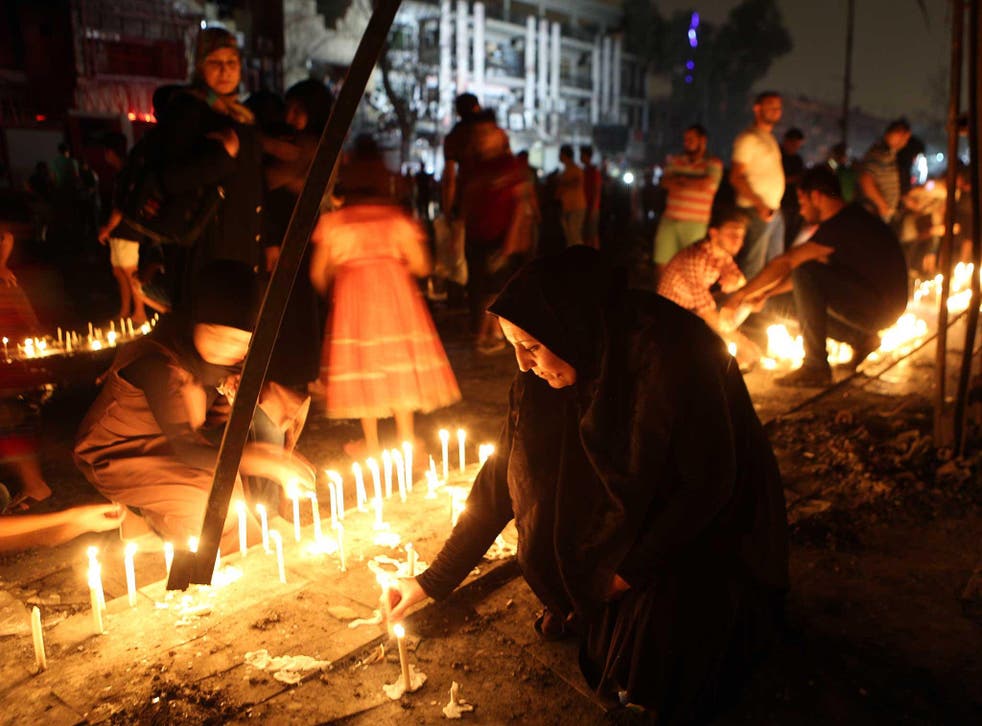 As Iraq continues to reel from a bombing that killed more than 160 people, Muslims are reminding the world that the majority of Isis' victims are from the religion it claims to represent.
The hashtag #IsisAttackingMuslims was trending on Tuesday morning as people voiced their sorrow and outrage.
"They thrive on blood, any kind of it and Muslims' blood is no exception," one person wrote. "We are all against those enemies of humanity."
IS attack kills 125 in Baghdad
Another person said: "Before blaming Muslims for Isis, remember that Isis terrorist attacks is targeting more Muslims than any other groups."
Many people were sharing an image bearing the slogan: "Isis is bombing Muslims in Muslim countries in the holy month of Ramadan. And you still say Isis represents Islam?"
Others were pointing out recent terror attacks on Muslim-majority countries, such as Bangladesh, Turkey, Pakistan, Egypt and Afghanistan.
Muslims have also been killed in Isis' atrocities in the West, including the Paris and Brussels attacks.
Sunday's suicide bombing struck a busy shopping district in Baghdad as families shopped for celebrations for the end of the holy month of Ramadan on Monday.
It was the single deadliest bombing to hit the Iraqi capital in more than a decade of war and insurgency, coming amid a series of almost daily attacks by the so-called Islamic State as it continues to lose territory in Iraq, Syria and Libya.
In pictures: Baghdad bombing

Show all 20
Like in other recent attacks, Isis' initial propaganda claim said it targeted a "gathering of the Popular Mobilisation" Committees – predominantly Shia armed groups fighting its militants alongside Iraqi security forces.
But authorities say there were many women and children among the civilian victims, and a later statement from the organisation made it clear religion was the target, saying: "The raids of the mujahedeen [holy warriors] against the Rafidha [Shia] apostates will not stop."
Like Sunni jihadist groups, Isis considers the Shia Muslim sect heretical and has made its followers the main target of its attacks in Iraq.
Shias comprise the country's majority, as they do in Iran, Bahrain and other nations, while Sunnis are dominant in Saudi Arabia and more than 40 countries stretching from Morocco to Indonesia.
While al-Qaeda leaders considered attacks on Shia civilians too extreme and detrimental to public support – as well as a distraction from its jihad against the West – Isis has made the massacres a priority, targeting symbolic shrines, holy cities and pilgrimages.
Shias were also the main victims of Isis' deadliest ever attack in Iraq, when militants massacred 670 prisoners in a raid in Badush in June 2014.
A handful of survivors recounted jihadists separating Shias and other religious minorities, driving them into the desert and lining them up on the edge of a ravine before opening fire with machine guns.
There are no definitive figures on the number of Muslims or other religious denominations killed by Isis but the huge number of Iraqi victims, where 99 per cent of the population is Muslim, suggests that the religion makes up by far the largest proportion of the dead.
A 2011 report by the US government's National Counter-Terrorism Center (NCTC), said: "In cases where the religious affiliation of terrorism casualties could be determined, Muslims suffered between 82 and 97 per cent of terrorism-related fatalities over the past five years."
The Global Terrorism Index ranks Iraq as the country in the world most affected by terrorist activity, followed by Afghanistan, Nigeria and Syria.
Almost 10,000 people were killed in attacks there in 2014 - more than the cumulative total of fatalities from terrorism in the entire world from 1998 to 2000 – and the number has continued to rise.
A United Nations report said at least 900 Iraqis were killed and 1,500 wounded in May alone, when Baghdad was the worst-affected district.
The Special Representative for Iraq, Jan Kubis, said: "Iraqi civilians going about their daily life have been the target of terrorist suicide bombers and car bombs.
"In some of these attacks, pilgrims have been singled out. Residential neighbourhoods have sustained heavy damage…joining the people of Iraq, in particular the residents of Baghdad where a number of attacks took place, I urge the Government to make every effort to prevent the occurrence of such outrages."

Register for free to continue reading
Registration is a free and easy way to support our truly independent journalism
By registering, you will also enjoy limited access to Premium articles, exclusive newsletters, commenting, and virtual events with our leading journalists
Already have an account? sign in
Register for free to continue reading
Registration is a free and easy way to support our truly independent journalism
By registering, you will also enjoy limited access to Premium articles, exclusive newsletters, commenting, and virtual events with our leading journalists
Already have an account? sign in
Join our new commenting forum
Join thought-provoking conversations, follow other Independent readers and see their replies