Bahrain's F1 protest? It's just like the Old Firm derby, says Jackie Stewart
Christian Sylt
,
Richard Hall
Saturday 20 April 2013 02:10 Comments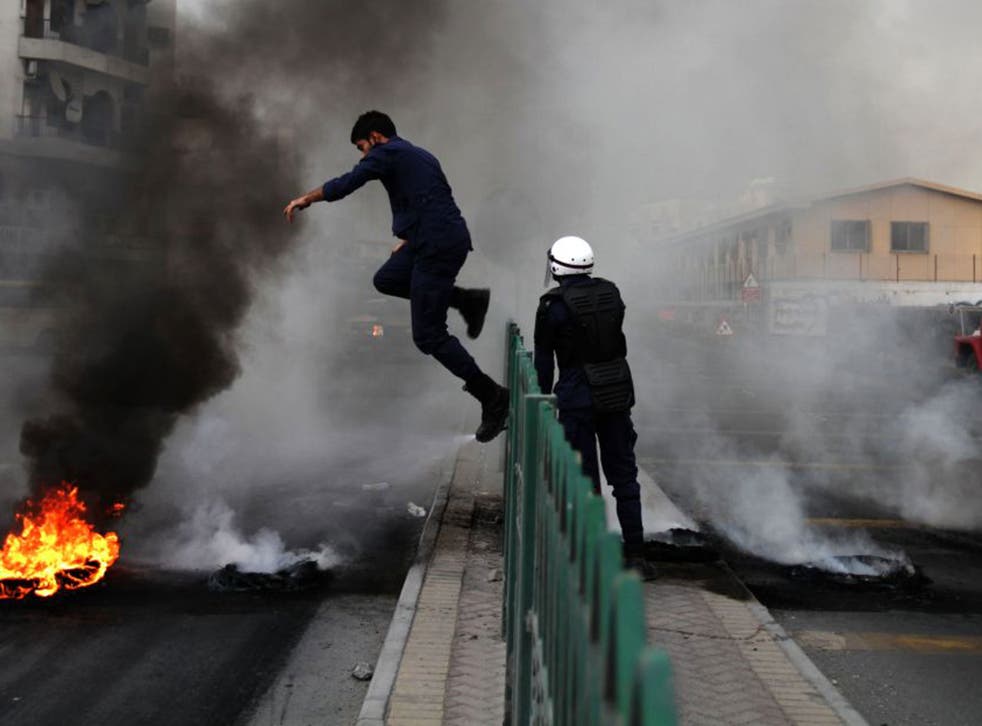 Three-time Formula One champion Sir Jackie Stewart has come out in support of Bahrain's ruling regime, claiming it has "started a move towards democracy" ahead of tomorrow's Grand Prix in the troubled Gulf nation.
The racing legend's intervention comes as a crew for ITN was forced to leave the country by authorities after they reported on violent anti-Government clashes taking place in the build-up to the Grand Prix. Thousands of protesters turned out for demonstrations near the capital of Manama yesterday.
Sir Jackie, who played a role in bringing the Grand Prix to Bahrain after a chance meeting with the country's Crown Prince on a plane, compared the violence to the tension between fans of the rival Rangers and Celtic football teams in his native Scotland.
"It's no different to the Glasgow Rangers and the Glasgow Celtics. One is a Sunni, the other is a Shia and they had to put a bloody great fence up to keep the two back," he said.
"The Glasgow constabulary wouldn't allow Hampden Park to be cleared at the same time. The Rangers had to be first and the Celtic guys later. They didn't want them to mix because they would kill each other. That's Roman Catholic and Protestant. In Bahrain we have got Shia and Sunni."
The country's Shia opposition groups have repeatedly called for the F1 event to be cancelled due to alleged human rights abuses by the ruling Sunni minority monarchy. Rights groups say 80 people have been killed since pro-democracy protests inspired by the Arab Spring broke out in February 2011.
Despite protests, the race went ahead in 2012 and earlier this week F1's boss Bernie Ecclestone rejected calls from a group of MPs to drop the event. Sir Jackie described Bahrain as an "easy target" for the media but says that it is far more progressive than other Gulf nations.
"They have already started a move towards democracy. You can go in shorts and a bikini in Bahrain but women can't even drive in Saudi Arabia," he added.
While some clashes were continuing yesterday in villages close to the Sakhir circuit, where the race is due to take place, there was no sign of violence on the scale that caused the race to be postponed in 2011.
The February 14 Revolution Youth Coalition - a loose grouping of youth activists - clashed with police overnight on Thursday after burning tyres on the road leading to Bahrain's international airport. The protesters chanted "No Formula on Bahrain's occupied land".
Activists complained of a crackdown by security forces ahead of the race. The Bahrain Center for Human Rights said that 27 activists were rounded up in the week preceding the race weekend.
Sir Jackie said: "[Bahrain has] got to change, but it will not happen in five years never mind 12 months. Some of these journalists are going to say nothing has happened since we left here. That's not true but on the other hand Bahrain are at fault for not communicating."
He added: "I think that the Prime Minister [of Bahrain] and his Majesty have to communicate more fully with the whole media to explain what they have done since last year. But they are not media conscious...that is not their culture. Their culture is 'Why would we tell everybody what we are doing?' You tell everybody what you are doing because it would sound better. It would be nicer and people would know that and therefore understand your motives and direction."
In relation to the ITN incident, Bahrain's Information Affairs Authority released a statement yesterday announcing that the Kingdom had "decided to deport three journalists working in a foreign channel after violating the laws and regulations…exploited the facilities offered by the Kingdom for the media men and journalists and exercised media activities without obtaining a license from the competent authorities".
A spokeswoman for ITV News said the ITN team "were on assignment with visas approved by the Bahraini authorities".
"Having filed a report last night, they were stopped while filming this morning and taken to a local police station for discussions with officers. They have since been asked to leave the country, which they are in the process of doing," she added.
Human Rights Watch say security forces in the country have "increased their repressive actions in the lead up to the 2013 race," and criticised F1 organisers of "ignoring rights abuses".
Sir Jackie said he believes that if instability in Bahrain continues, there could be wider implications both for western economies and F1. Bahrain's involvement in the sport isn't restricted to its race, the country's sovereign wealth fund Mumtalakat also owns 50 per cent of Britain's leading team McLaren. "If you didn't have Bahrain you wouldn't have McLaren," he said.
Ali Alaswad, an opposition politician and former MP, criticised  Sir Jackie's comments.
"Bahrain is an absolute monarchy, with a Prime Minister who has been in power since not long after Sir Jackie Stewart won his first Formula 1 championship," Mr Alaswad, who resigned as an MP in 2011, said.   
"Sir Jackie may feel safe walking in Bahrain's villages, but he should try doing that whilst calling for democracy. Wearing a bikini does not mean democracy and I'm sure Sir Jackie Stewart would feel very differently if he was forced to live under this brutal dictatorship, rather than pay a yearly visit for the F1."
Register for free to continue reading
Registration is a free and easy way to support our truly independent journalism
By registering, you will also enjoy limited access to Premium articles, exclusive newsletters, commenting, and virtual events with our leading journalists
Already have an account? sign in
Register for free to continue reading
Registration is a free and easy way to support our truly independent journalism
By registering, you will also enjoy limited access to Premium articles, exclusive newsletters, commenting, and virtual events with our leading journalists
Already have an account? sign in
Join our new commenting forum
Join thought-provoking conversations, follow other Independent readers and see their replies