Barack Obama: I'll put Syria military strikes 'on hold' if Assad surrenders chemical weapons
Proposal wins support from UN Secretary General and adds new and unexpected dimension to the situation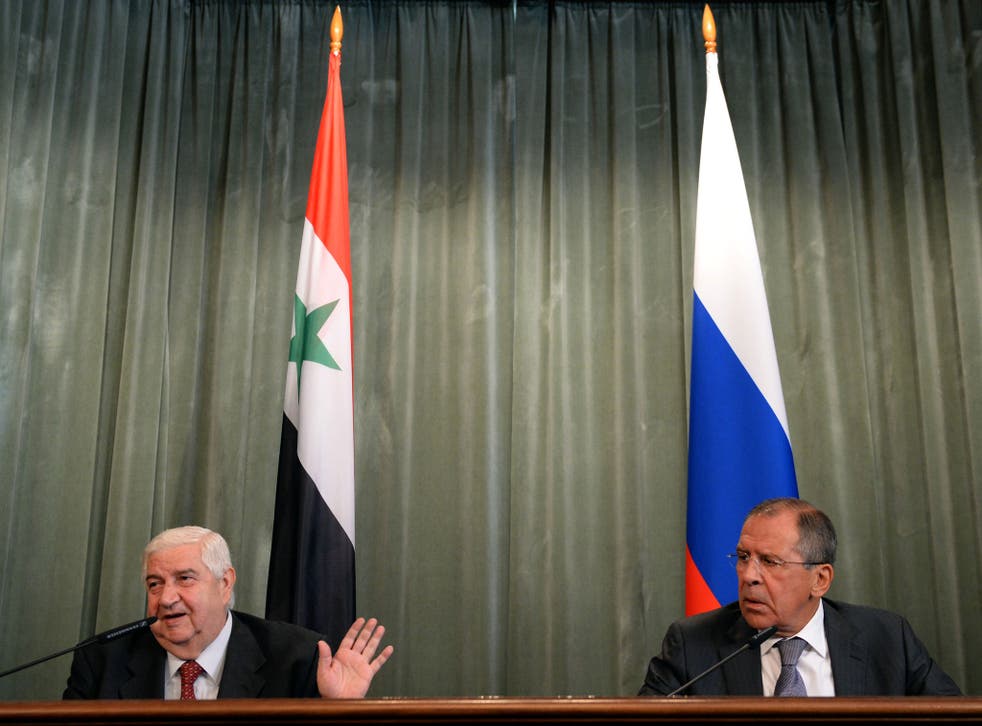 Barack Obama has said he would put on hold any plans for a military strike on Syria if the country agrees to a proposal by Russia to hand over any remaining chemical weapons for destruction under international control.
In a surprise manoeuvre from Moscow, apparently meant to delay and possibly avert American military action in the Middle East, the Russian government last night announced it was pressing Syria to turn over its arsenal of chemical weapons to international supervision and agree to its immediate dismantlement.
The proposal, which won instant backing from United Nations Secretary General Ban Ki-Moon, added a new and unexpected dimension to the crisis. It came just as President Barack Obama was ratcheting up his efforts in Washington to lobby the US Congress to approve limited strikes against Syria for its alleged chemical weapons use.
The US president said the proposal could be "potentially a significant breakthrough", but he remained sceptical that Syria would carry it out.
Mr Obama told NBC News that he was taking a statement from Damascus welcoming the idea "with a grain of salt initially", but said he would "absolutely" halt a US military strike if Syria's stockpiles were successfully secured.
"My objective here has always been to deal with a very specific problem," Mr Obama told ABC News.
"If we can do that without a military strike, that is overwhelmingly my preference."
Sergei Lavrov, the Russian foreign minister, had announced the proposal after talks in Moscow with his Syrian counterpart, Walid al-Moallem. He said that he expected "a quick and, I hope, positive answer" from Damascus. "If the establishment of international control over chemical weapons in [Syria] makes it possible to avoid strikes, then we will immediately get to work with Damascus," he said.
Earlier in London, the US Secretary of State, John Kerry, had said Syria could avoid strikes if it agreed to give up "every single bit" of its chemical arsenal by the end of this week. It wasn't quite clear if Mr Kerry was giving Syria a way out of the crisis or if his remarks were more off-hand with no expectation of a positive response. Yet he may have inadvertently given Mr Lavrov the chance to make the same challenge to Syria in Russia's name.
The State Department said the US would take a "hard look" at the Russian proposal. Spokeswoman Marie Harf said the US would consider it with "serious scepticism" because it might be a stalling tactic. She said Syria had consistently refused to destroy its chemical weapons in the past.
David Cameron too expressed scepticism, warning that Russia's plan could be a diversionary tactic aimed at heading off American-led military strikes. Responding to Russia's move, Downing Street reiterated the Prime Minister's strong support for military intervention, saying: "Robust action is still needed. We should judge the Assad regime by the actions it has already taken."
In the Commons, Mr Cameron said: "If Syria were to put its chemical weapons beyond use under international supervision, that clearly would be a big step forward and should be encouraged. I think we should be careful though that this is not a distraction tactic to discuss something else rather than the problem on the table. But if it is a genuine offer, it should be genuinely looked at." For his part, Mr al-Moallem said that the regime in Damascus welcomed the proposal to surrender and take apart its chemical weapons. "I state that the Syrian Arab Republic welcomes the Russian initiative, motivated by the Syrian leadership's concern for the lives of our citizens and the security of our country, and also motivated by our confidence in the wisdom of the Russian leadership, which is attempting to prevent American aggression against our people," Mr al-Moallem said.
Mr al-Moallem offered no details, however, including how quickly the regime might be able to make the whole arsenal available or where the stockpile might be located. Yet, it appeared to be the first time that Syria has even acknowledged its possession of chemical weapons.
Asked to comment on the Russian plan, Labour leader Ed Miliband told ITV's Daybreak: "We were right to prevent the rush to war. We were right, the Labour Party was right and Parliament was right and people on the Conservative side and the Liberal Democrat side were right to do that.
"You get criticism when you take a stand like that.
"It was right to take that stand. I think the signs from the Russian-Syrian proposal are encouraging.
"We have got to be cautious about it, we have got to see whether they are serious. But if it is the case that the proposal is serious, it will be the British Parliament that stepped in and and said 'Now, hang on a minute - let's take this calmly and in a measured way'.
"That is why I think it was the right thing to do."
In New York, meanwhile, Secretary General Ban suggested that the UN Security Council should unite and itself demand the immediate transfer of the arsenal into safe hands. "I'm considering urging the Security Council to demand the immediate transfer of Syria's chemical weapons and chemical precursor stocks to places inside Syria where they can be safely stored and destroyed," he said.
As it tried to bolster its position, the White House had said earlier last night that an additional 14 countries had agreed to sign a declaration supporting an international response to the alleged use by the Syrian regime of chemical weapons against its own civilians. New countries joining the declaration include Qatar and the United Arab Emirates, it said.
Making his appearances on six US networks, Barack Obama stepped up his campaign to persuade the US Congress and the American public that launching strikes against Syria is necessary, in part to show other enemies of the US, including Iran and North Korea, that crossing the "red lines" of accepted international behaviour will have consequences. Mr Obama will then make a final, critical pitch in an Oval Office address today.
Top US national security officials meanwhile returned to Capitol Hill yesterday to resume classified and non-classified briefings with members of Congress who this week will begin a series of votes that the White House hopes will result in resolutions giving Mr Obama a 90-day window for narrow military action against Syria that will explicitly rule out putting American troops on the ground.
Mr Obama and his team still have a long hill to climb to persuade Congress of the wisdom of a military response. A new Associated Press survey suggested that almost half of the 433 current members of the Republican-controlled House of Representatives remain undecided about what to do. "It's an uphill slog," Mike Rogers, the Republican chairman of the House Intelligence Committee.
Join our new commenting forum
Join thought-provoking conversations, follow other Independent readers and see their replies