Assad still has 'hundreds of tonnes' of chemical weapons in stockpile, former Syrian weapons chief claims
Syrian regime has 'at least 2,000 tonnes' of chemical weapons hidden away, says Brigadier-General Zaher al-Sakat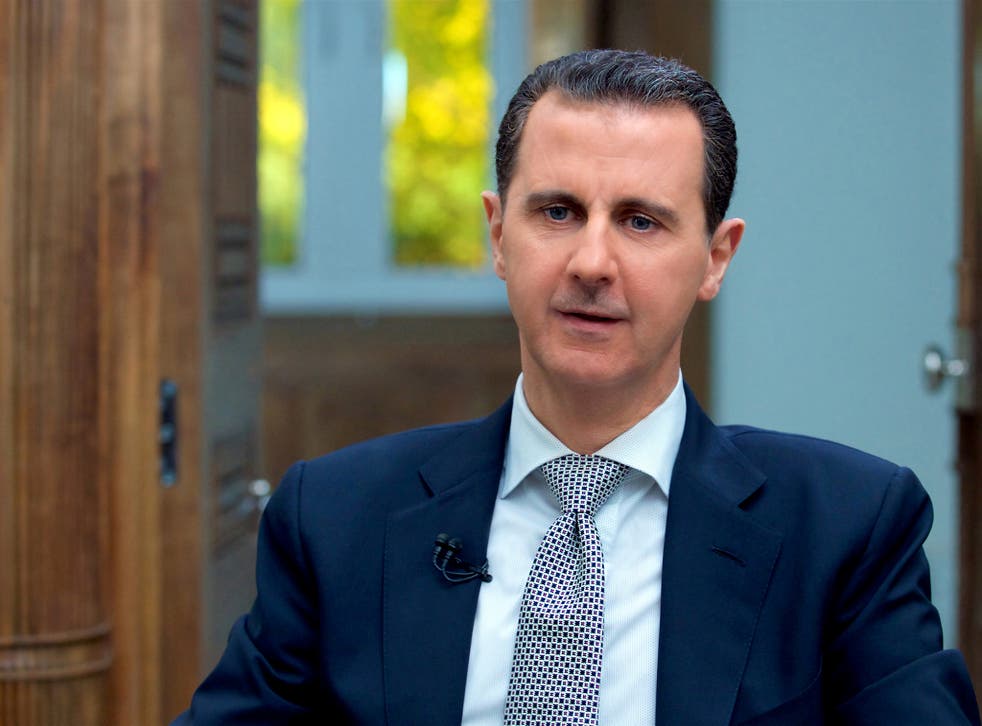 Syria's president Bashar al-Assad deceived United Nations inspectors and still has "hundreds of tonnes" of lethal chemicals stockpiled, the country's former weapons research chief has said.
In 2014, Syria said it had handed over all of its chemical weapons to the UN's Organisation for the Prohibition of Chemical Weapons (OPCW). At the time, Barack Obama said the stockpile had been "100 per cent eliminated".
But Brigadier-General Zaher al-Sakat has told The Telegraph that Assad's regime did not declare large amounts of sarin and other toxic weapons.
"They [the regime] admitted only to 1,300 tonnes, but we knew in reality they had nearly double that," said General Sakat, who had been one of the most senior figures in the country's chemical weapons programme. "They had at least 2,000 tonnes. At least."
General Sakat said he believes the remaining stockpile in Syria could include several hundred tonnes of sarin, along with other chemicals, aerial bombs that can be filled with chemicals, and also chemical warheads for Scud missiles.
A former commander of the British military's chemical weapons unit, Hamish de Bretton-Gordon, who now advises Syrian NGOs on chemical weapons, described General Sakat's claims as plausible.
Assad's government has been blamed for a suspected sarin gas attack in Idlib province last week in which killed almost 90 people.
The attack prompted a retaliatory attack by the US against a Syrian air base, which has sparked heightened tensions between Syria's Russian backers and the US.
But Assad has said the allegation that his government was responsible for the attack was "100 per cent fabrication", and this week said once again that his government was not in possession of any chemical weapons.
"We gave up our arsenal three years ago," Assad said in an interview this week. "Even if we have them we wouldn't use them. We have never used our chemical arsenal in our history."
"The United States is hand in glove with the terrorists," he added.
Turkish and British scientists have both said they have found positive results in tests for the nerve agent sarin, a toxin that rebel groups in Syria are not known to possess.
Kenneth Ward, the US ambassador to OPWC, has also insisted Syria was hiding stocks of chemical weapons "abetted by Russia's continuing efforts to bury the truth".
General Sakat said he doesn't believe Assad will give up any remaining chemical weapons.
"He will not let go of the chemical weapons while he is leader of Syria."
"If he is forced to leave, he might confess to where some of it is hidden only so it doesn't end up in the wrong hands."
Register for free to continue reading
Registration is a free and easy way to support our truly independent journalism
By registering, you will also enjoy limited access to Premium articles, exclusive newsletters, commenting, and virtual events with our leading journalists
Already have an account? sign in
Register for free to continue reading
Registration is a free and easy way to support our truly independent journalism
By registering, you will also enjoy limited access to Premium articles, exclusive newsletters, commenting, and virtual events with our leading journalists
Already have an account? sign in
Join our new commenting forum
Join thought-provoking conversations, follow other Independent readers and see their replies