Israeli police recommend Benjamin Netanyahu's wife is indicted on fraud charges
Sara Netanyahu first questioned in 2015 over alleged use of state funds for furnishing couple's private home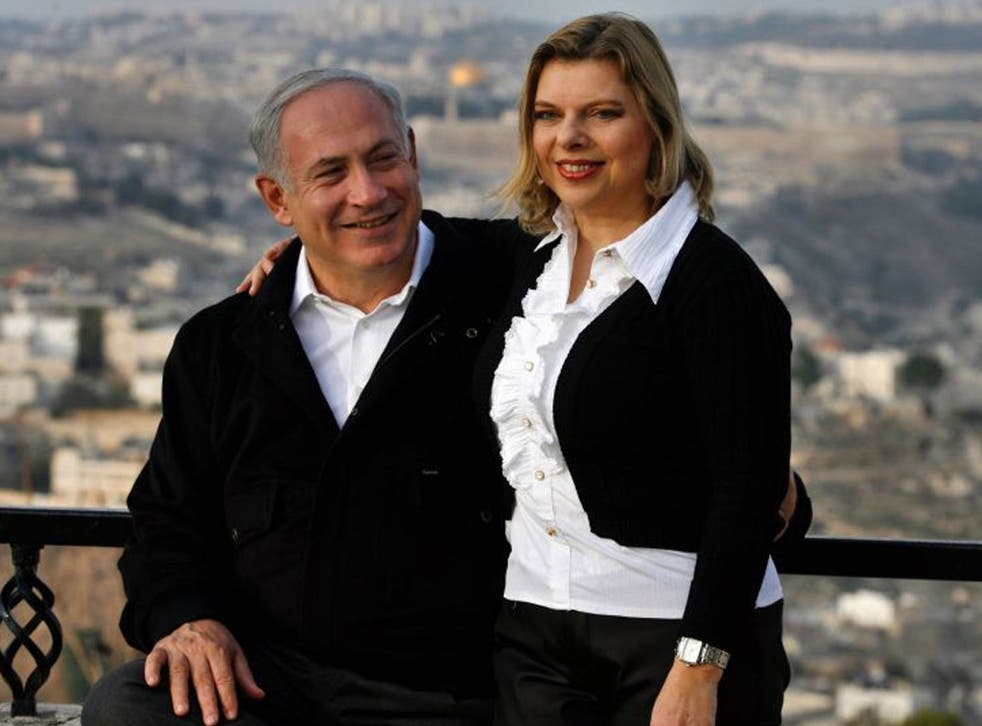 Prosecutors in Jerusalem have recommended that Israeli Prime Minister Benjamin Netanyahu's wife Sara is arrested and indicted over allegations of fraud.
A statement from Israeli police on Sunday said that the force had concluded its investigation into the prime minister's residences. Ms Netanyahu has been variously accused of allegedly using money set aside for the prime minister's official residence for furniture and improvements to the pair's private home, paying for her elderly father's care, inflating dinner party numbers to hire private chefs, and pocketing 23,000 shekels (£4,800) in recycling refunds.
"The police have found an evidentiary basis for indictments against Sara Netanyahu, [the Netanyahus' employee] Ali Fahima and against Ezra Seidoff, the deputy director general of the Prime Minister's office," Haaretz reported, although the police statement - unusually -did not name any of the three individuals.
Israeli PM Benjamin Netanyahu meets Theresa May
"The national unit of the Israeli Police has concluded its investigation of the prime minister's residences," the police statement read.
"The case began in February 2015 with the approval of the attorney general and the state prosecutor and focused on a number of issues in connection to which suspicion of the commission of criminal offences arose, including fraudulent receipt, fraud and breach of trust, including addressing mutual accusations," it continued.
A joint statement issued by Benjamin Netanyahu's office said "It is shameful that an indictment is to be issued against the prime minister's wife based on false allegations."
Israel: From independence to intifada

Show all 7
The Jerusalem authorities are expected to raise their recommendation Ms Netanyahu is indicated with Israel's attorney general Avichai Mandelblit, who will ultimately decide on whether she is brought before the courts.
If Mr Mandelblit and State Attorney Shai Nitzan accept the case a hearing and issuing session as well as other proceedings are expected to take several months to complete, Israel's Channel 10 reports.
The case is not the only situation in which the Netanyahus have been accused of misusing public office.
Police talked to Mr Netanyahu at his Jerusalem home in January as part of a huge corruption sting involving more than 50 influential Israeli business leaders and other public figures.
It is alleged that he received lavish and "inappropriate" gifts from wealthy supporters such as cigars and champagne, and tried to bribe a newspaper owner for favourable coverage.
Ms Netanyahu was also questioned as part of the criminal investigation.
Register for free to continue reading
Registration is a free and easy way to support our truly independent journalism
By registering, you will also enjoy limited access to Premium articles, exclusive newsletters, commenting, and virtual events with our leading journalists
Already have an account? sign in
Register for free to continue reading
Registration is a free and easy way to support our truly independent journalism
By registering, you will also enjoy limited access to Premium articles, exclusive newsletters, commenting, and virtual events with our leading journalists
Already have an account? sign in
Join our new commenting forum
Join thought-provoking conversations, follow other Independent readers and see their replies