Benjamin Netanyahu says Israeli and Palestinian terrorism 'cannot be compared'
The Israeli Prime Minister has vowed to prosecute the extremists who killed a Palestinian child and his parents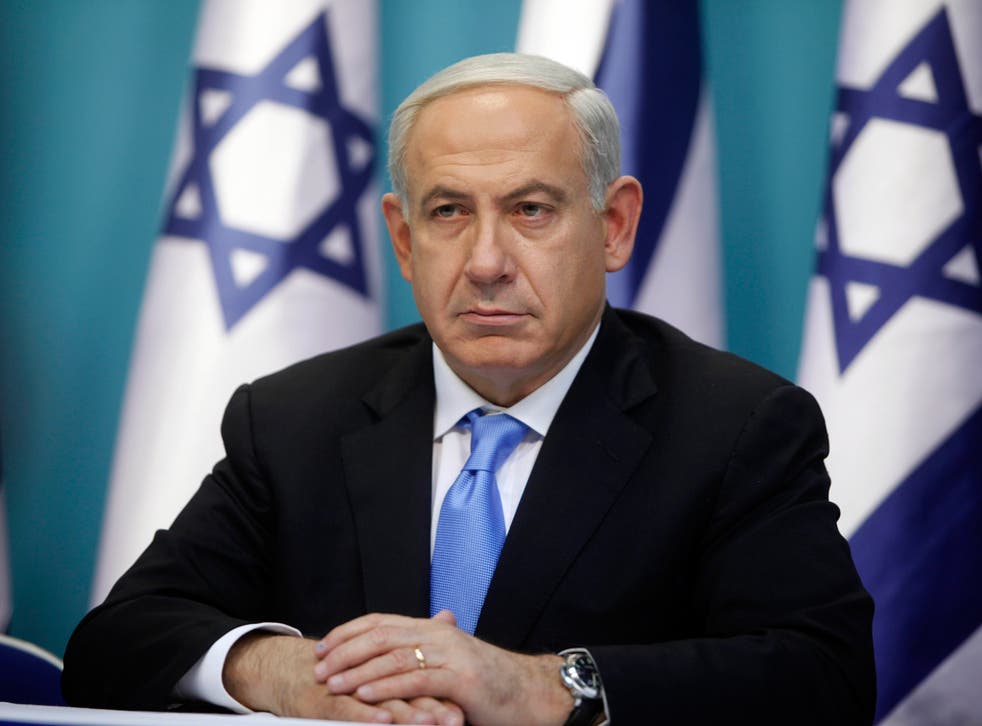 Benjamin Netanyahu has reportedly claimed that Jewish and Arab terrorism "cannot be compared" after Israeli wedding guests were filmed celebrating an arson attack that killed a Palestinian child.
The Israeli Prime Minister was questioned on the speed of the investigation into the deaths of 18-month-old Ali Dawabsheh and his parents in July.
Extremist graffiti and the word "revenge" was found scrawled on the side of their home after it was set alight by masked men armed with Molotov cocktails in the West Bank village of Duma.
Palestinian baby burned to death in settler attack
Mr Netanyahu called the incident "a terror attack in every respect" and vowed to deal forcefully with the perpetrators, regardless of their citizenship or religion, but the suspects have still not been charged six months on.
Speaking on Sunday, he reportedly rejected comparisons between attacks that have killed 20 Israelis since the start of October and resulted in the deaths of 130 Palestinians – both perpetrators and protesters – and Jewish terrorism.
"The Arab terror is first and foremost on a much larger scale, it cannot be compared," Mr Netanyahu was quoted as saying by Jerusalem Online.
"While here, the government and all the public leaders speak out against occurrences of Jewish terror; they [the Palestinian authorities] praise it…there is a huge difference between the healthy attitude of the Israeli society and democracy which denounces and condemns terror, and the Palestinian Authority which regrettably encourages and incites terror."
Mahmoud Abbas, President of the Palestinian Authority (PA), has repeatedly condemned violence on both sides and called an arson attack on a Jewish shrine "deplorable" earlier this year.
The PA has also banned Hamas' official television channel amid allegations it was documenting and inciting stabbings on Israelis.
The wave of violence has sparked revenge attacks by Israelis and footage emerged last week of Jewish wedding guests celebrating the death of the Dawabsheh family, brandishing rifles and knives and stabbing pictures of baby Ali.
Mr Netanyahu called the "wedding of hate" video shocking and said it showed the "true face" of an extremist group that posed a threat to society.
He said it was "important to clarify to what extent this group is radical and on the fringe [of Israeli society] that does not represent Religious Zionism," Haaretz reported.
The Prime Minister cited statements by politicians and rabbis against the extremist group linked to the attack, adding: "To try to link between religious Zionism and this group is a grave injustice to a very large public."
Israeli authorities are expected to soon raise charges against Jewish extremists suspected in the Duma attack as the lagging investigation, which was initially subject to reporting restrictions, continues to provoke anger.
One suspect is accused of writing a detailed instruction manual on how to set fire to mosques, churches and Palestinian homes.
The Israeli–Palestinian conflict intensifies

Show all 10
Titled "Kingdom of Evil," it instructs activists to form underground cells committed to "sanctifying God's name" — and with members who know how "to keep silent in interrogations."
Police set up what they called a "nationalistic crimes" unit to deal with settler violence in 2013 and have served restraining orders and put people under house arrest – but Palestinians say offenders are not pursued with the same fervour as Arab suspects.
"It took them six months to move and do something," Nasir Dawabsheh, Saad Dawabsheh's brother, said.
"If the perpetrator was a Palestinian, they would have burned the West Bank to find him the same day."
Additional reporting by agencies
Register for free to continue reading
Registration is a free and easy way to support our truly independent journalism
By registering, you will also enjoy limited access to Premium articles, exclusive newsletters, commenting, and virtual events with our leading journalists
Already have an account? sign in