Birth rate soars in Jordan refugee camp as husbands discourage wives from using contraception
While Syrian men are keen to repopulate their homeland, women are facing difficult decisions on family planning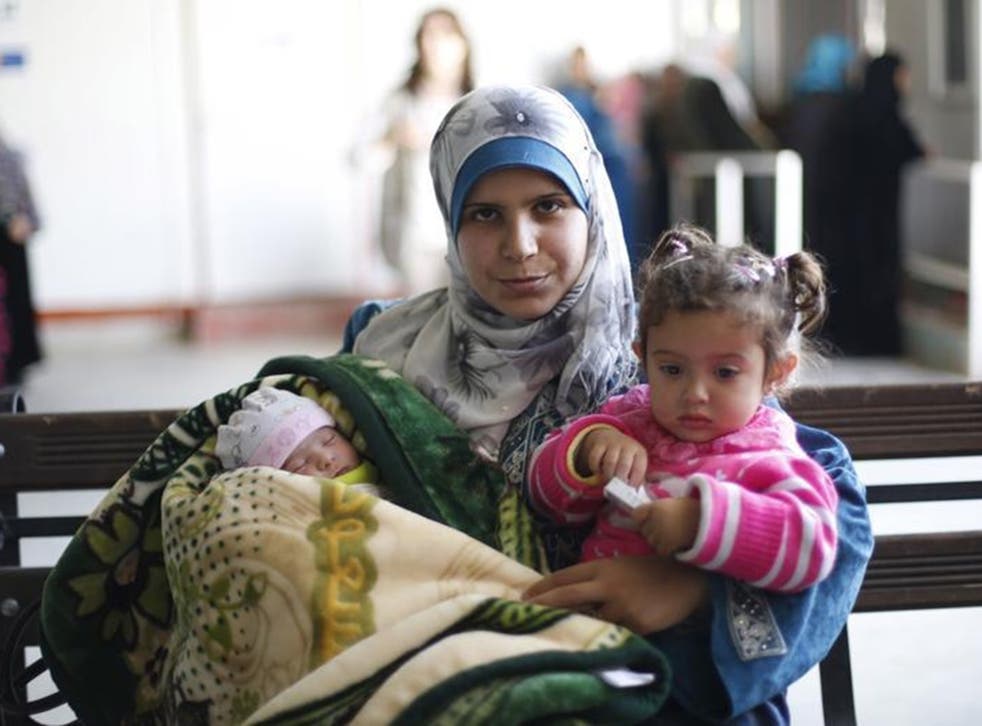 As the Syrian war enters its sixth year, and with more than a quarter of a million people killed, a sense of loss is something that binds together those who have been forced to flee their homeland.
In the Azraq refugee camp in northern Jordan, husbands often discourage their wives from using contraception, partly out of a sense of duty to repopulate the country. On average, 70 babies are born per month in the camp and of the 639,000 Syrian refugees in Jordan, whether in camps or not, 16,000 women and girls are pregnant, according to UNFPA, the UN's Population Fund.
The crude birth rate (CBR) in Azraq is 40 (meaning the number of live births per 1,000 people per year), compared to 23.5 in Syria in 2012, and 24.5 in Jordan, according to Dr Shible Sahbani, UNFPA's humanitarian co-ordinator in Jordan.
He says this high rate is because Syrian refugees in Jordan largely come from rural areas – Deraa and rural Damascus – where the CBR is already higher than the national average, due to lack of knowledge about modern family planning methods. Also, he says, "After crises, couples in reproductive age generally want to compensate [for] losses that occurred in their families."
This sense of the distant motherland is also reflected in the names of refugee babies. UN staff say they're often called Malsham (all of Damascus), and Yasmin al-Sham (the jasmine of Damascus), and Sham (Damascus) on its own is becoming increasingly popular.
The Azraq camp was designed for 130,000 people when it opened in 2014, but it only houses a fraction of that number – around 32,000. Unlike its sister camp, Zaatari, which has a bustling central thoroughfare of small shops, affectionately referred to as the Champs-Elysées, Azraq is much more desolate.
Built for an expected population that never arrived – many preferred to stay with family in Zaatari, or elsewhere in Jordan, and some were discouraged by the lack of electricity in the caravans which serve as homes in the camp, officials say – it has an eerie emptiness, coupled with the strict security measures which prevent anyone leaving.
Refugee crisis - in pictures

Show all 27
Brand new basketball courts lie seemingly untouched. Of the six "villages" which make up the camp, only two are lived in, and they lie unconnected from one another, with desert separating them.
At one of the two "village" primary health care centres, funded by UNFPA and staffed by the aid group, the International Medical Corps, Dr Wissam Jamah admits that family planning is not common.
France starts to dismantle Calais 'Jungle' refugee camp
Although they offer contraceptive services, Dr Jamah says that women do not tend to seek it out. "We have to take the initiative, we cannot depend on them to come," he says, adding that having too many babies too frequently is dangerous for any woman. Many, he says, are worried contraception is haram – forbidden – in Islam. "I tell them that all the methods are reversible, and that it is allowed in their religion and that they don't have to use it forever."
He also tries to stress the possible benefits, rather than highlighting the negative aspects of not using contraception. "I tell them how the Pill, for example, protects against ovarian and endometrial cancer, and that condoms protect against sexually transmitted infections," he says.
According to Lina Hamidi, the manager of one of the clinics, despite the initial hesitancy, women are more keen on contraceptives than the men. "It's very common that the woman wants to take some form of contraception, but then they often encounter reluctance from their husbands."
She recalled a recent example when a woman came to have an intrauterine device fitted, but returned the next day to have it removed after her husband found out and was unhappy with the situation.
"The husbands say that a lot of their family have been killed in Syria. So they want to replace them," Ms Hamidi says.
But the support networks are often simply not there: "Many [of the young mothers] have left their own mothers in Syria. They are not trained to look after all those children on their own. They are not taking care of how to feed and clothe their babies."
Ms Hamidi says that men and women are sometimes just not talking to each other about these reproductive issues. "Relations between husbands and wives are not transparent," she says, explaining that a woman might come in for family planning advice, "and then he comes here and asks us what's going on. It is very complicated".
Further east, in the Jordan Valley, women gather for antenatal care and various women's services at a Comprehensive Women's Centre and Clinic in Deir Alla, supported by UNFPA.
Kawatr, who did not want to give her full name, is 31 and has five children. Originally from Hama in Syria, Kawatr came to Jordan three years ago, and gave birth to her youngest child, Taybeh, here. Her eldest is 14."It was more difficult to give birth here. Both physically and emotionally," she says.
Her children mean everything to her, but she adds, "I don't want any more right now, because of the situation we are in."
However, she admits she does not practise family planning. "My husband still wants kids though, so if we have another it is OK."
Another woman, Nadia, 35, is enthusiastic about the hormonal injection she receives free of charge at the centre. Already a mother of four, she says that she didn't know anything about family planning back in Syria: "People became pregnant over and over again," she says. "We didn't know how to stop it from happening.
"I would like to have more kids but I don't want them to be victims, so I decided that, to be responsible, I can't have more now."
Register for free to continue reading
Registration is a free and easy way to support our truly independent journalism
By registering, you will also enjoy limited access to Premium articles, exclusive newsletters, commenting, and virtual events with our leading journalists
Already have an account? sign in
Register for free to continue reading
Registration is a free and easy way to support our truly independent journalism
By registering, you will also enjoy limited access to Premium articles, exclusive newsletters, commenting, and virtual events with our leading journalists
Already have an account? sign in
Join our new commenting forum
Join thought-provoking conversations, follow other Independent readers and see their replies