Blackwater founder Erik Prince suggests private police force to stop migrants entering Europe
Military contractor with spotty human rights record promises "humane and professional" option to solve horrific situation in Libya
Thursday 30 November 2017 12:17 Comments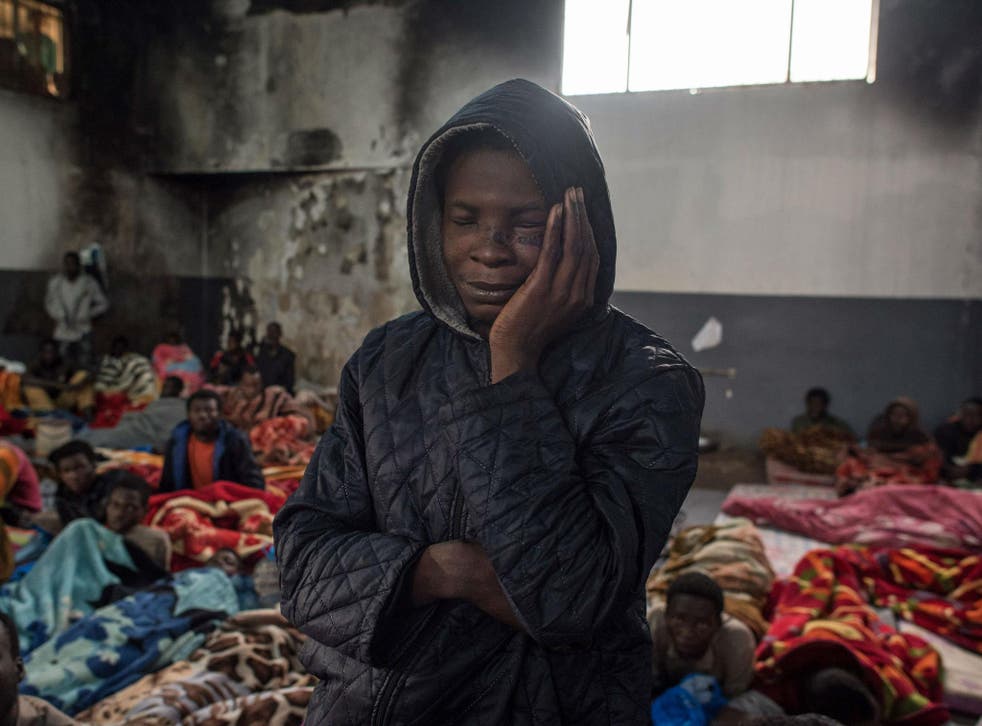 The founder of private military company Blackwater, infamous for causing the deaths of civilians in Iraq, has suggested that his company could step in to help solve the current migrant crisis in Libya.
"I imagine that Europe wants to block the flow of migrants in the most humane and professional way possible. I do not think that paying militias is a solution in the long run," Erik Prince said in a Wednesday interview with Italian newspaper Corriere della Sera.
Mr Prince said his new China-based company, Frontier Services Group, would be able to intercept smugglers' trucks and the thousands of sub-Saharan Africans who make their way to a better life in Europe through Libya with relative ease, repatriating migrants back to their home countries.
Smugglers in Libya sell migrants as slaves
Frontier Services Group could do so for a "fraction" of the price the EU currently spends on coastguard and other operations intercepting boats in the Mediterranean and running detention centres in Italy and Greece, he claimed.
"The traffic of human beings from Sudan, Chad, Niger is an industrial process," the mercenary went on.
"To stop it, you have to create a Libyan border police along the southern border."
Mr Prince said his company would deploy 750 staff to train Libyan police forces and set up three bases around the country.
Giles Duley – capturing moments of hope in the refugee crisis

Show all 13
The international community's attention has refocused on Libya in the wake of a video obtained by CNN earlier this month which showed two men being sold as "big strong boys for farm work" at a militia-run slave auction for $200 (£149) each.
Reports of detention in squalid conditions, rapes, beatings and other horrors are common.
Protest movements are growing around the world and the UN has condemned the practices as constituting possible crimes against humanity.
It is believed the situation has worsened this year since the Italian government allegedly began paying militant groups and smugglers to stem the flow of migrants over the sea.
The Guardian reported that Mr Prince is meeting Libyan prime minister Fayez Serraj at the White House on Friday in an apparent attempt to drum up both Trump administration and EU support for his plans in Libya.
Frontier Services Group made no comment on the issue.
Mr Prince donated thousands of dollars to Mr Trump's election campaign and his sister Betsy DeVos is education secretary.
It is believed Mr Prince will run for a seat in the US Senate as a Republican candidate in Wyoming in 2018.
His pitch to the White House earlier this year to send 5,500 private contractors to aid US troops in Afghanistan was rejected by the Pentagon.
Libyan Coast Guard puts refugees and rescuers in danger during rescue operation at sea
In 2007 employees of Blackwater, the company Mr Prince sold in 2010, were accused of killing 14 unarmed Iraqi civilians after opening fire on a Baghdad crowd.
Four men were convicted of manslaughter. Mr Prince himself testified in Congress but was not charged with any wrongdoing.
It is believed Blackwater won around $1bn in contracts from the US government during the Iraq war.
Register for free to continue reading
Registration is a free and easy way to support our truly independent journalism
By registering, you will also enjoy limited access to Premium articles, exclusive newsletters, commenting, and virtual events with our leading journalists
Already have an account? sign in
Join our new commenting forum
Join thought-provoking conversations, follow other Independent readers and see their replies