Britain should intervene in Libya before chaos seeps into the West, says wife of Colonel Gaddafi's enforcer
Exclusive: Fatma Farkash believes the revolution was 'a mistake'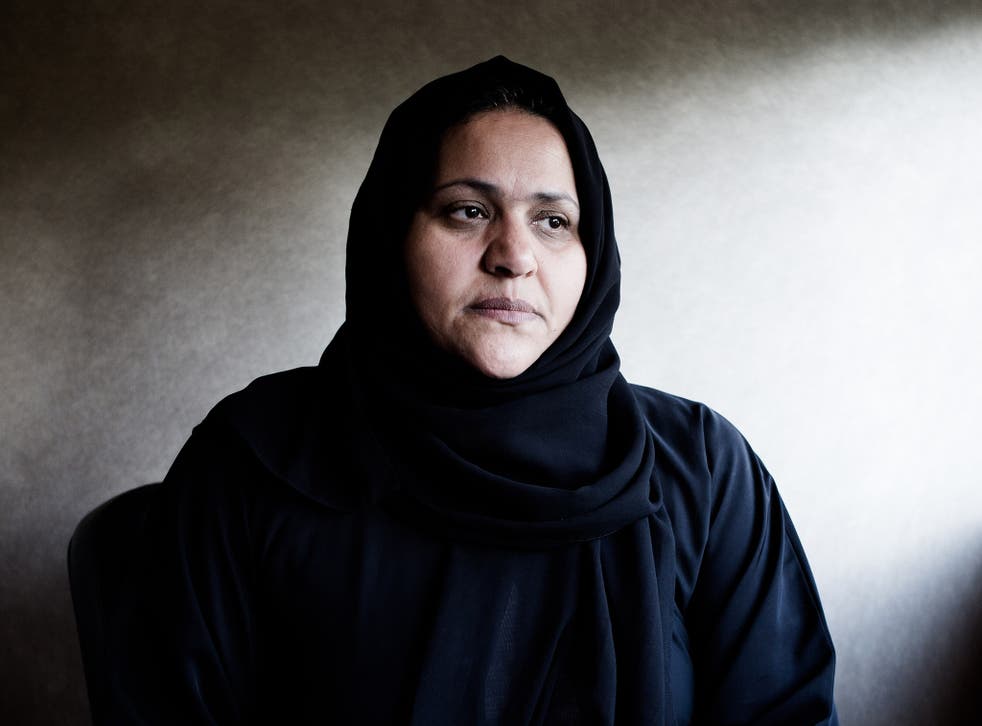 Britain should intervene in Libya before its chaos seeps into the West, says the wife of Muammar Gaddafi's former right-hand man, who is currently on death row in Libya.
"The world decided, in one day, to hit Libya [with airstrikes] … And after this Libya is asking for help. Why don't they help?" Fatma Farkash asks The Independent on Sunday, in her most extensive interview with a British newspaper.
Four years after Western strikes helped oust Gaddafi, Libya is in chaos, divided between two competing governments, local militias and pockets of Isis control. "Libya is not a real country any more," Ms Farkash says. The threat from Isis "is one that concerns the whole world. If they don't stop them, they will come even to Europe".
As the wife of Abdullah al-Senussi, and the sister of Gaddafi's second wife, Safia, Ms Farkash may seem an unlikely source for calls for Western intervention, given it was Nato-backed airstrikes that toppled the Libyan leader and led to her husband's arrest.
Throughout his time at Gaddafi's side, Senussi gained a reputation as one of his most brutal enforcers. He inspires most hatred over the massacre of 1,200 prisoners at the notorious Abu Salim prison in 1996. Witnesses say he delivered the orders and watched as guards gunned down prisoners who had attempted to stage a revolt.
He was arrested in Mauritania in 2012 when he attempted to enter the country on a false passport. In July this year, he was given the death sentence for his role in violently crushing the uprising. Twenty-eight others were sentenced to death at the trial, including Saadi and Saif al-Islam Gaddafi, two of Muammar's sons.
For the rest of the world, it is the role he may have played in Lockerbie bombing that raises the biggest question mark. He was also convicted in absentia in France in 1999 of the bombing of the UTA plane over Niger 10 years earlier in which 170 people died.
Sitting in a café in Oxford Street, central London, in a black abaya and dark headscarf, Ms Farkash speaks in conspiratorial terms about events in Libya, and clings to the belief that her husband is innocent.
She and her daughter Salma, 17, defend the 42-year rule of the "Brotherly Leader" as Gaddafi is known, and believe the revolution was "a mistake" by those who failed to appreciate the stability he brought to the country and the region. "If he [Gaddafi] is what they say about him, why, every day since Gaddafi left, are people are dying? Is this the freedom they are talking about?" Ms Farkash asks.
Her daughter adds, earnestly: "Maybe the problems in Libya – you're going to laugh – but maybe they did the revolution because they didn't have McDonald's, KFC. They're angry because they didn't have McDonald's."
Senussi, Ms Farkash says, is taking the blame for the crimes of others. "We have the evidence that will show the world that he is innocent. In all of the cases."
She points at "the traitor" Moussa Koussa for the massacre at Abu Salim. The Libyan spy chief fled to Britain early in the revolution. He has long been suspected of involvement in both the Lockerbie bombing that killed 270 people in 1988, and the 1984 murder of PC Yvonne Fletcher by a gunman during a protest Libya's embassy in London.
When he arrived in the UK in 2011, David Cameron said Mr Koussa would be questioned if necessary, but he was allowed to leave the country for Qatar shortly afterwards.
Senussi "is innocent and this is an unfair court", Ms Farkash says. "We want all of the governments to help us, especially England, because they have strong courts here."
Concerns over the trial's legitimacy are shared by Human Rights Watch and Amnesty International. After the verdict, Senussi's London-based lawyer, Ben Emmerson QC, said the trial had been conducted "in an atmosphere of extreme fear, insecurity and intimidation".
In footage from the prison that circulated last week, officials can be seen threatening Saadi, Gaddafi's son: "Senussi's ribs were broken when he entered here."
Ms Farkash's continued pleas for help have been met with silence. Oliver Miles, a former ambassador to Libya, said this should come as no surprise: "Why would Britain get involved? He is regarded as the biggest criminal of the lot."
But to the extended Gaddafi clan, Britain still represents a friendly country. The Farkash sisters and their families got used to frequent trips to the UK after a golden period in relations ushered in by a handshake between Gaddafi and Tony Blair in 2004. The London School of Economics notoriously cultivated links with the regime via Saif Gaddafi, whose foundation gave it £1.5m six weeks after he gained his PhD there. "London is like a second home," Ms Farkash says.
So deep is the conviction that the West remains a friend, that Safia Gaddafi sought, unsuccessfully, to come to the UK for medical treatment for cancer just a year ago, says her sister. This is despite the fact the UK has called for direct sanctions to be placed on Mrs Gaddafi. (The Home Office said it does not comment on individual cases.)
After all, Ms Farkash says, they share a common interest: "We just want peace and safety in Libya again, like before."
Join our new commenting forum
Join thought-provoking conversations, follow other Independent readers and see their replies