British expert says it's 'highly unlikely' Arafat was poisoned
Symptoms are very different from those of the Russian dissident Alexander Litvinenko, says Professor Nicholas Priest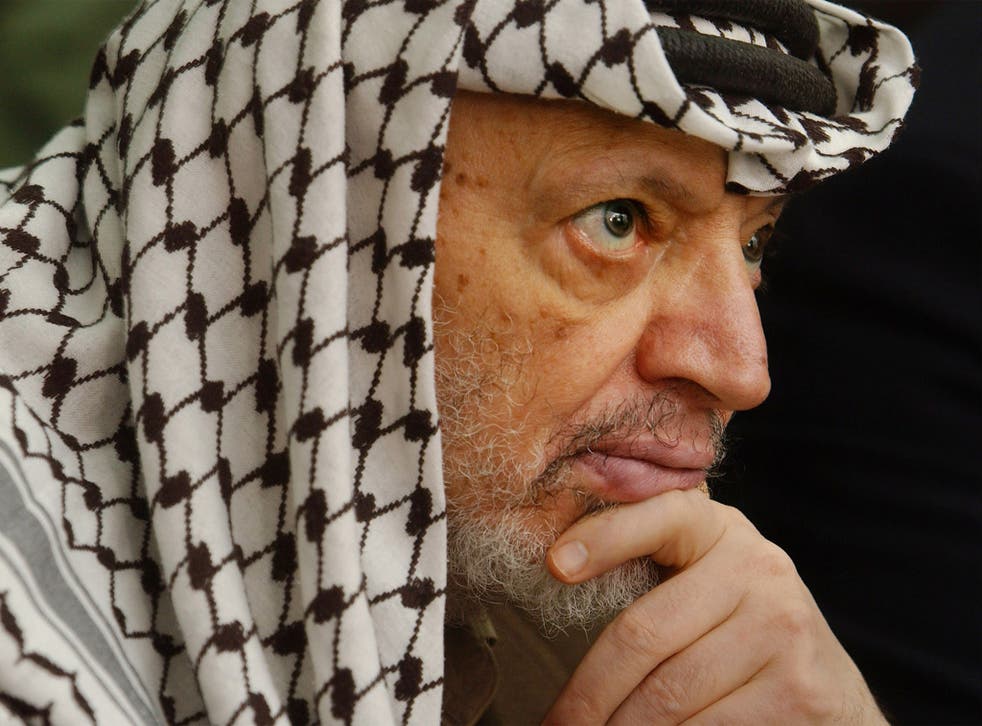 A leading British biomedical scientist says it is "highly unlikely" that former Palestinian leader Yasser Arafat died in a French hospital in 2004 from a lethal dose of radioactive polonium.
Reports that samples taken from Arafat's interred body and analysed by a Swiss laboratory showed high levels of the substance have led to Arafat's widow calling his death "the crime of the century". It has also stimulated public outrage among Palestinians, who generally consider Israel to be the most likely perpetrator, though Arafat had many internal enemies.
Speaking in Ramallah yesterday Tawfik Tirawi, who heads the Palestinian committee investigating the death, said that Israel is the "first, fundamental and only suspect," in the case.
Researchers had hoped to find answers when they analysed samples taken from Arafat's grave in November last year and handed to laboratories in Switzerland, Russia and France. Their report earlier this week concluded that they are confident up to an 83 per cent level that the Palestinian leader was poisoned.
However Professor Nicholas Priest, who formerly headed the biomedical research unit of the Atomic Energy Authority in Britain, told The Independent that, while poisoning by polonium "cannot be totally ruled out", the symptoms were very different from those of the Russian dissident Alexander Litvinenko, who died in London in 2006. The professor, a specialist in radiation toxicology, is one the few British scientists to have worked with polonium-210. He was involved in the research over Mr Litvinenko's death – the only known case of fatal poisoning by the substance. "Key indicators it was not polonium [that killed Arafat] were lack of hair loss in the face, and no damage to his bone marrow, both of which were found extensively in Litvinenko," Professor Priest said. Photographs show Arafat stepping into a helicopter on the way to France sporting a white beard, while pictures of Litvinenko in hospital reveal an absence of any hair.
He pointed out that polonium would be naturally produced in the bones of anyone buried as a by-product of the bones absorbing lead from the soil, a point, he said, that "the authors of the report understand but the journalists do not". The Swiss researchers' carefully worded report admits that even in the tiny samples of non-bone body remains it found in the grave "no significant amount of unsupported polonium-210 was measured". They also admit that the pattern of Arafat's illness was "not consistent with typical acute radiation syndrome".
Professor Priest said it was "far too dangerous and scientifically unjustified" to calculate how much polonium was in Arafat's body on the basis of "such tiny concentrations of polonium". He explained: "The amount found was about one thousandth of a Bq [becquerel] per gram, and if you multiply it back up to what it might have been eight years earlier (doubling the concentration each 138 days), you get a figure of 192 million Bq administered."
Register for free to continue reading
Registration is a free and easy way to support our truly independent journalism
By registering, you will also enjoy limited access to Premium articles, exclusive newsletters, commenting, and virtual events with our leading journalists
Already have an account? sign in
Register for free to continue reading
Registration is a free and easy way to support our truly independent journalism
By registering, you will also enjoy limited access to Premium articles, exclusive newsletters, commenting, and virtual events with our leading journalists
Already have an account? sign in
Join our new commenting forum
Join thought-provoking conversations, follow other Independent readers and see their replies