#BuyPens: Refugee pictured selling pens in Beirut says he'll help other Syrians with thousands raised from Indiegogo campaign
Crowdfunding campaign has already raised more than $125,000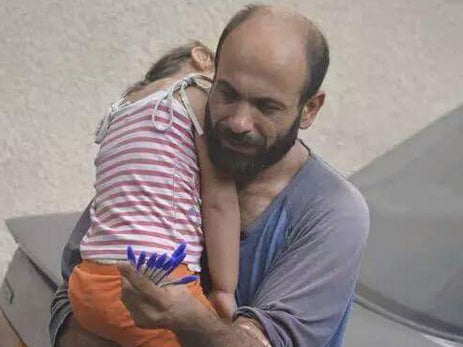 This photo of Abdul, a Syrian refugee, trying to sell pens on the streets of Beirut while his daughter lay sleeping slumped over his shoulder captured hearts around the world so much that it raised more than £80,000 in two days via a crowdfunding campaign. But now, instead of using the money for himself to build an entirely new life, Abdul says he wants to use the money to help other displaced Syrians.
While paying for his own two children to go to school, he is planning on setting up an education fund for other refugees.
The campaign began when Gissur Simonarson, founder of Conflict News, posted pictures of the as-then anonymous man, selling pens on the streets of Beirut, while his daughter lay asleep on his shoulder.
After being inundated with requests to help the man, Simonarson announced he was going to try and find him. He launched a Twitter account named #BuyPens and was contacted within 30 minutes by someone who saw the man every day around his house.
Twenty-four hours later, the man and his daughter were identified as Abdul, a single father with two children, and his daughter Reem, who is four.
The campaign has now raised more than $125,000 (£80,000).
Carol Malouf, who is part of the team raising money for Abdul, met with him in person to explain the fund-raising campaign to him and ask about his life.
Before the Syrian civil war, which has caused 12 million Syrians to flee their homes, Abdul worked in a chocolate factory in Syria.
After escaping Syria, his family went to Egypt and then to Lebanon. As a Palestinian refugee, he is not allowed to work in Lebanon.
To provide for his family, he sold whatever he could to make money for his children, and was eventually pictured selling biros, which led to the hugely successful campaign.
When asked what his dream would be, Abdul said he wanted to return home to Syria, but the way it was before the war: "I want my country to go back to how it was.
"I wish there wouldn't be any problems [in Syria]."
Join our commenting forum
Join thought-provoking conversations, follow other Independent readers and see their replies